DJI Mavic 2 Leak Reveals 'Pro' Drone with Hasselblad Camera
DJI was set to announce the new Mavic 2 on July 18th, but that event was unexpectedly postponed and the drone has yet to be officially unveiled. But the drone has already appeared in the latest catalog by the UK retailer Argos, and the listing reveals that it will be offered in "Zoom" and "Pro" versions.

Photos of the Argos listing were shared on social media over the weekend:
@DroneDJ the new UK Argos catalogue is out and it has the Mavic 2 in it 😮 #mavic #mavic2 #dji #djidrones pic.twitter.com/Z6vVA8J28K

— Brett Thake (@Chromonian) July 28, 2018
@OsitaLV better quality image pic.twitter.com/UWuj6k56WE

— Monty_f (@monty_f) July 28, 2018
The description in the catalog states that the DJI Mavic 2 will be a small and powerful 1080p drone that can fly up to 20m/s (~45mph compared to 40mph in the original Mavic Pro) for up to 31 minutes (compared to 27 min in the original) and transmit video from 8km (~5mi) away. Other features include omnidirectional obstacle sensing with APAS and Active Track 2.0.
The "Zoom" version will have a 2x optical zoom lens (24-48mm equiv) and the ability to do dolly zooms. The "Pro" version will have a 1-inch CMOS sensor behind a Hasselblad-made camera.
As you might remember, DJI reportedly acquired enough of Hasselblad to become the majority owner last year.
DroneDJ reports that an "Enterprise" edition of the DJI Mavic 2 has also been spotted on the German DJI website. That version will presumably be geared toward businesses rather than consumers. The leaked image provides a better glimpse of what the Mavic 2 will look like in its entirety.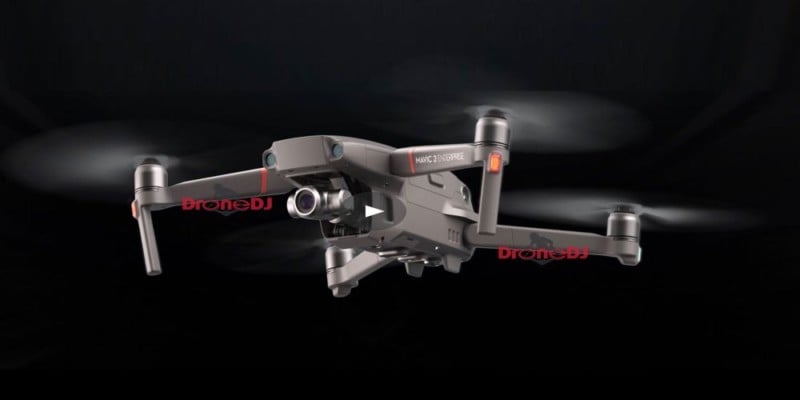 Pricing and availability have yet to be revealed, but we'll likely know sooner rather than later since Argos decided to include the Mavic 2 already before it was even announced.