'Tasteless' Photos of Poor Indians Bring Backlash for World Press Photo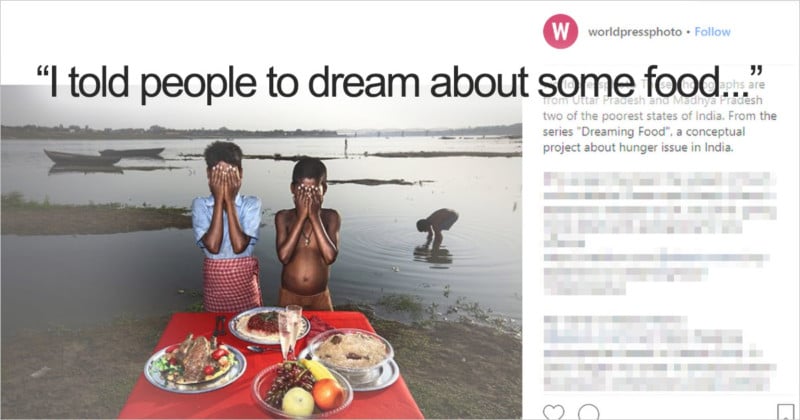 World Press Photo is at the receiving end of sharp criticism today for a series of photos on its Instagram account showing poverty-stricken Indians standing in front of tables laden with feasts.

The set of photos were posted on Sunday (and are still online) as part of an "Instagram takeover" of the World Press Photo account by Italian photographer Alessio Mamo.
Mamo had visited impoverished villages in India (Madhya Pradesh and Uttar Pradesh) and had villagers stand with their hands covering their faces in front of food-filled tables. The project is titled, "Dreaming Food."
The photos instantly caused a firestorm of controversy to erupt as prominent members of the photojournalism community public spoke out against World Press Photo, Mamo, and the project. The series is being described as "tasteless," "cruel," "exploitative," and "unethical."
This photographer brought his own fake food to put in front of these starving children in India. He asked them to dream about what kind of food they wanted to put on the table. This is an example of #journalism with no moral compass. @WorldPressPhoto why are you supporting this? pic.twitter.com/4hmDzSJO45

— Lauren Wolfe (@Wolfe321) July 23, 2018
Wow, this is tasteless and crass. From photographer @alessiomamo: "I brought with me a table and some fake food, and I told people to dream about some food that they would like to find on their table." https://t.co/kXHa5Tv9rv pic.twitter.com/eeZXUlNMak

— Melissa Lyttle (@melissalyttle) July 22, 2018
@WorldPressPhoto before you hand off you IG feed to former award winners – take a look at their work and screen for exploitation and cruelty.

"I brought with me a table and some fake food, and I told people to dream about some food that they would like to find on their table." pic.twitter.com/eOfUZY82LJ

— Kainaz Amaria (@kainazamaria) July 22, 2018
How *not* to photograph people who have less money than you, on full display at @WorldPressPhoto's Instagram today. World Press Photo is one of the world's most well-known photo organizations, but economically disadvantaged humans are not props. #povertyporn #telltheirstories pic.twitter.com/MXtMVcabie

— Shannon Sims (@shannongsims) July 23, 2018
'I bought with me a table and some fake food and I told people to dream about what food they would like to find on the table.'

Even by @WorldPressPhoto exploitative standards. Even with their lack of editorial integrity this is really something else.https://t.co/Z47d40VNGD pic.twitter.com/ZghhM8UTbo

— duckrabbit (@duckrabbitblog) July 22, 2018
Oh boy. This series, where the photographer puts fake food in front of food insecure people and tells them to "dream" of a full meal, is the worst kind of exploitation in the pursuit of likes. Promoted by @WorldPressPhoto no less.

Be better than this guys. pic.twitter.com/8jl0hGuTcW

— Nathan Howard 📷 (@SmileItsNathan) July 23, 2018
If you don't know what is "Poverty porn", here is a good example thanks to @WorldPressPhoto Instagram feed https://t.co/OhJOAXOTUM

— Noy Frederic (@fuddish) July 24, 2018
World Press Photo responded the next day by releasing a "Statement on the debate surrounding photographs in Alessio Mamo's Instagram takeover." The prestigious photojournalism organization explained that it had given Mamo the chance to share photos on its Instagram account and that Mamo was provided guidelines and asked to be transparent.
Our Instagram account is a platform for photographers in our community to use. We have guidelines for photographers who takeover the account. You can read those guidelines, and our statement about Alessio Mamo's takeover last week, here: https://t.co/EbZGnesx3s

— World Press Photo (@WorldPressPhoto) July 23, 2018
"The photographers are responsible for selecting their work to show and writing their captions. They can present a portfolio of past work or a current project," World Press Photo writes. "The World Press Photo Foundation is a platform that connects members of our community (contest winning photographers, masterclass participants, etc.) with the general audience. Being a platform we do not limit photographer's choices beyond the guidelines provided, and we ask the photographers to respond directly to the audience when questions arise.
"We keep our guidelines for Instagram takeovers under constant review to learn from the debates about pictures and projects the photographers share."
Many people aren't pleased with World Press Photo's response. Respected photo editor Jim Colton of ZUMA Press is one.
"The pictures, in my opinion, are exploitative and in no way even resembles photojournalism," Colton tells PetaPixel. "They are 'created' images set up by the photographer. You don't 'create' images and call yourself a photojournalist. (Giovanni Troilo, sex in a car in Charleroi, World Press Photo rescinds his award. Don't they ever learn?)
"Regardless of what you think of the images, the statement that was released by WPP is bulls**t…to be blunt."
"Deflecting the ethical questions that have been raised and placing the responsibility back on the photographer is outrageous," Colton continues. "It's the World Press Photo Instagram page… take some ownership for God's sake! It would be like TIME or Newsweek blaming a photographer for what they publish."
Mamo himself released a statement regarding the controversy today.
"Dreaming Food" is a project I developed independently in 2011. It was one of my first photographic projects of my career. At that time I was obsessed by the food thrown away especially in Christmas time. So I thought to develop a project about this issue but in a different way. The idea was to create a contrast between a typical Western table with luxurious food in a poor context that could emphasize this contrast. […]

Anytime we went into villages we used to spend time meeting people, speaking with them and eating together. After I explained the idea of the project and found the volunteers we prepared our set. Most of the people enjoyed spontaneously to be part of this and photographed behind the table. The people I photographed were living in a village and they were not suffering from malnutrition anymore, they were not hungry or sick, and they freely participated in the project. […]

The only goal of the concept was to let western people think, in a provocative way, about the waste of food. Maybe it did not work at all, maybe I did it in the wrong way, but I worked honestly and respectfully with all the people involved. I only had the intention to let people think about this issue.
"I'm a human being and I can make mistakes," Mamo concludes. "I want to offer my deepest apologies to anyone who felt offended and hurt by this photos, and to the people I photographed. It was not my intention at all to discredit them."