Does Instagram Notify When You Screenshot a Story?
When browsing Instagram, it could be tempting to take a screenshot of a Story, particularly since the content is always changing, advancing to the next Story after only a few seconds. If you give in to that urge, you might wonder if the owner of the account gets notified about your interest and that you saved an image from their story or feed.

Table of Contents
Does Instagram Alert the Creator When you Screenshot a Story?
Currently, Instagram doesn't send a notification to the account holder when you capture a screenshot of their story. That means you can, technically, take as many screenshots as you like; however, it's worth taking a moment to consider if it's a good idea to do so. The decision should probably be based on what your intended use is, if it's a business or personal account, and whether the content could be considered sensitive.
How to Take a Screenshot of an Instagram Story?
If you've decided to take a screen capture of an Instagram story, it works just like grabbing a screenshot in any other app. On most iPhones, you can do this by pressing the volume up and side buttons simultaneously. This is quite simple since the top of each button is aligned and positioned on the right and left sides of the device. In fact, it's almost too easy, and accidental screenshots are common. If you own an iPhone that has a home button, press it along with the side button to capture an image of the screen.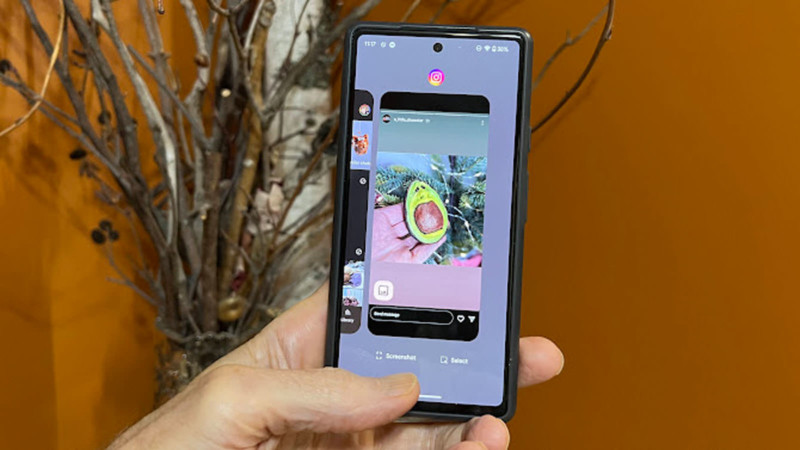 If you use an Android phone, the process is quite similar. Just press the power and volume down buttons at the same time to trigger a screen capture. It's also possible to swipe up from the bottom of the screen to open a carousel of open apps. At the bottom of the Instagram app thumbnail, tap Screenshot.
With either type of phone, screenshots are stored in the device's photo library. Apple Photos, Google Photos, or Samsung Gallery are the most likely locations, depending on which type of phone you use.
Why You Might Want a Screenshot of an Instagram Story
Instagram Stories automatically cycle through the last few photos and videos that have been shared, each appearing for a few seconds before moving to the next. Taking a screenshot is an easy way to appreciate the beauty for a bit longer or read text or absorb the information that's being shared.
It's worth noting that you can simply press and hold your phone's display to keep the Instagram Story feed from advancing. Perhaps you don't really need to save an image to see it later if you can view it for longer by holding a finger to the screen. That saves storage space and respects the choice of the creator of that content to show the photo or video in the way they intended.
If an image was meant to be stared at for longer, the owner of the account could have shared it as a post. The choice to make it a Story could have been a purposeful decision to keep it as a fleeting image that might not receive as much scrutiny. On the other hand, people share photos and videos as Stories so they get more exposure and so they may not have any concerns about screenshots. When in doubt, just ask.
If you want to share a screenshot of an Instagram Story, there is a better choice that allows the creator to get credit for their work.
Alternatives to Instagram Story Screenshots
Instead of grabbing a screenshot from an Instagram Story and sharing that image to social media or sending it in an email, it could be more considerate to send a link to the creator's Instagram account.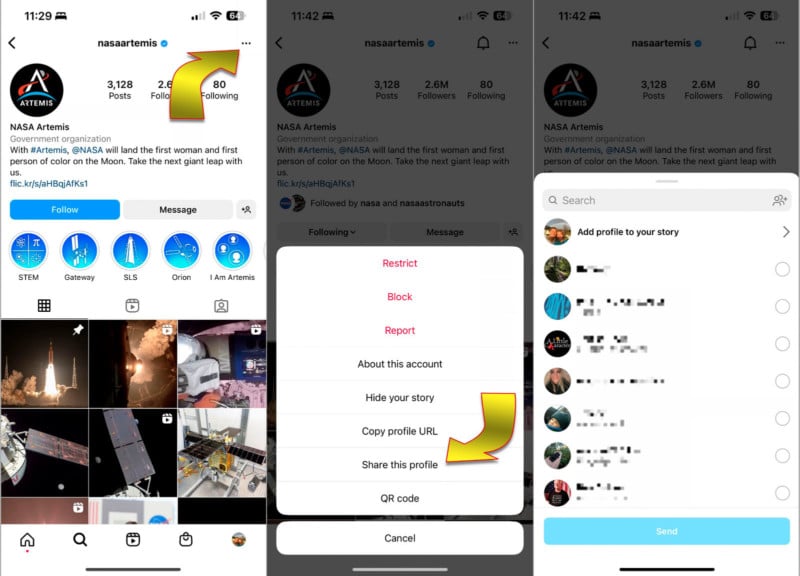 If you like all of the material that's shown on a particular Instagram account and wish to share it, you can go to the creator's profile page, tap the three dots at the upper-right, and choose the option to Share this profile. You'll be able to send it to other social media apps or copy the link to send however you'd like.
To share an Instagram Story with full credit given as intended, the process is the same. While the Story is onscreen, tap the three dots in the upper-right of your screen, then select Share to… to show the various ways to send the link to others.
Naturally, sharing a Story on Instagram is also possible. Just choose the Instagram app from the share menu as the destination.
When does Instagram Notify about Screenshots?
Instagram won't notify the creator of a Story that you've taken a screenshot of their photo or video but it does alert the person in one situation. If you receive a photo or video via Instagram Direct Message (DM), it might disappear after a few seconds and you won't be able to see it again. You'll know because a bar with what looks like a lit fuse will appear at the top shrinking from right to left as your viewing time runs out.
If you anticipate that you'll want to have another look, you either need to quickly capture a screenshot or ask the sender to message you again and set the permissions to Allow replay or Keep in chat so you can view it more than once.
If you choose to screenshot the DM, you should be aware that the sender will know that you've done so. An icon that looks like radiating lines will appear in the sender's chat window beside the message that you captured with a screenshot.
The bottom line is that you can screenshot Instagram DMs but it won't be kept a secret. If you have any doubts about whether it's okay to save a copy of the photo, you can avoid any trouble by asking for replay permission.
How do you Send a Disappearing Instagram DM?
To send a disappearing Instagram Direct Message, open a chat and take a photo or record a video to share. Before you send it, tap the permission toggle in the bottom-left corner of the screen. It has options to View once, Allow replay, or Keep in chat. Every tap of this control cycles to the next option.
If you choose View once, this allows the viewer only a few seconds before the photo or video disappears. As mentioned above, a screenshot can be captured but you'll see an icon that alerts you of this action. Allow replay lets the message be watched again at any time by tapping the photo or video. Keep in chat keeps the photo or a still from a video visible within chat, making this the least private way to send a message.
Conclusion
Screenshots are relatively easy on any smartphone, requiring only the press of two buttons on an iPhone or Android phone. That means nearly anything that you see on your screen can be captured, including Instagram posts, direct messages, and stories. In some cases, there's a limited time to remember and perform the finger gymnastics necessary to grab that photo or video still shot before it disappears.
While a screenshot is almost always possible, it's important to consider whether it's in good taste to do so. If it's a sensitive image, the sender might be concerned by seeing that a screenshot was taken if they don't want it to be freely shared with others beyond their list of followers. If the idea behind sharing was to promote the creator's art, product, or brand, it's usually better to copy a link to the Story instead of capturing a screenshot. Ultimately, it's your decision and Instagram won't notify or alert the person that created the Story.