These 1,750 Film Cameras and Lenses Can Be Yours for $65,000
If you've been itching to start a film camera gear collection and have $65,000 burning a hole in your pocket, here's an opportunity for you: someone on eBay is selling a massive collection featuring over 1,750 film cameras and lenses — all of which are in "excellent working and [cosmetic] condition."

The collection, first spotted by Nikon Rumors, contains 868 film cameras and 934 lenses across a huge number of brands (unfortunately there's no Leica or Hasselblad gear). Here's a partial list of what the collection contains:
573 Manual Focus Cameras (45 Canon AE-1/TLB/AV/T 90, 30 Chinon, 11 Edixa, 7 EXA, 13 Exakta, 19 Fujica, 21 Koinca, 47 Minolta SR-1/SR-2/XE/XD/SRT, 17 Miranda, 75 Nikon F/F2 A/SB/AS/S/F3/FT/FM, 25 Olympus, 73 Pentax LX/KM/KX/Program, 15 Praktica, 28 Ricoh, 13 Sears, 31 Yashica J-P/J-3/FR/J-5)
291 Auto Focus Cameras (61 Canon EOS-1/EOS1V/EOS-3/7N/7NE/7E, 12 Contax AX/N1/RTS/RTSII/RTS III/RX/139, 83 Minolta Maxxum9/7/X9/800si/700si/8000, 54 Nikon F/F2 A/F2 SM/AS/F4/F5/F6/F100/N80/N 90, 34 Pentax MZ-S/MZ-3Ist/PZ-1P/PZ-1)
4 TLR Cameras (Yashica C, Yashica Mat, Yashica 44, Tower Reflex)
337 Auto Focus Lenses (96 Canon EF IS 70-300/24/28-135/28-105/50 Macro/70-210, 119 Minolta Maxxum 24-105/28-85/35-105/100-300 APO/24-85, 82 AF Nikon 50,70-210 F4/35-105/35-135, 78 A/F Pentax)
573 Manual Focus Lenses (96 Canon FD, 81 Minolta MD/MC, 100 Nikon M/F, 59 Olympus, 99 Pentax M/F, 73 M 42)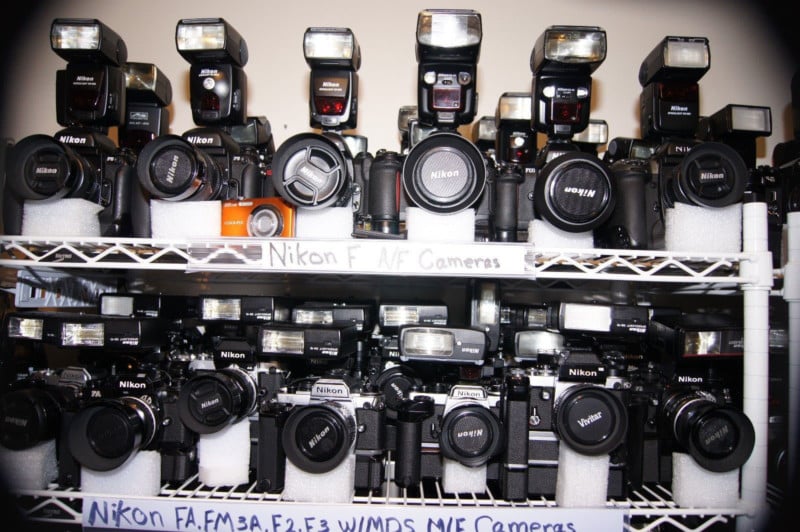 The seller, jalroubaie, writes that the gear is in fantastic shape because they "take great pride in what [they] have."
"On weekly basis I clean and check most functions, the lenses get rotated," the seller writes. "I check functionality of each lens or, camera that comes in. I log every item in inventory log book and report any damage or malfunction honestly […] You definitely will be surprise[d] how well these item been taken care of."
The seller also writes that 95% of the cameras and lenses come with flahes, hoods, and filters. There are also "hundreds and hundreds" of spare parts, straps, camera cases, bags, batteries, and other accessories.
With the Buy It Now price of the collection set at $65,000, you're getting the 1,750 cameras and lenses (without counting all the accessories) for an average cost of about $37 per piece. And given the models that are in the collection, that seems like quite a steal.
If you're interested in purchasing this impressive collection, here's your final challenge: the seller won't ship the set (the local post office estimated a shipping cost of up to $4,000). You'll need to arrange for a local pickup to haul the collection from Nixa, Missouri.