Shooting Infrared Photos of Barn Owls at Night
Photographer Will Burrard-Lucas was recently challenged to recreate his photos of African wildlife in the UK. This 3.5-minute video shows how he went about shooting beautiful nighttime infrared photos of barn owls.

Burrard-Lucas set up a camera trap in front of a tree stump in anticipation of an owl landing there. The trap consisted of a Canon DSLR modified for infrared photography, a flash with a filter that only lets infrared light through, and a passive infrared (PIR) motion sensor by Burrard-Lucas' Camtraptions.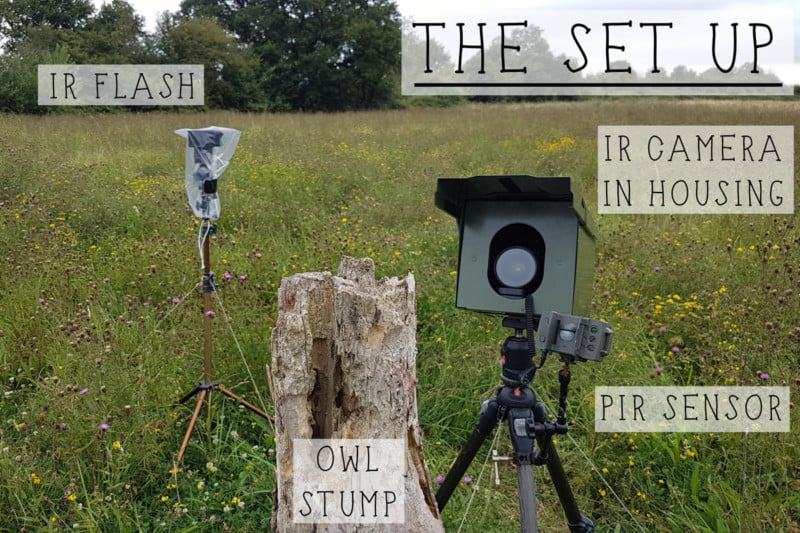 As with all camera traps, the camera is left in place for as long as needed to capture a shot. Burrard-Lucas ended up leaving his camera there for nearly four months.
One photo he envisioned was one that also included a starry night sky in the background.
"To achieve this, I would use a long exposure time of over 30 seconds," Burrard-Lucas writes on his blog. "The flash would fire at the start of the exposure to illuminate the owl."
And when there was too much ambient light when the full moon was out, Burrard-Lucas shot photos that only exposed the owl and dropped the surroundings into darkness.
After months of patient work, Burrard-Lucas managed to create a beautiful series of nighttime infrared photos showing a wild barn owl on the stump.
You can find more of Burrard-Lucas' work on his website.
(via Will Burrard-Lucas via ISO 1200)
---
Image credits: Video and photos by Will Burrard-Lucas and used with permission