Canon's 470EX-AI is the World's First Flash with AI Bounce
Canon has announced the new 470EX-AI, a flash with a new "revolutionary" technology called Auto Intelligent (AI) Bounce. It can figure out the optimal bounce angle for lighting your subject.

It's "a revolutionary new flash system designed with entry-level and enthusiast photographers in mind," Canon says. "The Speedlite 470EX-AI Flash could help alleviate the stigma attached to flash photography as being too difficult, while serving as a gateway for photographers looking to expand their skill set, especially those who recently stepped up from smartphone photography."
Here's how the new AI Bounce feature works. After you set the flash to AI.B Full-Auto mode with the mode switch, simply get in position to shoot your subject and press the AI.B button.
The 470EX-AI will then fire two separate pre-flashes: one to measure the distance to your subject and one to figure out the distance to the ceiling. The flash then crunches the numbers and calculates the optimal bounce angle for your actual photo.
If you are more advanced and often switch between shooting in portrait and landscape orientation, you can double-tap the shutter button after an optimal angle is calculated to have the flash always reorient itself to point toward that same direction as you're changing your camera's orientation.
You can also manually set your desired bounce angle by pressing the "Angle Set" button on the side of the flash once you've switched to Semi-Auto mode. This allows you to use the double-tap recall feature with custom bounce angles.
Here's a comparison of what resulting portraits look like with flash off, built-in flash, direct hotshoe flash, and AI Bounce flash: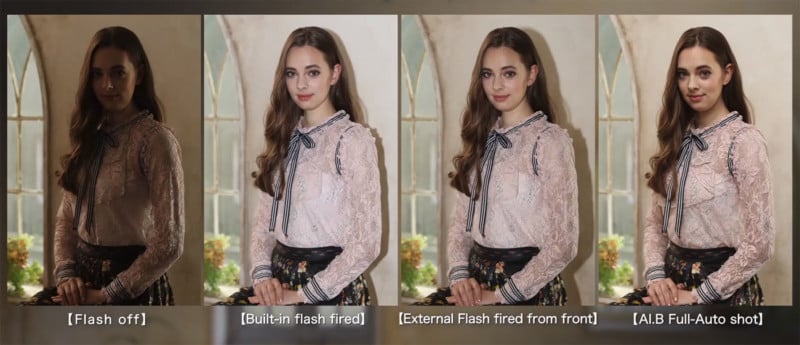 Other specs and features of the 470EX-AI include a guide number of 47 (154 feet at ISO 100 and 105mm), an infrared AF assist mode, optical receiver transmission, flash coverage from 24mm to 105mm (14mm with panel), 4xAA battery power, an upward tilt of 120° and +/- 180° rotation, a metal locking foot, and compatibility with E-TTL/E-TTL II.
Here are some examples of portraits you can capture by bouncing the flash to reduce harsh shadows:
Here's a 5.5-minute introduction to the Full-Auto bounce mode:
Here's a 4.5-minute intro to the Semi-Auto bounce mode:
The Canon 470EX-AI will be available starting in April 2018 with a price tag of $400.