Panasonic GH5S: The Most Sensitive Camera in Lumix History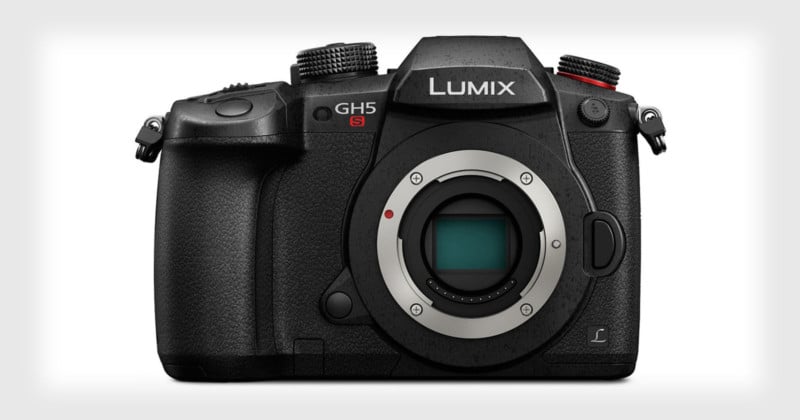 Panasonic has unveiled the new GH5S, a hybrid single lens mirrorless camera with improved photo quality and stronger video capabilities.

The camera is designed for both still photos and video recording, but Panasonic says that it was designed with professional filmmakers in mind.
"The LUMIX GH5S achieves highest-ever image sensitivity and video image quality in the history of LUMIX cameras, especially in low-light situations," the company says.
Inside the camera is a 10.2-megapixel Micro Four Thirds MOS sensor that can shoot 14-bit RAW photos at up to 10fps (12fps in 12-bit RAW), capture 4K60p video, and do up to 51200 ISO recording without extended ISO. Resolution has been halved from the 20.3MP GH5, but what you get is superior low-light performance.
"When shooting in dark environments, videographers can now focus on filming that perfect shot as they no longer need to worry about noise which often results from having to use higher ISOs," Panasonic says. "The Dual Native ISO Technology [with low range (400) and high range (2,500)] suppresses noise to produce cleaner footage when taken in all light.
"As a camera that excels in shooting in low light, the LUMIX GH5S boasts -5EV luminance detection performance with Low Light AF thanks to the higher sensitivity and optimized tuning of the sensor. Live Boost is another practical feature that makes it possible to check the composition even in total darkness, by boosting the sensitivity just for Live View."
The multi-aspect sensor has a True "Multi-Aspect Ratio" Function, which provides the same angle of view in 4:3, 17:9, 16:9, and 3:2 aspect ratios for photos and videos.
"This feature means you can easily swap between difference aspect ratios giving you the accuracy you want from your lenses, and making the process easier while producing and editing in post-production," Panasonic says.
The camera's DFD (Depth from Defocus) autofocus system provides speedy focusing in approximately 0.07s using 225 focus areas. Focusing options include Face/Eye Recognition, Tracking AF, 1-area AF and Pinpoint AF.
In the area of durability, the magnesium alloy body is splashproof, dustproof, and freezeproof (down to -10°C or 14°F).
On the back of the camera is a 3.68-million-dot OLED electronic viewfinder as well as a 3.2-inch, 1.62-million-dot, 120fps free-angle touchscreen.
The GH5S features a Variable Frame Rate (VFR) feature that lets you record overcranked/undercranked video in C4K/4K (60 fps, maximum 2.5x slower in 24p) and FHD (240 fps, maximum 10x slower in 24p). Here's some sample footage:
Other features and specs of the GH5S include no recording time limit, internal 4:2:2 10-Bit Long GOP, V-Log L Gamma and HDR Hybrid Log Gamma, dual UHS-II SD Slots, Wi-Fi and Bluetooth connectivity, Time Code IN/OUT for easy synchronization of multiple cameras, a 4K PHOTO mode that captures 60fps images at 8MP resolution, AF Point Scope, and a 20x magnification ratio in MF assist (useful for astrophotography).
Here's a comparison of the GH5S and the GH5:
Here are some first impressions and hands-on review videos for the GH5S:
The new Panasonic Lumix GH5S will be available starting on February 2, 2018, and will have a price tag of $2,499 for the body only.