3D Printing Your Photo as a Lithophane
Want an interesting idea for turning your digital photo into something tangible that you can hold? Look into the lithophane, the centuries-old technique of carving an image into a piece of translucent material to create a 3D image. Photographer Daniel DeArco recently turned a photo into a lithophane with 3D printing, and he documented the experience in the 4-minute video above.

"Lithophanes are old craft from the early 1800s that utilized the different thicknesses in a porcelain carving/casting to display a highly detailed image when backlit," DeArco tells PetaPixel.
Lithophanes are carved so that brighter areas in the scene are thinner in the material and darker areas are thicker. The result may look strange in your hand, but when you hold it up and backlight it with a light source, a beautiful 3D image is revealed.
If you don't have a 3D printer readily available, don't worry: DeArco used a website called Image to Lithophane that can help generate a 3D printing model for creating lithophanes from photos.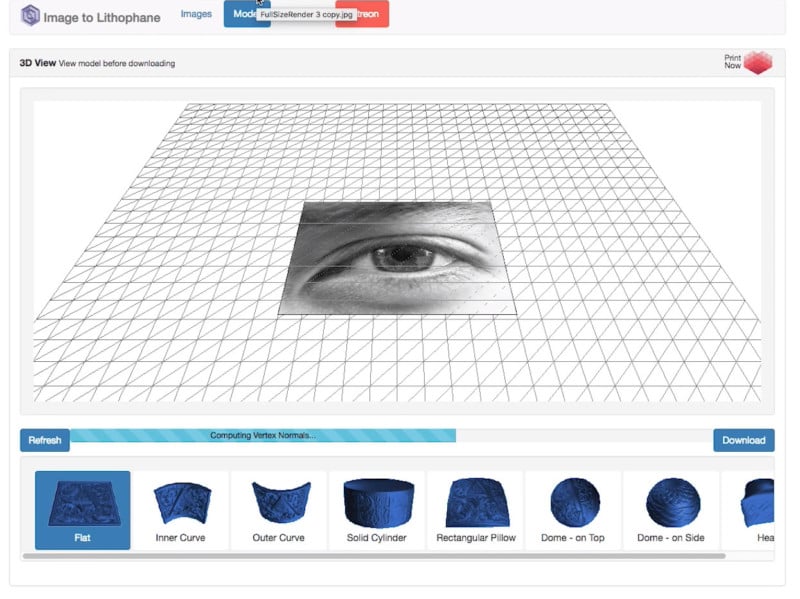 The website turns your uploaded photo into an STL file. Specify whether you have a positive or negative image, and then download the file to your computer.
You then load the STL file into a slicer program that slices your 3D model into hundreds of layers to help guide the 3D printing machine.
While DeArco used a 3D printer himself, you can also have the 3D printing done through services like Shapeways.
The result of this process is a lithophane that shows your photo beautifully when viewed with a backlight:
DeArco used this technique to create photo lithophanes to give out to family and friends as Christmas cards this year. Needless to say, lithophanes of your photos could make unique and creative gifts for people in your year-round.
You can find more of DeArco's photos and videos on his website, Facebook, YouTube, and Instagram.