Samsung's 512GB Chip Will Hold Years of Smartphone Photos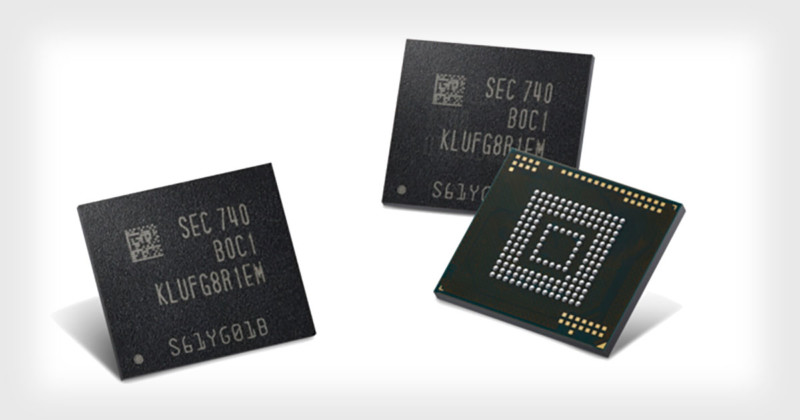 Samsung smartphone are about to get a lot more internal storage. Samsung has announced that it has begun mass production of a 512GB embedded Universal Flash Storage solution that will appear in the next generation of smartphones from the South Korean giant.

The 512GB chips will provide vast internal storage space and may spell the end of the need for microSD cards by most smartphone users who want to store years of photo and video memories.
Samsung says that this is the first chip of its size in the mobile industry that offers this new level of "unparalleled storage capacity and outstanding performance." It takes up the same amount of physical space as Samsung's previous 256GB chip, so it's unlikely we'll see smartphones increase in size as a result.
Smartphones using the new 512GB chip will be able to store about 130 10-minute-long 4K Ultra HD video clips.
"The new Samsung 512GB eUFS provides the best embedded storage solution for next-generation premium smartphones by overcoming potential limitations in system performance that can occur with the use of micro SD cards," says Samsung VP Jaesoo Han. "By assuring an early, stable supply of this advanced embedded storage, Samsung is taking a big step forward in contributing to timely launches of next-generation mobile devices by mobile manufacturers around the world."
Samsung has introduced a new "power management technology" in the chip, helping to minimize the "inevitable" increase in the amount of energy required to run it.
The new chip will be able to do fast transfers, boasting read and write speeds of 860MB/s and 255MB/s respectively. At these speeds, a 5GB video clip can be transferred to an SSD in about 6 seconds — that's over 8 times faster than a "typical" microSD card.
For random operations, the chip can read 42,000 IOPS and write 40,000 IOPS — that's about 400 times faster than the 100 IOPS of a conventional microSD card.
Samsung has said that it intends to "steadily increase an aggressive production volume" for the 512GB chips, as well as expanding the previous 256GB chip's production.
"This should meet the increase in demand for advanced embedded mobile storage, as well as for premium SSDs and removable memory cards with high density and performance," says Samsung.