iPhone X Best Smartphone Ever for Still Photos But Not Video: DxOMark
The new Apple iPhone X is the best smartphone on the market for shooting still photos. That's what DxOMark concluded in its new review, giving the phone a best-ever sub-score of 101 for photos. For video, however, the iPhone X scored a weaker 89, dragging its overall score down to 97.

While the iPhone 8 Plus features a f/2.8 telephoto lens in its dual camera, the iPhone X's telephoto camera packs a f/2.4 lens.
"Compared to its cousin iPhone 8 Plus, the X improves noticeably on Zoom performance, but also does better in terms of Exposure, Color, Texture, Noise and Artifacts," DxOMark says. "Other key strengths in still image mode include very good exposures and HDR images, accurate color rendering, good detail with low noise, as well as a natural-looking bokeh effect in Portrait mode."
For video, the iPhone X has virtually the same scores as the iPhone 8 Plus. While the camera handles lighting changes well and has good color, white balance, exposure, autofocus, details, and stabilization, it also has oscillations during walking movements, noise in low light, and a loss of sharpness while tracking in low light.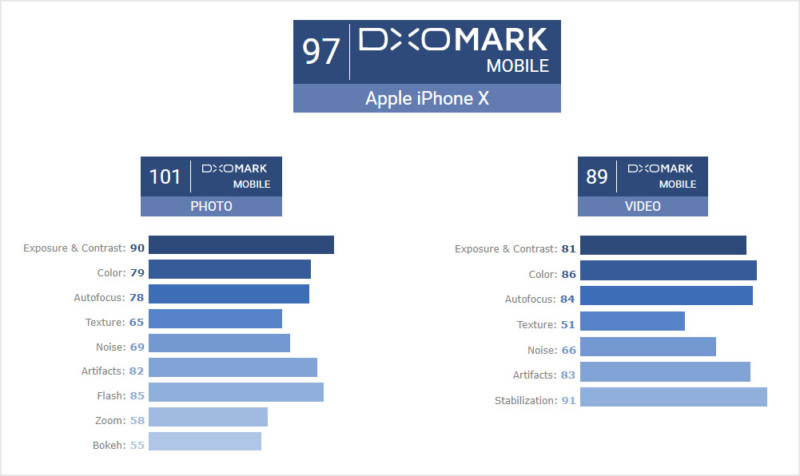 "With all of the analyses completed, the scores calculated, and the results verified, the iPhone X turns in an excellent result, delivering outstanding images for smartphone photography enthusiasts," DxOMark concludes. "It's exceptional for stills […]"
For portraits, the improved telephoto lens delivers sharp results even indoors, and the bokeh simulation produces a natural and pleasing background blur. Outdoors, exposures are outstanding, with great dynamic range, impressive skies, good fine detail, and punchy color rendering. Add to all that the extra features on the front-facing camera, including a Portrait mode for blurred-background selfies, and the iPhone X delivers one hell of a smartphone camera.
The iPhone X's overall score of 97 puts it in second place behind the Google Pixel 2 and tied with the Huawei Mate 10 Pro.