Google Pixel 2 Boasts the 'World's Top Smartphone Camera' (Again)
Google has just announced the Google Pixel 2, a followup to the original smartphone that packed what Google called "the best smartphone camera ever" when it was announced in October 2016.

The all-aluminum Pixel 2 comes in two sizes: the Pixel 2 with a 5-inch screen and the Pixel 2 XL with a 6-inch display. The OLED displays have pixels that can individually be left off while others are turned on, resulting in a 100,000-to-1 contrast ratio that's 10x better than other smartphones in this class.
It seems the Pixel 2 will retain its title of "best smartphone camera ever." DxOMark gave the original Pixel phone a score of 89, the highest at the time. The Pixel 2 has just been given an overall score of 98 by DxOMark, the highest score of any smartphone camera on the market today — by comparison, the Apple iPhone 8 Plus and Samsung Galaxy Note 8 both have a score of 94.
Here's what DxOMark says about the camera on the Pixel 2:
We're in danger of running out of superlatives when describing the major image quality attributes of the Google Pixel 2. That makes sense for a device that tops our scoring charts […] So for just about any Photo or Video use case, it recommends itself as the phone camera with the best image quality. A notable exception to that assessment centers around the added performance in Zoom and Bokeh (including Depth and Portrait) that dual-camera smartphones such as the Apple iPhone 8 Plus and Galaxy Note 8 can provide. This said, the Pixel 2 is especially well-suited to videographers, as it achieves the highest Video score for any device we've tested — a 96.
Google hasn't gone the trendy dual camera route with the Pixel 2: it has a single 12.2-megapixel f/1.8 rear camera with optical image stabilization. On the front of the phone is an 8MP camera.
Every photo is captured with a burst of shots that are optimized with computational photography to produce a single optimal photo. What's more, there's zero shutter lag while all of this is going on.
There's a new autofocus mechanism that reduces blur.
There's also a new Portrait mode. This feature uses computational photography and machine learning to blur the background. Unlike Apple's implementation, which uses dual cameras for depth detection, the Pixel 2 does portrait mode with a single camera. Each pixel in the Pixel 2 is a dual pixel that detects the scene from two perspectives.
Portrait mode even works on the front-camera, allowing for beautiful "shadow depth-of-field" selfies.
Optical image stabilization is also paired with electronic video stabilization while shooting video, resulting in what Google calls "fused" stabilization. There's less motion blur, even in low light, and your video looks smooth and professional.
A new "Motion Photos" feature captures 3 seconds of video along with your photos — a similar feature to Apple's Live Photos.
Google's built-in assistant can be triggered by simply squeezing the phone and telling it a voice command — say "take a selfie" and the phone will open up your camera app and switch to the front-facing camera.
After shooting photos and videos, Pixel 2 owners will continue to have free unlimited storage in Google Photos. Pixel users shoot twice as many photos and videos as iPhone users, Google says, and store an average of 23 gigs of data in Google's cloud.
Photos in the cloud can also be quickly searched through — they're automatically labeled using Google's powerful machine learning technologies.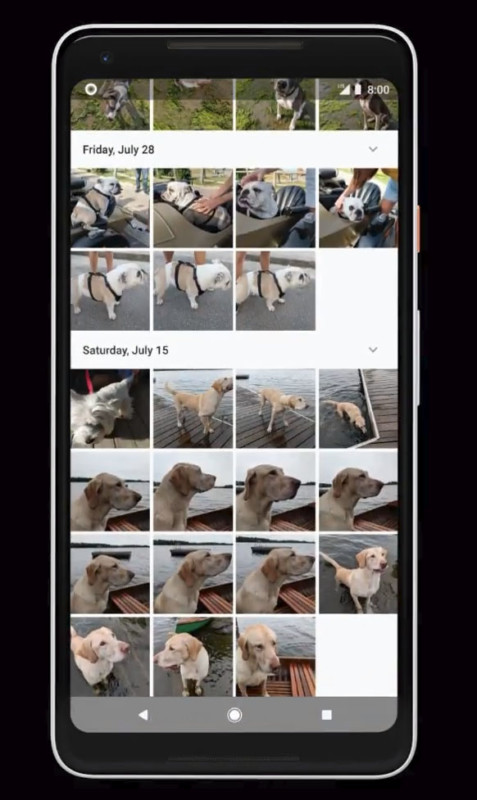 Other features in the Pixel 2 include super fast charging, water resistance, the fastest fingerprint sensor, 7 hours of power with 15 minutes of charging, and a new Google Lens feature for detecting useful info in photos (e.g. emails and phone numbers).
Here are some sample Google Pixel 2 photos by photographer Timmy McGurr (AKA 13thwitness) that were featured during the announcement event today:
Here's a short video introducing the Google Pixel 2:
The Google Pixel 2 will be available for $649 and the Pixel 2 XL costs $849. Both phones come in three colors (Just Black, Clearly White, Kinda Blue) and can be pre-ordered starting today.