Rylo is a Tiny 360-Degree Camera with 'Game-Changing' Software
Rylo is a new 360-degree camera powered by some rather innovative software that lets you edit cinematic-quality video on the go. Created by a team of former Instagram and Apple engineers, this tiny 360-camera aims to shake up the market.

Utilizing two 208-degree wide-angle lenses, Rylo shoots 4K at 30 fps in full 360-degree coverage. The lenses are actually built by the creators themselves and have a f/2.8 fixed aperture. They're the equivalent of a 7mm lens on a 35mm camera.
"For most people, creating and sharing beautiful video is a lot of work," says Alex Karpenko, CEO and co-founder of Rylo Inc. "It requires planning and, most of the time, videos turn out shaky or you miss the moment entirely. The combination of Rylo's hardware and software gives anyone the confidence and creative freedom to get the perfect shot every time."
Rylo's software allows you to export "traditional" 1080p videos from the 360-degree clips (in a similar fashion to the GoPro Fusion), selecting which area you want to focus on. This effectively allows you to choose where to point the camera after you've shot the scene.
One of the major selling points of this camera is the "cinematic stabilization," as Rylo is capable of delivering buttery-smooth shots. You can say goodbye to shaky action-cam footage.
"Rylo features breakthrough stabilization software that's built right into the camera," said Rylo. "Combining 360° capture with advanced camera motion detection, Rylo automatically removes unwanted camera motion or shakiness to produce some of the smoothest video you've ever seen."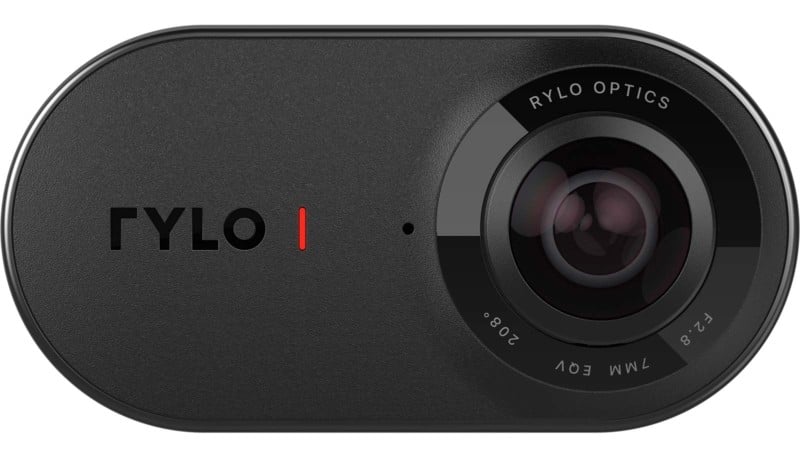 The launch video gives you a little taster of what the camera can do:
Rylo also makes 360-panorama images easier to capture, shooting 6K resolution stills that you can share online.
The body of Rylo is made with anodized aluminum alloy, keeping everything lightweight at just 108 grams. It has an OLED display screen and a single button that powers the camera on and records video.
Rylo has a microSD slot that will work with cards up to 256GB in size. The included 16GB card will store up to 34 minutes of video or 5000 photos. You have plenty of time to fill that card, too, with approximately 60 minutes of continuous recording per charge.
Part of the charm of Rylo is the technology built into its dedicated app. With editing now possible on the go, you can share finished videos straight from your smartphone.
"Historically, camera innovation has been dependant on upgrading hardware, but the future of innovation for cameras is in the software," said Chris Cunningham, COO and co-founder of Rylo Inc. "The magical thing about camera software is how it closes the gap between what professionals and everyday people can do. That's why we built software first and designed the camera's hardware around it."
Plugging your camera straight into your smartphone allows for instant playback, allowing you to review what you've shot on location.
The app has 4 special editing features (alongside the usual ones like trim and crop). FrontBack allows you to put yourself into the frame, with a picture-in-picture clip, so that you can share your reactions to the moment at hand.
The second feature is called Follow, and that lets you track action with just a single tap on the app. The software will then adjust the orientation of the camera and keep the action in the frame.
Next up is Points, a feature which controls the camera's perspective. Tapping on specific points of interest, Rylo will produce a smooth shot that "connects each of your points."
Timelapse is the final editing function, allowing you to speed up the video you've shot and create cinematic timelapses "without a gimbal or tripod."
Using these tools, exporting standard 1080p videos is possible, selecting shots from the 360-degree clips themselves. Rylo will also remove any distortion from the lenses automatically.
Rylo is available today (in the United States only, for now) for $500 from the Rylo website. The Rylo app is available for iOS devices, with an Android version coming soon.