Photographer Sues the NY Times for Discrimination, Misclassification, More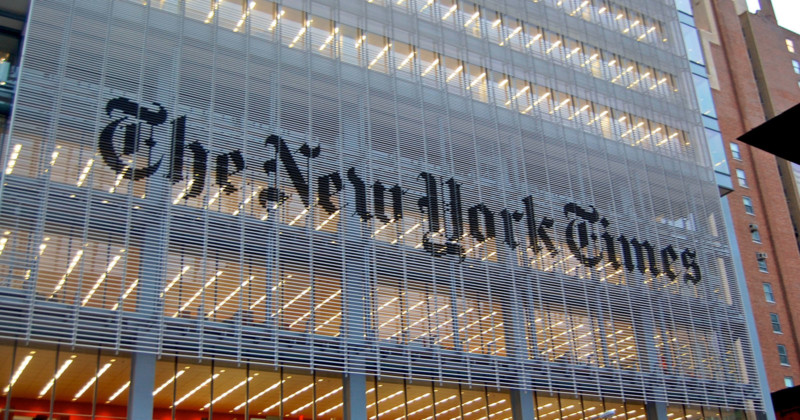 A photographer whose photos have appeared on the front page of the New York Times over 30 times has filed a lawsuit against the newspaper. He accuses the Times of misclassifying his employment status, discriminating against him based on age, denying assignments due to an arrest, and retaliating against him due to making these claims.

Bloomberg BNA reports that photographer Robert Stolarik filed the lawsuit against the Times on July 6th in the U.S. District Court for the Southern District of New York. In the complaint, Stolarik makes a number of different accusations.
The first is that during his 14 years of shooting for the paper, Stolarik has always been classified as a freelancer instead of a full-time employee, making him pay additional taxes as well as be ineligible for the company's health insurance benefits and retirement plan. Stolarik says that the editors at the Times referred to him as a "full-time freelancer."
Stolarik also says that despite working nearly 3,400 hours in overtime between 2005 and 2009, he was only compensated his standard hourly rate of $25 per hour for these overtime hours.
The Times also discriminated against Stolarik based on age, the lawsuit says. Stolarik regularly sought to become a staff photographer and employee of the Times, but he claims he was told multiple times by multiple editors that his age (he was 37 in 2006) would prevent him from being brought on as a staff shooter.
At the same time, a number of "less qualified" younger photographers in their 20s were hired by the Times as staff photographers, the lawsuit says.
In August 2012, Stolarik was covering a story in the Bronx when he was assaulted and arrested by NYPD officers. The Times assigned Stolarik a lawyer to defend himself and sent an angry letter to the NYPD over the photographer's treatment. The officer was later found guilty of a felony for lying about the arrest.
However, after everything was settled, Stolarik found himself soon taken off the police beat that he had covered with his camera for over 10 years.
"As a result of [The NYTimes'] unlawful discriminatory employment practices, [Stolarik] has suffered a loss of income and benefits, in both being denied a staff position and in being denied freelance assignments," the lawsuit states.
Finally, Stolarik claims the Times retaliated against him after he sent a letter with these legal complaints to the paper in March 2016 — since that time, he hasn't received a single assignment by editors.
You can read the full 23-page lawsuit for yourself here:
"For freelance photographers life remains challenging," writes Ramin Talaie, an adjunct faculty member at Columbia's Graduate School of Journalism. "More news outlets are leaning on freelancers at the same time the proliferation of digital photography has led to severe drops in rates. Meantime, healthcare and other living expense continue to soar.
"Was he a freelancer or a misclassified employee? A judge will decide, likely in the coming year."
---
Image credits: Photograph by Haxorjoe