The Rhino ROV is a Motorized Slider for Your Smartphone and Camera
Rhino has just launched a new Kickstarter campaign to fund the launch of its new ROV motorized camera slider for smartphones and various types of cameras.


The slider has a 24-hour battery life, allowing for such things as shooting night-time starscapes. Its "low profile" iPhone mount means you can shoot at low angles, and the all-terrain legs fold for a compact design when traveling.
There's also a cold shoe mount on top of the iPhone mount so you can easily attach accessories (like a shotgun microphone).
There are two sizes of the slider available, one with an 8″ travel distance and a second with a 16″ distance.
There is another version of the slider, the ROV Pro, which also has a professional 1/4-20 ball head and is capable of shooting DSLR time-lapses. It also has a premium gunmetal finish.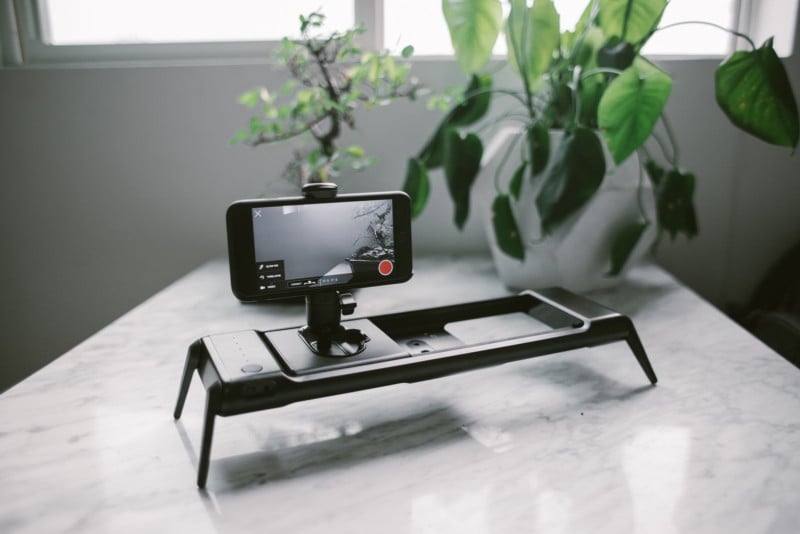 Able to take a payload of up to 5lbs, the device has a maximum speed of travel is 1″ per second, with a minimum of 0.05″ per second, and has a maximum angle of 30 degrees.
Using a "Coreless DC technology" motor, commonly found in medical and aerospace applications, the movement is fast, quiet, and uses very little power.
Here's a look at what it can do, along with a short introduction:
The slider is compatible with Rhino's Storyteller app, allowing you to change direction, movement speed, and other settings easily.
Rhino is looking to raise $50,000 to make this slider a reality, and the company has already successfully funded a number of crowdfunding campaigns.
The ROV slider is available with a contribution of $230 on Kickstarter, and the ROV Pro is a reward for contributions of $300. If the project successfully funds and delivers, you should get your slide around April 2018.
(via Kickstarter via The Verge)