Rosetta Sent a Surprise Close-Up Photo of the Comet it Crashed On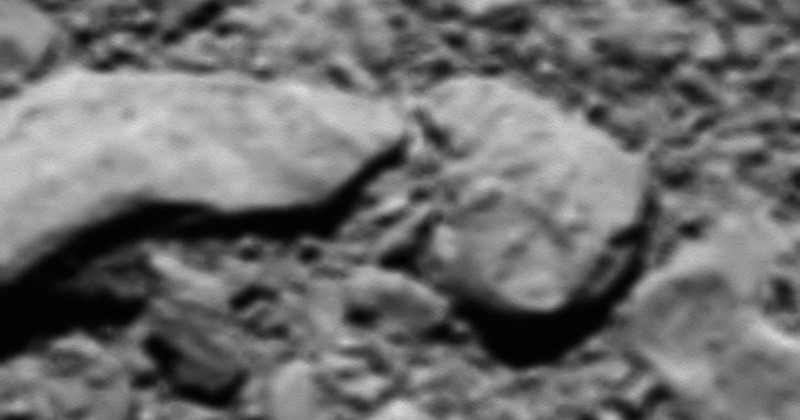 On September 30th, 2016, the European Space Agency ended the Rosetta space probe's mission by crashing it onto the comet that it had been orbiting for two years. It's been over a year now, but scientists just discovered that Rosetta had sent a surprise final close-up photo of the comet's surface just before impact.

The ESA writes that the photo was discovered by scientists on the camera team who were analyzing the final transmissions beamed by Rosetta. After studying the data, researchers realized that there were a few leftover packs of information from an incomplete transmission.
"The last complete image transmitted from Rosetta was the final one that we saw arriving back on Earth in one piece moments before the touchdown at Sais," says scientist Holger Sierks. "Later, we found a few telemetry packets on our server and thought, wow, that could be another image."
It turns out the data was another photo. Rosetta had been transmitting photos to Earth by first splitting the 23,048-byte images into 6 smaller packets each. The last transmission included 3 of 6 packets, so the photo was incomplete and wasn't recognized by the scientists' automatic processing software.
Upon discovering these 3 packets, however, scientists were able to manually reconstruct a photo using the data that arrived.
The reconstructed photo was shot from about 65 feet (20m) above the Comet 67P's surface and shows a patch that measures about 3 square feet (1 square meter).
This was Rosetta's final photo of Comet 67P, as the 2mph (3.2km/h) controlled impact was strong enough to shut down the space probe.