I Almost Lost a Nikon D850 to a Scam on eBay
This is the story of how I recently almost lost a Nikon D850 DSLR to a scam on eBay. Scammers are now targeting higher value eBay sales with fake PayPal phishing emails.

When it comes to buying and selling goods and services on the Internet today, the options are endless. The market that was once dominated by the likes of eBay and Craigslist is now seeing a surge of new options. Facebook now contains a marketplace and groups through which you can buy and sell goods and services with zero selling fees other than the standard PayPal fees on invoiced transactions.
But what has kept eBay afloat despite its hefty selling fees is the auction option and belief that they are a safe platform for both buyers and sellers alike – but are they?
The latest scam to hit eBay had almost fooled even me. I consider myself to be quite savvy when it comes to sniffing out potential scams, as I have done many times in the past.
One week ago I was one of the lucky ones to receive the newly-released and highly sought-after Nikon D850, a camera that has generated a huge number of backorders at B&H Photo and retailers throughout the country. The gradual release of limited units to retailers has created a hype, the likes of which has previously been seen with the release of new iPhone models.
It's not to the point where people were camping out on the streets in front of retailers, but it did reach a point where the resale value of the few units being resold online has reached as high as $700 to $1,000 above retail. Seeing this (and not urgently needing the camera for myself yet), I decided to try to resell my D850 on eBay with a Buy It Now listing price of $4,200.
Just hours into the listing, the camera was sold at the full asking price. It surprised me that despite the option to submit an offer, this buyer opted to purchase the unit at my extremely high asking price.
A quick look at the buyer's account revealed what looked like a dormant account. It was a member since 2013 with a feedback score of 4 points, none of which was recent. Being that this was such a high-priced item, I decided to further research the buyer by doing a quick Google search on the buyer's name and address. I was delighted by the results I received; the name search matched to a family law attorney in Garrettsville, Ohio. What better buyer could I ask for, right?
An invoice request from the buyer was received immediately following the 'Listing Sold' notification from eBay, with a note stating the following:
Hi, Please send me more pictures of the item from all angles, send them to my email *********@outlook.com Once i receive it on my email I will submit payment via PayPal Thank You.
The first sign that something isn't quite right was the reference to my precious Nikon D850 as "the item." And this was coming from a person that just showed so much respect to my camera by purchasing it way above the MSRP.
As I have come to realize by now, the scammer's intent with the above note was to get my email address and to show a slight distrust in the purchase. And in an attempt to put me in a defensive mode, he asked me to prove that the item he just purchased is indeed in my possession.
But hours later, before I even had a chance to reply with my photos, I received the below official looking email on my phone from what appeared to be a legit source: [email protected]
Note how the mobile email app completely masks the email address and only displays the email name. In this case, it was named by the scammer as [email protected], but it actually came from the email address [email protected]
Gmail typically has a phishing alert in place on suspected sites that looks similar to this:
However, Gmail completely missed this one. And while no one may have reported this particular email address for phishing, Gmail should have detected a phishing attempt on an email named [email protected] that was not received from the paypal.com domain since it's such a high target for fraud.
Here are the contents of those emails:
When I pointed on the question mark button next to the address it revealed the following address:
I should point out that handling your buying and selling on a smartphone possibly enables this scam to slip through undetected even to the most trained eyes. The words used in the email and the request to mail it to a different address triggered a warning in my mind. Something didn't sound right, and when I opened my PayPal app, the funds were nowhere to be found there.
But as you can see in the email, the scammer has taken a step to explain as to why those funds are not showing yet, and someone not familiar with the process can get easily fooled by that explanation.
And It's ultimately the scammer's overly-assuring tone that pushed me to Google the buyer's name again… and this time actually placing a call to the buyer. After a short conversation with the attorney that supposedly purchased the camera, it was clear to us that this was indeed a scam. She never placed an order for a camera and hasn't been active on eBay for the past few years. She did not know how the scammer got a hold of her account.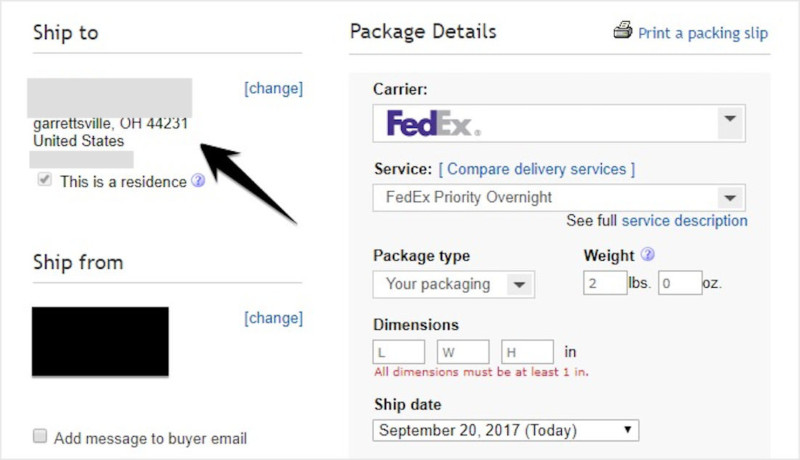 The above screenshot shows the verified address on eBay.
And the address requested by the scammer in both the phishing email from PayPal and the personal email below:
Hello,

I have just completed payment, kindly check for notification from PayPal and get back to me with shipment verification today Via FedEx Overnight Shipment Next Day Delivery
Below is the delivery address of my partner whom i am buying the item for as a birthday gift

Tobi Adams
2220 Meridian Blvd Suite #UP639
Minden,Nevada
89423
United States
Regards

Kim
NOTE: It should be posted via FedEx Overnight Shipment Next Day Delivery (8.00 AM Delivery)
So after having my suspicions confirmed, I Googled the above 'ship to' address that was provided to me by the scammer. The address is registered to a company known as Shipito (or Eastbiz Corp.) a US package forwarding company (also known as a freight forwarder, a mail forwarder or a shipping forwarder). My search also uncovered a large number of complaints of people who have been scammed by people using Shipito.
A few hours later, I received an email from the scammer. At this point, I decided to play along for entertainment purposes. The following is our correspondence:
Scammer
Hi,
Kindly take note of the correct delivery address, the one i sent before was a mistake.

Below is the delivery address
Philip Ajayi
2220 Meridian Blvd Suite #SX063
Minden,Nevada
89423
United States

Once shipped kindly keep me posted.
Me
It shipped already. Sorry.
Scammer
Hi,
No please call FedEx and redirect it, the address is not correct gave you the correct address please, act at once now very urgent. Would not like anything to happen to the package. Redirect it to the correct address i gave you then you update me with the shipment tracking number.
Me
Oh my. I hope it's not too late. Who lives in this other apartment?
Scammer
Thats my partners real apartment, made a mistake while sending you the mail was at the middle of something. Its not late just call FedEx they will redirect it for you OK.

Kindly update me once you are done with redirecting the camera to the correct address.
Me
I called. It's too late. The truck has already picked it up.

Have your partner wait at that apartment at 8AM. The FedEx driver will hand it to him if he shows ID.

Hope it works out.
Scammer
Can I have the tracking number from FedEx?
(End of correspondence.)
This scam appears to consist of hijacking dormant accounts with some feedback, as accounts with no feedback trigger a red flag to sellers. This is followed by sending fake emails "from PayPal" and finally the package is asked to be shipped to a shipping forwarding address, where the scammers take control of the package by either reselling it on eBay or shipping it off overseas.
To avoid being the victim of a scam on eBay, only accept PayPal as payment. After receiving an email from PayPal that the invoice was paid, you should confirm that the funds are indeed showing in your PayPal account. While PayPal may put a hold on the funds it will always show a pending transaction in your account. eBay will warn you if you attempt to ship an item before receiving payment. If such a warning is displayed, do not mail the item until your payment is verified by eBay via PayPal.
I should note that shipping forwarding companies are used in legit sales on eBay, and I have personally mailed to such addresses as long as the address is on file and verified with both eBay and PayPal.
If you receive email correspondence from the buyer, you should always confirm the actual email address that it was mailed from by clicking on the name. Correspondence from PayPal should come from the PayPal.com domain only.
Finally, you should only mail items to the verified address on file with PayPal and eBay in order to qualify for sellers protection. Mailing it to any other address will be at your own risk. This insurance by eBay is partly why you pay the hefty selling fees.
---
P.S. This is just one of the many scams happening on eBay. Other scams to be aware of have been widely discussed in online articles.
---
About the author: Eli Wohl is a hobbyist photographer and real estate appraiser in New York City who often shoots street photography in the Jewish Hasidic neighborhood he resides in. He also combines his real estate career and love of photography by shooting architectural, real estate, and interiors for his clients. Eli's tips have also led to a number of articles on PetaPixel. You can find more of his work on Instagram.