KOBRA is a New Flash Modifier Hoping to Make a Splash in a Crowded Market
The KOBRA is a new flash modifier that's hoping to be a "game-changer" in an already crowded market. The brainchild of photographer Paul McKelvey, the KOBRA has just been launched on Kickstarter. McKelvey was frustrated with the results of what's currently on the market, so he created the KOBRA to "paint with light, not spray."

It took 26 different 3D printed prototypes, but McKelvey and his accomplice Brian Hayes, a 3D designer, have finally come up with their flash modifier design.
"The KOBRA was made to give photographers an effective flash modifier solution that is lightweight, flexible and with an attractive design," said McKelvey. "As a professional photographer, I have used all the 'on camera flash' modifiers that are available and have been unsatisfied with the results. I decided to stop complaining and make my own."
The KOBRA is made of high-grade, flexible silicone and has a unique way to grip onto a lens, meaning there is no need for a "noisy hook and loop system or heavy magnets." It will work with almost any flash unit, too.
"The objective of the KOBRA is to bounce light off the internal reflector before it hits your subject, rendering a pleasing three-dimensional quality to the light," says McKelvey. "To further enhance the user's experience, KOBRA has a refreshing, cutting-edge look without the need of the weight and bulk of powerful 'Earth Magnets,' or noisy 'Hook & Loop' attachment systems."
The material is so durable that it will simply "bounce back" to its original shape after being folded and stored inside your camera bag. The silicon structure is just one piece which grips onto the KOBRA attachment band (which can be used to attach gel strips) and is itself entirely diffusing of light.
Its backbone comes from the patent pending built-in reflector, which bounces the light forward through the clear silicone. It's black on the outside, sending light towards your subject rather than spraying aimlessly around the room. It can be used easily in both horizontal and vertical configurations, too.
Here are some comparisons shot with and without the KOBRA. When used during a simple front lit, direct flash of the subject, the KOBRA clearly makes a huge difference.
It removes harsh shadows, replacing them with very soft shadows that don't contrast as harshly. The KOBRA "paints light" and takes away that harsh white light that is typical of a direct flash hitting the subject.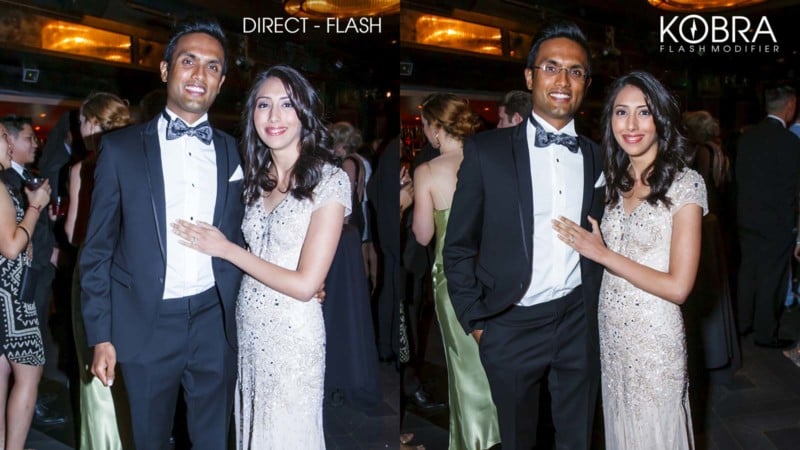 Why is the KOBRA that different? One of the biggest benefits to the KOBRA Flash Modifier is that there aren't always ceilings or white walls to bounce light from. By using the KOBRA, you're "carrying your own wall" with you.
And if you're wondering how the look of KOBRA illumination differs from other popular modifiers on the market, here's a grid of test shots for comparison (click it to see a larger version):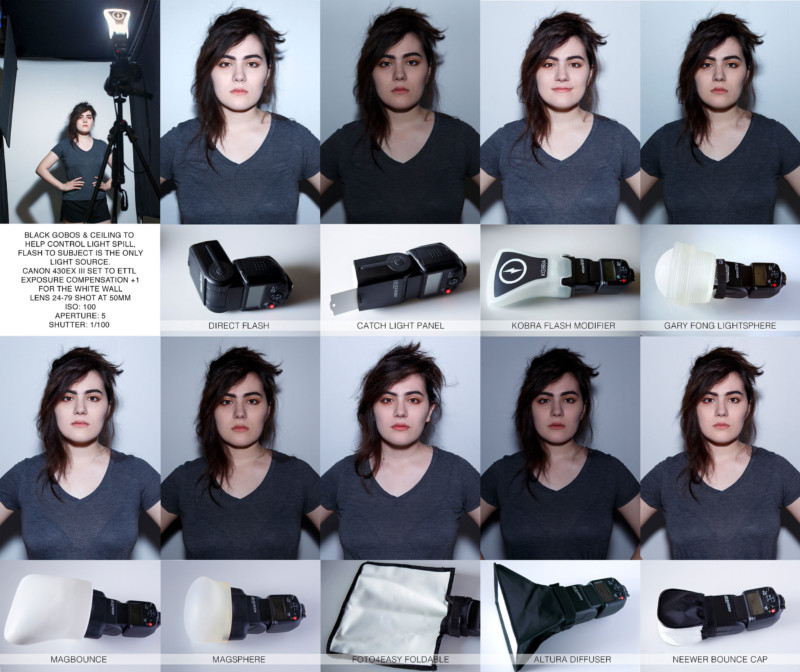 Here's a video introducing the Kobra:
You can support the KOBRA Flash Modifier Kickstarter campaign and get your own system with a contribution of $58 (if the fundraising succeeds and project delivers).