Catching Up With Quintin Lake on His 10,000km Walk Around the UK Coast
We first spoke with Quintin Lake back in 2015, when he had completed just 4% (361km) of his journey around the perimeter of Britain. He's now covered 39% (3,928km), and we caught up with him to see how he's been getting on.

Quintin Lake is a fine art and architectural photographer based out of Cheltenham, England. His ambitious project, titled The Perimeter, sees him walking 10,000km around the coast of Britain in sections over 5 years.
Lake started the journey on April 17, 2015 at St Paul's Cathedral in London, and he is following the coast clockwise. He regularly updates his website with his progress, including the map of his travels included below.
In this catch up interview we focus on the challenges that Lake has experienced during his journey so far, and how his equipment has evolved over the past 2 years. We've also included a selection of his favorite images from around the country.
PetaPixel: What major challenges have you encountered along the way so far?
Quintin Lake: North Pembrokeshire in Wales has been the most challenging as I was in the heart of winter with gale force winds, driven hail and rain. It's very steep up and down 100m cliffs throughout the whole day and a long way from any facilities; I wouldn't see anyone on the path for days. The paths get reduced to muddy troughs, my trekking poles snapped sending me slipping down, and the relentless wet and cold made it hard to keep warm day after day. As the days were very short I needed to walk three hours in the dark by head torch to cover the distance, which makes route finding and balance difficult. The photography was really good though!
Recently I tore the Tibialis Anterior Tendon on the top of my foot from overuse, which entails 6 weeks of immobilization and then rehab before I can continue.
There are a lot of precipitous cliffs which require attention especially in gales and mist and you have to stay switched on not to get stranded in some coves when the tide rises – I've had a few close calls!
Day to day challenges are finding drinkable water, aggressive dogs and cattle, finding a flat secluded place to pitch my tent and detouring around infrastructure and firing ranges. I enjoy photographing infrastructure as it represents the contemporary landscape so I often have encounters with security guards.
Have you at any point felt like giving up?
For the first few months every night before I fell asleep I felt like I couldn't do another day of this as everything ached so much. However, sleep is a miraculous thing and life always looked a little better the next day. Now, two and a half years since starting I know myself a little better so I lie to myself to keep myself going! "ok we stop tomorrow" "ok after this coffee" "ok after this headland".
Have you stuck with the same gear the whole time, or did some of your equipment not meet expectations?
A lot of kit has worn out; I'm on my 5th pair of shoes now, the treads wear flat after about 1,000km which makes then pretty dangerous on muddy cliff paths. Finding the right footwear took experimentation – I now use ultra marathon trail runners as they are designed for long days on both road and trail.
I moved from a 3/4 to a full length Thermarest Neoair sleeping mat as although heavier it helped me sleep a lot better.
One waterproof jacket has worn out and wetted through, a few sets of socks have worn out, the backpack made by Zpacks in cuben fibre is nearly worn out and will need replacing soon.
One headache has been USB power packs as I'm often off grid for a few day at a time when I need to charge both iPhone, torch and camera batteries. As well as a phone I use the smartphone for navigating with digital topographic maps and for writing. I had to experiment with a lot of brands to work out which works, is weight to power efficient, won't discharge when items are left plugged in, and allows through charging. The winner from my experience has been the Zendure brand.
In terms of cameras, I've moved from a Canon 6D to 5DS R as I print large so the extra weight and expense were worth it for that. That said, the 5DS R does require perfect technique to obtain optimal resolution and I do it find it noisier in the shadows and more prone to clipping highlights than the 6D was.
I've changed from carrying Canon 24-70 f/4 to 16-35 f/4 to pair with my favorite lens the Canon 70-300mm f/4-5.6L as I find the wider focal range opens up more creative possibilities.
Lenses definitely need recalibrating annually at Canon's lab when used this much, not sure if that is exacerbated by the jiggling of carrying them so far or not. Contrary to previous journeys I've used a tripod more and more especially in winter as the days are so short this adds valuable shooting time to the day. I still use the knee-high table tripod Gitzo GT-531. You have to sit down to use it but that has the advantage of making it stable as it's so close to the ground.
Night hiking for up to 3 hours in rain and wind needs some serious illumination to stay safe on cliff paths. I use a Petzl Nao+ headlamp with 700 lumens that also met my criterion of being chargeable via a USB power pack. It's got a very consistent beam so I occasionally use it for light painting too.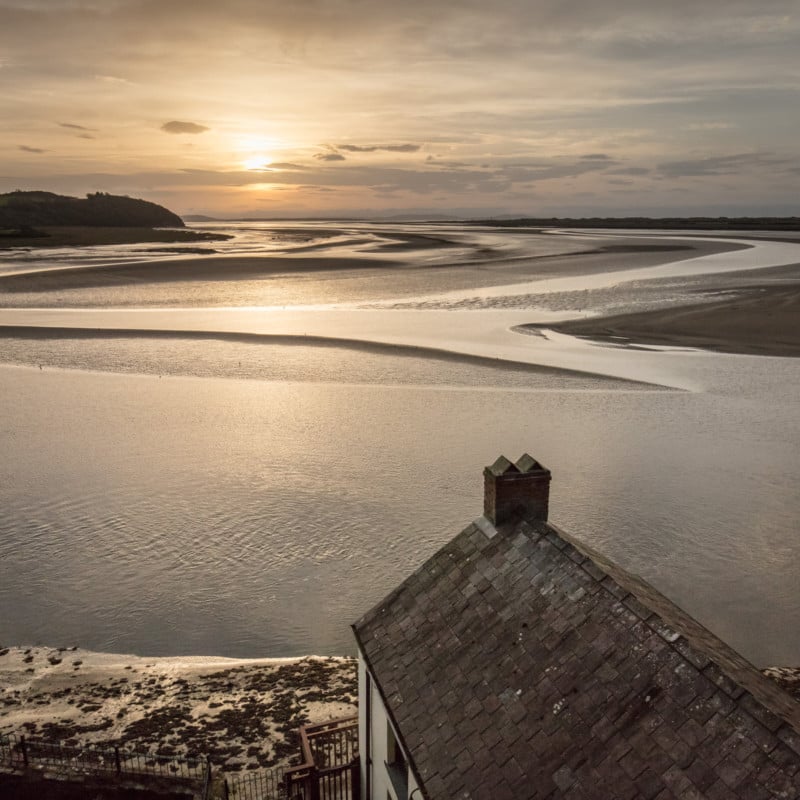 You mentioned in our previous interview that you were considering a book and exhibition – do you have an idea of your creative direction now?
I'm more confident there would be interest in a book and exhibition so it will happen. Last year the BBC sent a video journalist to make a short piece on my project that was broadcast nationally, and since January this year I write a monthly column in Digital Camera Magazine with a couple of pictures on The Perimeter which is a really satisfying way of communicating the project as it unfolds. However in terms of creative direction for the final product this journey has taught me is not to pre-visualize anything!
---
You can follow along with Lake's journey over on the The Perimeter website, Facebook, Twitter, and Instagram. His other photography can be seen on his personal photography website.