RIP: Bowens to Be Liquidated, Report Says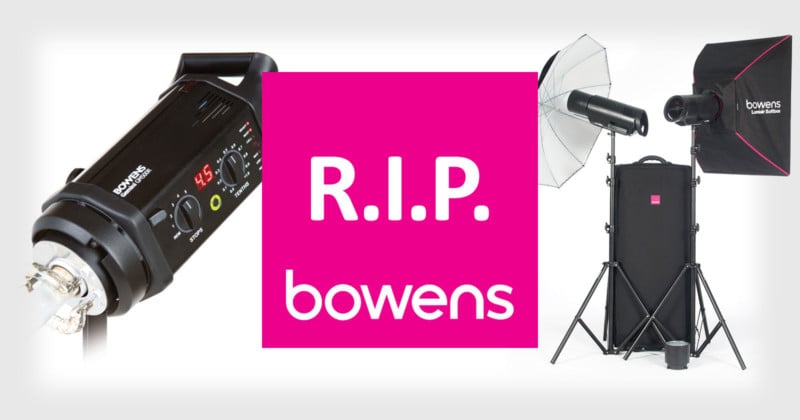 Bowens, the 94-year-old photography brand best known for its lighting equipment, may soon be shuttered. According to a new report, Bowens has reached the end of its road and has gone into liquidation.

DIYPhotography reports that an inside source shared news of this liquidation, which was subsequently confirmed by two independent sources.
Bowens lighting gear is used by photographers around the world. The brand was born all the way back in 1923 as a London-based camera repair business called the Bowens Camera Service Company. Decades later, the company expanded into lighting gear and eventually grew into one of the biggest brands on the planet for things like flashes, softboxes, reflectors, lights, and other lighting accessories.
In June 2016, Bowens Lighting was acquired by the European investment firm AURELIUS along with Calumet Photographic. Calumet and Bowens Lighting reportedly hauled in revenues of roughly $125 million in 2015 prior to the acquisition, and AURELIUS said it planned to expand Calumet's retail footprint across Europe.
Now it seems that Bowens is no longer part of AURELIUS's expansion plans.
An earlier sign of trouble for Bowens may have appeared in early 2016, when the brand unexpectedly pulled out of The Photography Show, the largest photography trade show in the UK. Bowens had reportedly ordered a huge amount of floor space at the show prior to abandoning its appearance.
The company attributed its decision to delays with its Generation X line of flashes, but people began wondering whether trouble was brewing behind the scenes. Bowens was present at the show this year, though.
If Bowens is officially shuttered, it will be yet another "ancient" photo brand to bite the dust in recent times: back in March 2017, Popular Photography magazine was ended after a 80-year run as one of the top names in photo publishing.
We've reached out to Bowens International for comment and will update this post if we hear back.
---
Update on 7/16/17: While we have yet to hear official word from AURELIUS/Bowens, a source familiar with the situation has reached out to confirm the liqudation.
"Yes, all UK staff (including China factory) were informed that the company is going into liquidation," the source says. "We were aware the company was facing problems and have all been working long days to pull company through a hard time, but we never thought it would end."
The source also states that the UK employees were shocked by the development and are upset over how it is being handled. There is supposedly uncertainty regarding whether or not they will be paid for the previous months work or any work during the liquidation process.
---
Update on 7/20/17: Bowens has officially confirmed that it has discontinued operations.