PocketWizard MultiMAX II Transceiver Brings New Features at a Lower Price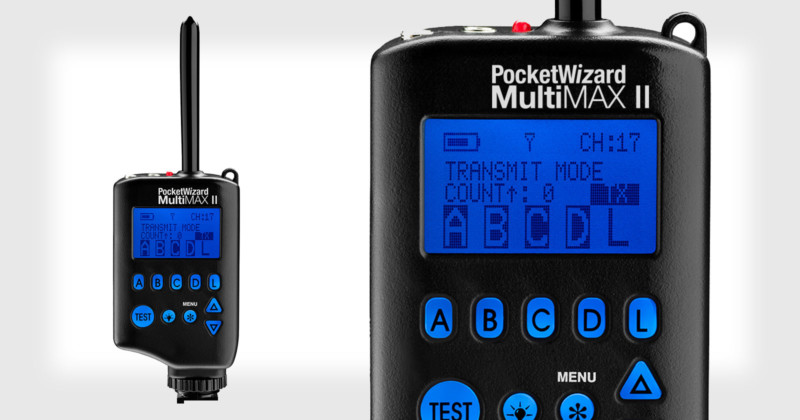 LPA Design has just announced the new PocketWizard MultiMAX II. It's being touted as "the most versatile, reliable and predictably compatible radio on the market."

The MultiMAX II is a followup to the original MultiMAX, which photographers have used for 16 years now to trigger flashes and cameras across all kinds of photography genres.
On the outside, the physical interface is unchanged, except now there's a backlit LCD and a brighter key pad.
Other new features include 20 ControlTL channels and Manual Power Control, which lets photographers adjust power settings of ControlTL-compatible radios and flashes in 3 zones with unlimited flashes in each group. The MultiMax II uses the 344 MHz frequency to stand apart from 2.4 GHz signals in packed spaces.
"The MultiMAX II continues to provide incredible features that professional photographers have come to rely on," says PocketWizard manager Patrick Clow. "It has a whole suite of built-in tools designed for the demanding sports shooter like Patterns, programmable delays, and a settable contact time."
"The MultiMAX II is also Custom ID ready. Photographers can create incredible depth of field or stroboscopic effects with Multi-pop, give rear curtain sync to any camera, and even synchronize multiple cameras together."
In addition to the 20 ControlTL channels, there are 32 standard channels, giving the MultiMax II a total of 52 channels.
"Professional photographers have clamored for years to bring back the MultiMAX. We listened and we responded by making a great radio even better and offering it at a lower price," says LPA Design CEO Karen Marshall.
The PocketWizard MultiMAX II will hit store shelves starting July 17th, 2017, with a price tag of $229.