This One Thing Will Make Your Photos Better: Storytelling
Here's an inspiring video by Mango Street about one of the most important things you can learn to do as a photographer, which is storytelling. In addition to organically capturing moments as they happen, you can also conceptualize and execute an idea that inspires you, and Rachel and Daniel show how it's done in the 5.5-minute video above.

The duo did a photo shoot with a concept inspired by the song "Honey Magnolia" by Brian Fallon (lyrics
here
):
"In the song, there are two competing perspectives of a broken relationship," Rachel says. "We're going to use one model to represent both perspectives of this relationship."
Weak and Sentimental
To indicate the perspective of "weak and sentimental," the photographers asked their model to cover her face in some of the portraits, as well as to bend her limbs and be hunched to create a sense of brokenness.
Outfit-wise, the photographers chose an oversized white dress shirt to make the model look smaller and to provoke a feeling of innocence with the color white. The fact that it's a dress shirt is intended to allude to an old boyfriend.
Strong and Heartless
To capture the character that's "strong and heartless," the photographers asked the model to be bold and stare directly into the lens. They also got low and shot up at her to make the model appear stronger and more powerful.
For this character's wardrobe, the photographers chose edgy overalls, silver shoes, and a silver shirt — a bold look.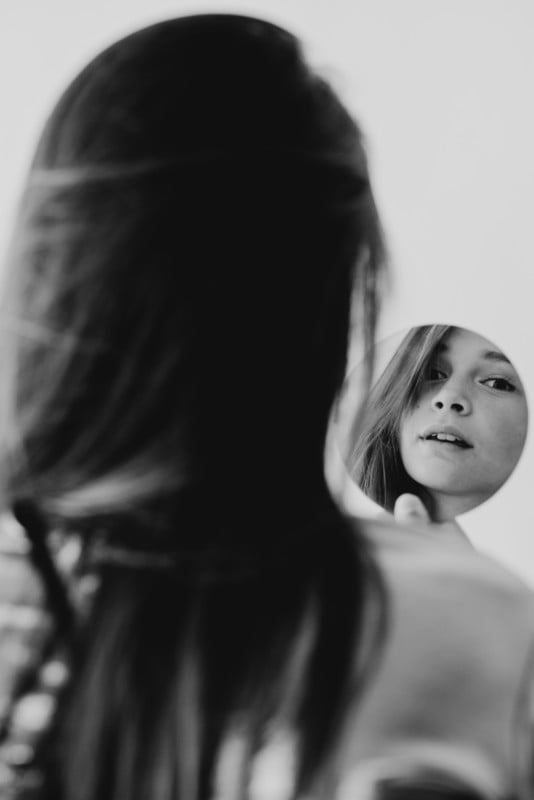 "We hope this helps you take your photos to the next level," Daniel says. You can find more of Mango Street's videos on its YouTube channel. Rachel and Daniel are the same professional photographers who did a shootout with amateur gear against an amateur photographer with pro gear.