I Held a Dog Headshot Photo Booth, and the Results Were Hilarious
After the fantastic experience I had hosting my first Dog Photo Booth at Glens Falls Pet Fest in City Park, Glens Falls last year, I knew I had to return for the 2nd annual event. As simple as the concept may sound, hosting a photo booth (let alone one for dogs) involves a number of technicalities. Having never hosted a photo booth before, last year was a tremendous learning experience for me as a photographer.

When the event ended, I shared my photographs online and they were viewed by hundreds of thousands of people — which was pretty cool. After the fact, I had photographers reach out to me and ask questions about my experience, my equipment, pet photography and more. The project opened opportunities for me to write articles for popular photography blogs.
I even licensed one photo of a dog to a large veterinary acquisition firm. This was all great, but the truth was that last year I failed to break even on my investment in the event and as much as I loved my product, it just wasn't worth the amount of time I'd put into it, financially. Additionally, there were issues with lighting, with lines of people waiting to have their dog photographed, and with my delivery process.
For this year's event, I opted to take the more traditional photo booth route — instant photo delivery. That meant buying a 4″x6″ photo printer (Epson PictureMate 225), and associated supplies. I opted to switch out the blue vinyl backdrop I used last year for a white cloth backdrop to create a clean white, headshot-like photograph. This simplified my lighting setup while maintaining a professional-looking image. The end result was a beautiful, take-home product at $10/photo or $15 for the photo and the digital file emailed after the event (with 10% of all sales going to a local animal shelter). Once again, I made my dog Red model the prototype: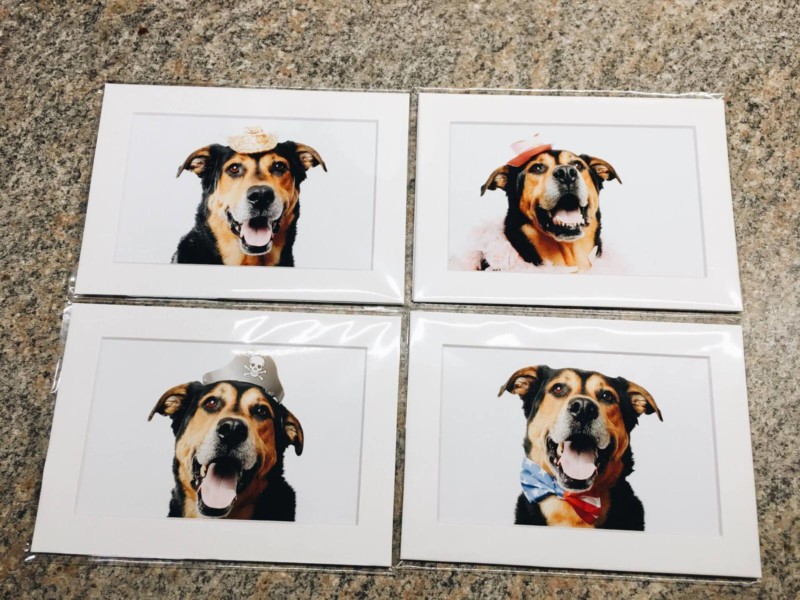 And it worked! With the price point and presentation of the product, combined with repeat customers from last year, I ended up photographing more than twice as many dogs as last year. Here are some of my favorite shots:
Here are the technical details: Canon 6D, 50mm STM, 3 Yongnuo 560IV Speedlites (one in a softbox off to the left, two on the backdrop), Yongnuo 560-TX Transmitter, and white cloth backdrop + stands.
The camera was tethered to Lightroom via USB cable and the printer was hooked up to the computer. This setup allowed me to snap 3-5 pictures of most dogs (quick tip: hold the squeaker from one of your dog's toys in your opposite hand), select the best one, crop and apply a quick preset edit and send it to the printer where my girlfriend could then assembly the matte and have the product to the customer no more than two minutes later. That meant spending about five minutes with every pup.
I think for next year I will mix up the background and theme a bit just to keep things interesting, but I'm really happy with the way things went this year. I'd like to thank all of the event organizers and dog owner's for helping to make Glens Falls more dog-friendly and for putting on a great event!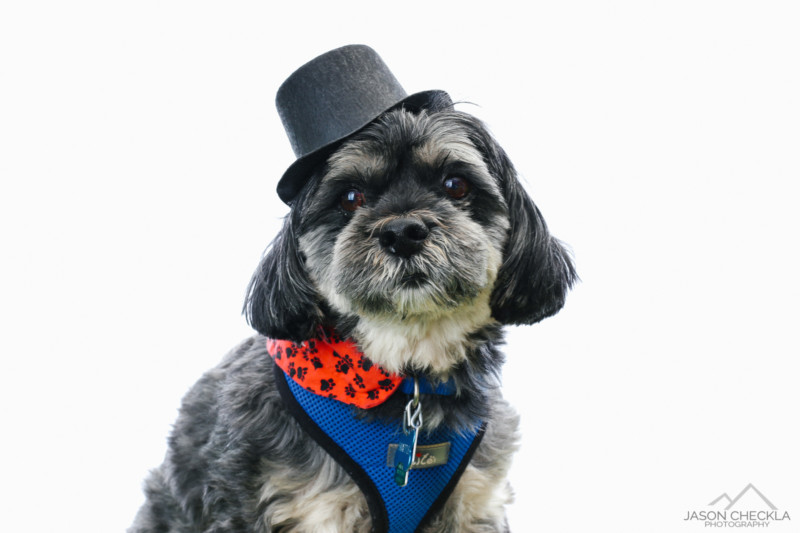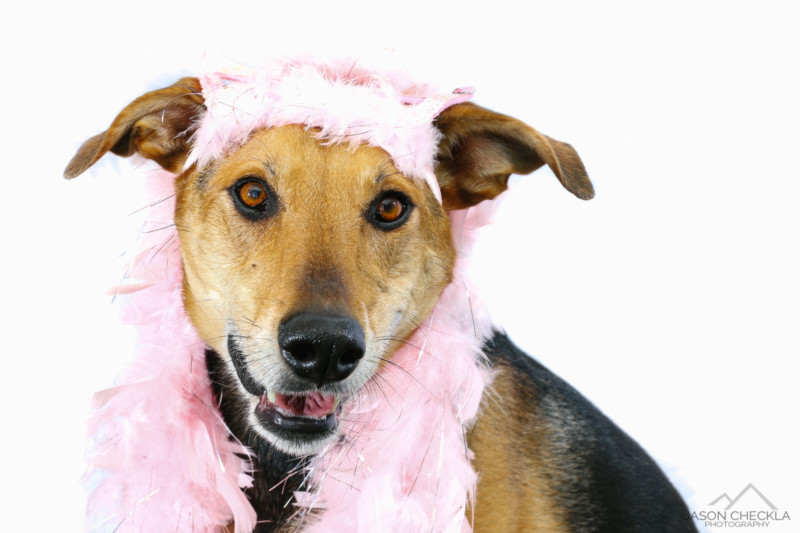 ---
About the author: Jason Checkla is a family and engagement portrait photographer based in Glens Falls, New York. He's also free to photograph your pet. You can see more of his work and connect with him on his website, Facebook, Twitter, and Instagram. This article was also published here.