Beyond War and Narcos: Polaroid Pics and a Different Vision of Colombia
Before ever setting foot in Colombia, I knew there was more to the country than the stories and imagery of war, violence, drug trafficking, and assorted horrors which pervade the media. So, in 2003, I headed to Colombia for the first time. Little did I know that would be the start of a project that I would carry out over eleven years and become the book No Dar Papaya.


On that first trip I photographed a project that explored Colombia through the prism of beauty contests, in 35mm, but I brought my Polaroid camera and made several Polaroid images. The project went well, and I was invited back the next year to exhibit Royal Colombia in Medellín and Cartagena, and to teach in several universities.
On that second trip I made many Polaroid photos and got very enthusiastic about the possibilities. I had done lots of documentary work, and I was ready for a new way of working and new challenges, and I wanted to continuing exploring Colombia.
My Polaroid 690 camera with 600 film were perfect. I came to appreciate the limitations: just one lens, a shallow depth of field, not good in low light, minimal exposure control, and a viewfinder that makes it hard to compose.
You can't shoot a lot because of the mechanics of the camera and the cost of the film, so you have to be very deliberate. And when you are shooting people, the dynamic changes when the photo comes out of the camera. So I had to figure out a new way of shooting, a new way to get across the ideas I wanted to convey.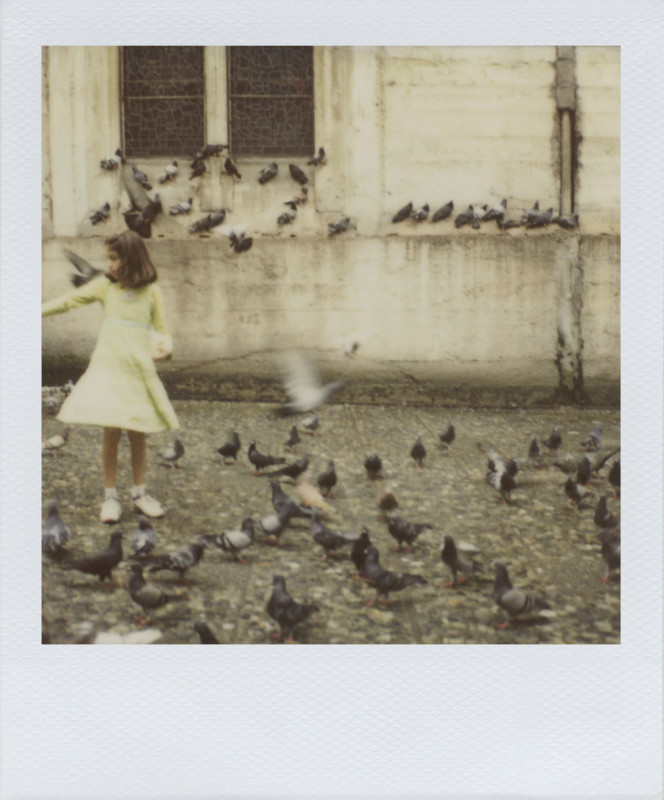 I love the distinctive color palette and the softness. The impressionistic quality puts more emphasis on the emotional and less on the descriptive content. Instead of concentrating on a given topic intensely and making tons of images, with Polaroid I could do a more expansive project, not so literal as documentary photography is often perceived to be.
One thing I love about Polaroid is that now when so much photography is about post-processing and digital manipulation, with Polaroid it's not about manipulation and filters and working at a computer. It is pure photography that relies on strong composition and the vision of the photographer.
It's a lot harder than working with a DSLR.
I spent a lot of time in Colombia, including a stint as a Fulbright Fellow. This allowed me to get to get to know people and understand the culture and participate rather than just observe, which for me has always led to better, more insightful photography. It also allowed me to travel throughout the country, whose diverse people and geography I found endlessly fascinating.
Because people have never seen a project of this scope created with Polaroid and it doesn't fit within established "categories" of photography, some don't quite know what to make of it. Fortunately, some do. A curator from Medellín wrote that I created a unique and moving photographic record of Colombia unlike any he had ever seen, anywhere.
Lots of foreign photographers in Colombia focus on conflict, crime, and misery. I've never been drawn to those subjects. I'm drawn to beauty, and I found a lot of it in Colombia.
The title of the book, No Dar Papaya, is a common expression unique to Colombia which means show no vulnerabilities and don't present an easy target. It speaks to the reality of life in Colombia, having endured over 50 years of war. Tens of thousands have been killed and hundreds of thousands displaced. Unspeakable cruelties continue to happen. It has the greatest disparity between haves and have-nots in Latin America and lots of crime.
Amid all this, people live their lives with lots of creativity, joy, and individuality, and that is what No Dar Papaya is about: the beauty, diversity, and humanity both of and which transcends Colombia.
No Dar Papaya was very well received in Colombia where the book was first published. Now I am excited to share this vision of Colombia with a wider audience and thrilled that the book has launched in the U.S.
---
To learn more about the book and to get your copy of No Dar Papaya, visit the Placer Press website
---
About the author: Matthew O'Brien is a photographer based in San Francisco. In addition to making photographs, he teaches photography workshops in English and Spanish and makes films. To see more of his work check out his website and his nascent Instagram.