Lia Konrad Shoots Fantasy Photos With Budget Equipment and Props
Lia Konrad is a 23-year-old photographer who grew up in small town Hof, Germany with big ideas. With a very small budget for a camera with a single lens—but none for lighting—and a homemade costume, she has created a marvelous series of fantasy environmental portraits.
Konrad's creations are very much in keeping with her childhood daydreams of Pokemon, Dragons, and Peter Pan.
What Konrad, who painted a lot as a child, lacks in terms of lighting, props, practical effects experience, make-up artists, and stylists she manages to accomplish in post-production in Photoshop. The end result still comes off as a big budget production, but nothing could be further from the truth.
For her recent series, A Bizarre Heart, her imagination conjured a vision of a silver-haired heroine out in the forest, almost like a mythical creature, surrounded by a smoke-filled, bluish, fairy tale landscape.
The first obstacle was buying or renting a fancy dress, because this was not within her budget. So Konrad went to work and created it herself.
"It was my first try and I had zero knowledge. I needed about 30 hours to make it, while a professional designer would create a costume like this in 8 hours," says Konrad. "The silver chest protector is made of Worbla, thermoplastic modeling material, and the fabric parts are hand stitched."
"All in all the materials for the costume have cost me only about EUR 80 ($87)," she continues. "So it was totally worth it, as the costumes in our local theater were costing EUR 30-70 to rent per week."
"My vision of the project started with the costume," explains Konrad. "As a big Lord of the Rings fan, I was always in love with the costumes in the movies, especially with the ones for the elves. The silver chest protector is inspired by the Dark Galadriel in the first movie, and the skirt and the sleeves are inspired by the Rivendell elves, who wore a lot of grey-purple, light fabric."
Konrad uses a secondhand Canon 6D with a 24-105mm lens and shoots with available light. The only prop was a smoke effect cartridge for EUR 12. The model was a friend of hers who did her own make-up.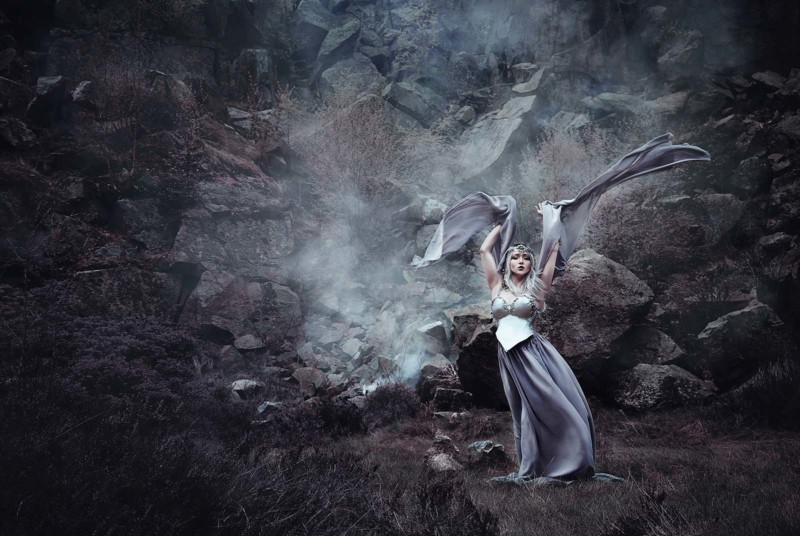 Konrad started fantasy photography 4 years ago, inspired by the outstanding work of Benjamin Von Wong.
He was in Germany for Photokina and, a few days after, he put on an incredible cave photo shoot not far away from where she was, "so I applied as an assistant," says Konrad.
"It was an amazing experience—the teamwork, the costumes, the models, the lighting, just everything," she says. "Since then I knew I wanted to do fantasy and epic photography." Added to this was the inspiration she got from Deviant Art.
"In the beginning, I had no other option because I was a student with no money. As a newbie, I hadn't much gear and very few contact to designers, but I wanted to create epic stuff anyway." says Konrad. "So the first two years I shot my images with a Canon 550D (European EOS Rebel T2i) and a 50mm f/1.8 lens [which her father had presented on her 17th birthday], bought some smoke bombs, dressed up the model in some fabric and edited it in Photoshop."
"That was it," she continues, encouraging young photographers like herself. "You can make beautiful, epic pictures with a EUR 30 ($33) dress, if you know how to put it in a scene, even without much equipment."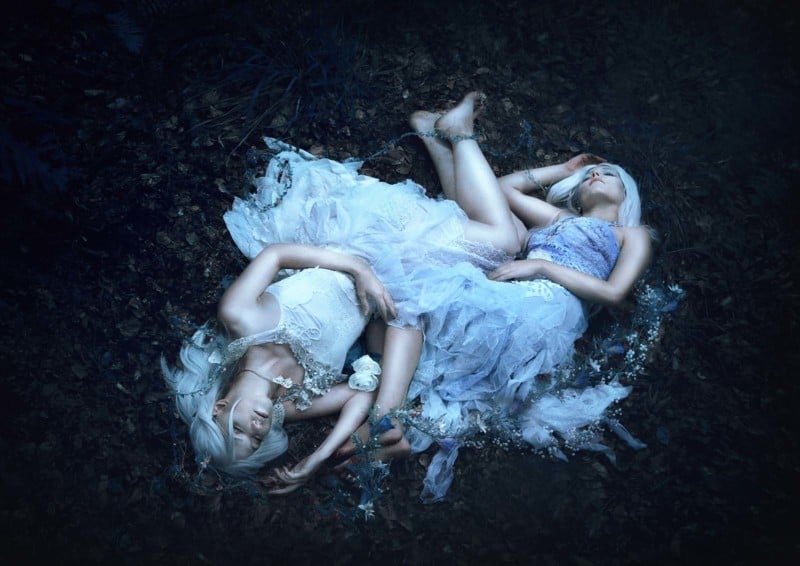 Konrad does not own a car. "Most of the time I drive with the model to a nearby place in her car. Or use the train," she tells us. "I have some landscape photographers as friends who know nice places around here. And Bavaria has some really nice places."
"Since I only shoot with available light my original files are quite often boring," says Konrad.
Post-production in Photoshop CC is where the magic transforms the boring to the epic. First, she cleans up the picture, by removing disturbing elements with the Healing Brush tool. After that she also cleans up the face and skin a bit. Then she uses the Dodge and Burn tools to darkens all the unimportant areas and highlight the subject.
"I lift the smoke more by amplifying and filling it with Krist's Smoke Brushes from Brusheezy," says Konrad. This has to be done as the smoke effect thins out owing to wind blowing it away."
She also clones smoke from other photos. Sometimes when it fits, she adds additional light elements to have more drama in the picture. To do this, she uses Jonas De Ro's free painting brushes—a set of 50 brushes and "the light beams and light particles are amazing for photos as well.
At this point the basic build of the photo is complete. "The last step for me is always the coloring," emphasizes Konrad. "For this I use the Curves and Tones tool. Sometimes also the selective color correction to reduce green. But most of the time I only work with the first two tools."
Konrad has considered adding multiple flashes and reflectors to her shooting, although she is concerned about monitoring whether all the lights are working correctly during the shoot. "So far I have not had the financial resources to do so," she sadly admits. "There are projects, where you need a lot of equipment and right lightning. You can't correct everything with Photoshop."
Not really into the technical side of cameras, Konrad is inspired by Bella Kotak, Kirsty Mitchell and Anya Anti, just to name a few photographers. She is also very appreciative of the images of Brooke Shaden and Sebastião Salgado.
She is currently pursuing training to be a foreign language correspondent with a specialization in English and French, but is keeping the option for a photography career also open.
So what is her next project? "I have no idea," she confesses. "The only thing I know is that I would like to make my own costume again for this. Maybe this time in bright blue or red. But I haven't thought about anything yet."
Sounds like Wonder Woman? "Yeah maybe, in any case, something which might be related to her!" she accepts.
Her advice for other 23-year-olds looking to get into epic photography: "Connect with others, find ways to be heard, find ways to implement your ideas, perhaps ask your photography idols for advice. You won't always get an answer … but sometimes you might. And practice, practice, practice. If you don't succeed at first, laugh until you do!"
You can follow Lia Konrad and see more of her work on her website, Flickr, Facebook, and Instagram.
---
About the author: Phil Mistry is a photographer and teacher based in Atlanta, GA. He started one of the first digital camera classes in New York City at International Center of Photography in the 90s. He was the director and teacher for Sony/Popular Photography magazine's Digital Days Workshops. You can reach him via email here.
---
Image credits: All photos by Lia Konrad and used with permission.