Doing a Low-Budget Photo Shoot with DIY Props for Less Than $75
I love DIY props and big scenes in photography that are well designed. Not many of us photographers have the place or money to create our own stages so I wanted to challenge myself to make one in our living room with a very low budget.

I had this idea of a photo with an environmental aspect that describes greed, gluttony, and overconsumption in our modern world. The scene is a rugged living room that has a disgusting and filthy man sitting on an old sofa, surrounded by all the waste of the food he has consumed.
Before I started to find and create all the props that I needed for this photo I did a harsh sketch in a Photoshop to determine the right look and atmosphere for the scene.
After that, I started to search suitable props and materials that were already available in our home or could be bought cheaply. First, I had to make the walls in the scene. I had 2 pieces of leftover plywood from a renovation we made before so I painted them with ordinary spray cans and attached some torn paper to it to create some worn look.
The mask for the man I found cheaply from an online store called "Funidelia," and the fatsuit was made just by wearing lots of clothes.
All the waste and the furniture is our own except the sofa that was collected free-of-charge from recycling center near us.
The total cost for this photo shoot was about €60 ($75).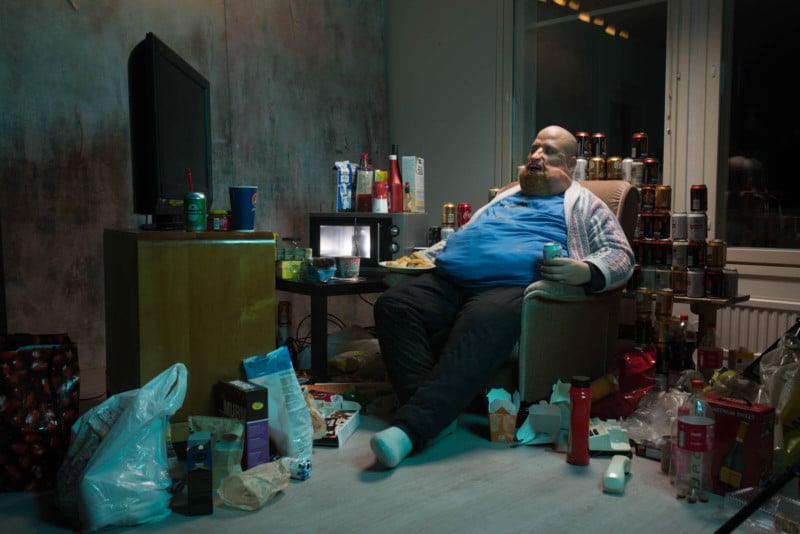 Here's the final result again:
---
About the author: Juhamatti Vahdersalo is a photographer and digital artist based in Finland. You can find more of his work on his website, Instagram, Facebook, and Flickr. This article was also published here.