Portrait Lens Shootout: Sony 85mm f/1.4 vs 70-200mm f/2.8
What's better for portraits? Is it the versatility of a great 70-200mm f/2.8 zoom lens, or the bright bokeh-tastic performance of a solid 85mm f/1.4 lens? That's what photographer Manny Ortiz set out to discover this week.
Ortiz's latest video takes up inside the viewfinder of his Sony A7R II as he and his wife Diana go out for a photoshoot with downtown Chicago at sunset as their gorgeous urban backdrop. The first half of the shoot he uses the Sony 70-200mm f/2.8 GM lens, the second half the 85mm f/1.4 GM lens.
Both of these lenses are exceptional, as the resulting photos demonstrate. Here are a few of his final shots captured with the 70-200mm: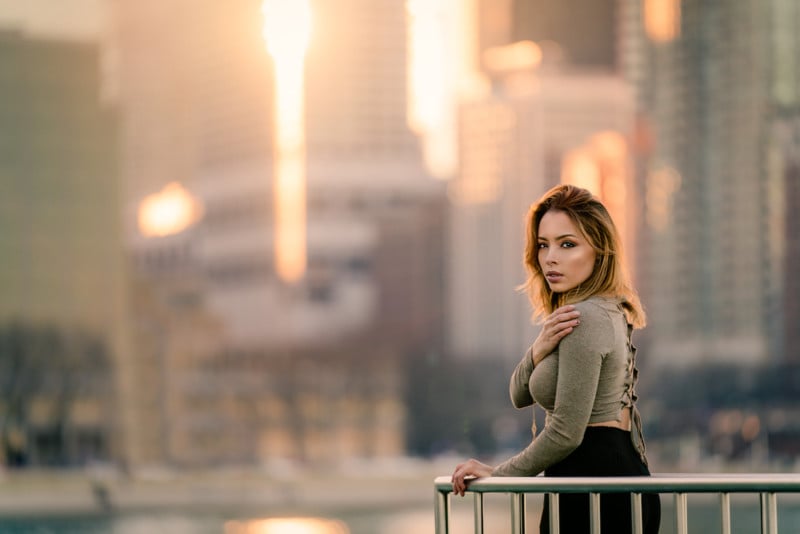 And here are a few he shot with the 85mm:
You can make your own judgement based on the sample shots above, but Manny shares his own opinion after using both lenses during the same photo shoot. For him, the 85mm f/1.4 is the winner, hands down. And it's not just about performance.
"With the 70-200, at 200mm, I feel very disconnected from my model," explains Ortiz, citing this "disconnect" as the main reason he prefers the 85. Not that the performance is an issue… "The 85 is also a lot lighter, it's sharper, and it's got a wider aperture, which lets me get nice clean images even when it starts getting dim outside," he adds.
Despite the versatility and "beautiful compression" that the 70-200mm allows—and at a respectable f/2.8—it just can't compete with a purebred portrait prime like the 85mm.
Check out the full video to hear more from Manny about these two lenses, and then head over his website or give him a follow on Instagram and YouTube to catch more photos and videos like this one.
---
Image credits: All photos by Manny Ortiz and used with permission.