Photoshopped Portraits of Ex-Gang Members With and Without Tattoos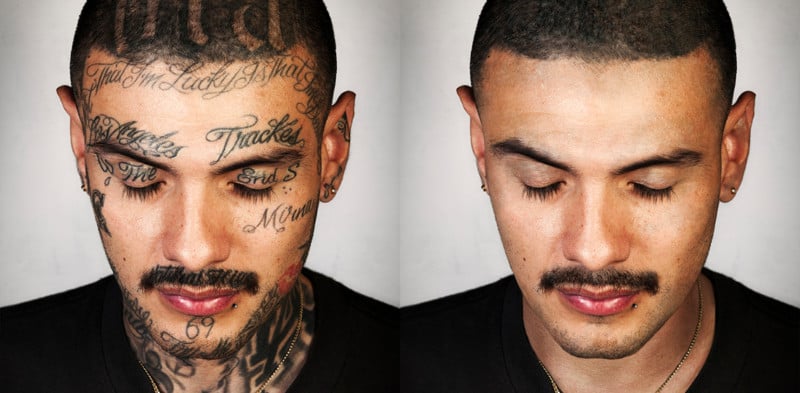 I'm a big fan of the portrait. It's even better when the portrait is about more than the photographer's skill, but about the life, challenges, and successes of the subject. "Skin Deep" by Steven Burton is one such project that caught my eye.
For the project, Steven takes heavily tattooed ex-gang members and digitally removes their tattoos to expose a side of themselves that some of them haven't seen in decades. I sat down and talked with Steven to get a little more background on the project and to hear more about what motivated him to take on such an ambitious project.
---
Note: Steven has created a Kickstarter campaign to help fund the production of a book on this project. Please consider backing him—you have until Nov 12, 2016 before the campaign ends.
---
Why ex-gang members? What attracted you to their story?
A friend of mine was working at Homeboy Industries and took me to see the documentary G-dog; which is about father Greg Boyle and Homeboy Industries, which is an NGO that he founded and is director of.
After watching the film, I was inspired by Father Greg Boyle and equally inspired and moved by the Homeboys/girls trying to change their lives against the odds. I knew I had to do something to help spread awareness. The concept came to me when I learned that tattoo removal was such an important part of leaving the gangs.
How many people did you photograph for this project? Was it a matter of casting? Or did you work with everyone that you came in contact with? How did the participants find out about your project?
I photographed 27 subjects. When I came up with the project I went home and took images of tattooed gang members off the Internet and tested the concept. I converted the before-and-after portraits into a GIF image showing the tattoos visible and then disappearing, put it on my phone, and rushed over to Homeboy Industries to propose the idea.
At Homeboy, I showed it to Fabian Debora (the drug counselor and resident artist) and he loved the concept. I managed to convince four homeboys to allow me to photograph them. After a week, I returned to show them the images and interview them not knowing what their reactions would be.
Marcos Luna was the first interviewed and his reaction made me realize what a powerful concept this was. The word spread that I was digitally removing tattoos, but it still took a while to find the right subject that were tattooed heavily enough, especially on the face, to make sense of the concept. Once I would photograph a homeboy, I'd ask them to help me find others who would be interested in participating. This part was exciting.
Did Homeboy Industries approach you? Or did you approach them with the concept for Skin Deep? How did it all pan out in terms of finding your subjects?
Homeboy Industries is where I found the participants initially. Father Greg and the people there were my source of inspiration, but they have so much work to do with helping their clients and raising funds that understandably my project was the last thing on their minds at the time when I needed most support in finding tattooed subjects and moving forward with this project.
I pushed ahead on my own anyway in hopes that this project was going to help them in some way in the long run.
Were there any challenges in shooting these images?
I had a clear idea about how I wanted to photograph the Homeboys, so the photography itself was not difficult. The challenge lay in finding the participants and convincing them that my intentions were good—the unique concept gave me the edge.
After time passed during the lengthy process of Photoshopping the portraits, it was very challenging to locate all the people I photographed. Most homeboys had changed their phone numbers (which they do often) and some had disappeared or fallen back in to the gangs and/or addiction. I spent many hours sitting in my car outside of Homeboy Industries or in the Homeboy Cafe hoping to catch a familiar face.
This is the first time I have ever shot video and interviewed anyone. My northern English accent didn't make it any easier.
I can only imagine the emotions that must have come through from both you and the models seeing themselves in this entirely new way. How did they (and you) handle that?
Listening to the homeboys' stories was incredibly humbling and emotional… I'm from a working class background and not the best at interviewing, but I felt this also helped everything feel more real and made the interview situation less intimidating. Watching the emotions in the faces of the homeboys as they looked at the images was amazing.
I spent so much time in Photoshop making the images as real as possible, because I knew that I would only have one shot at this reaction.
The response by the subject was always positive. Many "what ifs" on how life might have turned out if things had been different in the beginning: if their families hadn't been in the gangs or if they had grown up in a safer neighborhood etc. I felt honored to hear their stories.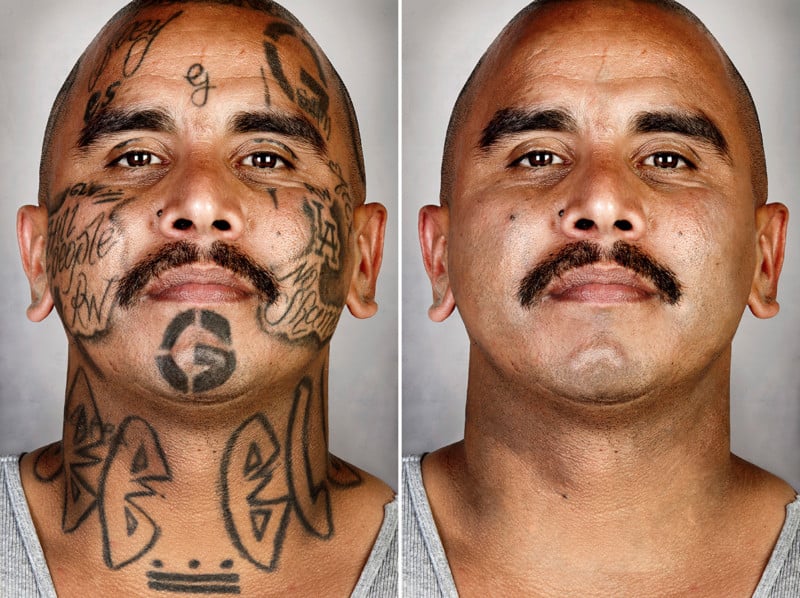 Moving on to some more technical questions; Did you shoot these in your studio or did you go on location?
I had a studio in downtown LA at the time just 10 minutes away from Homeboy Industries, which helped. I hand-painted a backdrop and had the space always ready to go. The portrait sessions were always on the fly, usually without a formal appointment.
What camera and lighting gear did you use?
The camera I used was a Cannon 5D II and two medium soft boxes with Pro Photo heads – 7A packs.
How many hours of retouching were involved with each portrait? Did you do the retouching by yourself or did you work with a retoucher?
I did all the re-touching, around 400 hours in total. The time spent was determined by the amount of tattoos. I don't find it difficult but it's very time consuming. I would get so zoned in on the skin that after a few hours I would zoom out and be surprised at seeing the subject face without tattoos before me.
I was happy to see that you were working on a book. Tell me more about that and how people reading this can help you make it happen.
I've partnered up with Powerhouse Publishing in NYC. The book is going to be a hardback lenticular printed cover with an estimated 172 pages. The interviews will go opposite the before-and after-images.
I'm honored that Father Greg has agreed to write the forward of the book. I need to raise money to subsidize the book so I've launched a Kickstarter campaign that runs for only 30 days ending on November 12th 2016. Anyone interested in supporting the project can go to this link. A portion of the proceeds from the final book sales will go to Homeboy Industries.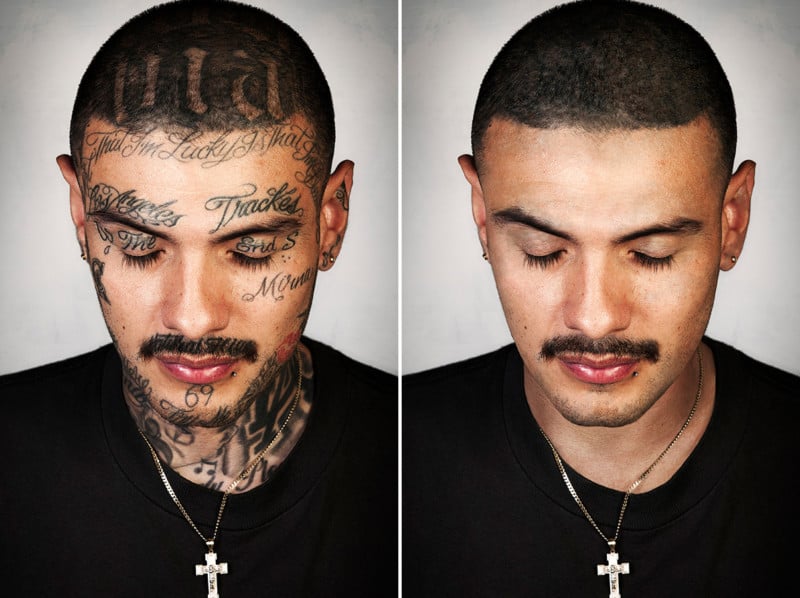 What's next for you? Will you continue to add to this series? Or do you have something new that you're working on?
I would love to continue with this project, exhibit in galleries or maybe have a show in the streets of LA, somewhere more accessible to homeboys and the public. Moreover, I may be doing something related in Venezuela but it's not confirmed yet.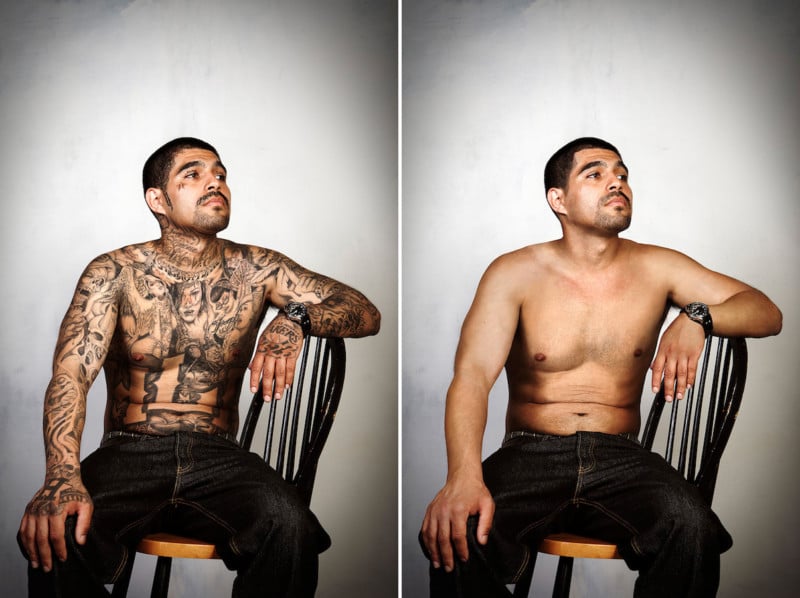 Please consider supporting Steven's Kickstarter campaign to help fund the production of a book on this project.
Learn more about the work that Homeboy Industries is doing to provide hope, training, and support to formerly gang-involved and previously incarcerated men and women.
---
About the author: Chris Armstrong started as a photographer nearly 30 years ago and has worked his way through film, television, advertising, and back to photography (this time as an agent). Chris has worked with legendary filmmakers (most notably Robert Altman); nearly all of the major production companies in L.A.; and numerous ad agencies (including Deutsch L.A., Publicis, and Wunderman).
All of this experience has given Chris a well-rounded (if not dysfunctional) view of the creative world which he's more than happy to share with you. This article originally appeared on PhotoPolitic.