Review: Sigma Hits a Home Run with the New 12-24mm f/4 ART Lens
The fall colors here in Ohio are at their peak right now, and for most photographers that means it's time for wide angle photography. Sigma just so happened to send us their new 12-24mm f/4 Art to try out—what great timing.
Pros
Same great build quality as the rest of their Art line
Same new AF motor as the new 85mm 1.4 Art, and also designed for high MP sensors.
Fairly compact
Minimum focus distance of ~9.5″
Cons
Heavy (though very similar to the Canon 11-24 f/4L and Nikon 14-24 f/2.8)
Focus ring on hood takes some time to get accustomed to.
Initial Impressions
The new 12-24mm Art is built to the same standards as Sigma's other Art lenses—a very solid feel when holding it, and a lot of quality glass. This is Sigma's 3rd version of the 12-24mm lens, though it's the first to have the "Art" designation and a constant aperture (the last one was a f/4.5-5.6).
The first thing I noticed before even using the lens was that the cap didn't sit perfectly flush when the lens was at 12mm, though from about 13-24mm it was fine. With this being a sample lens, it may be corrected when the production versions start shipping, but it's something to look out for.
This lens will be going up against the Canon 11-24 f/4L, Nikon 14-24 f/2.8G, and Tamron's 15-30mm f/2.8. The Nikon and Tamron may have an edge with their f/2.8 aperture, but I personally find myself shooting between f/4-f/16 when using really wide lenses. How does the Sigma compare to the other guys in terms of size? Check out the image below (I didn't have a Nikon 14-24 at the time, but it's just a bit shorter than the Tamron).
The Sigma is the smallest of the bunch, though not by much. Here it is next to the Sigma 12-24mm f/4.5-5.6 II:
Real world shooting
This fall has been a strange one here, and while some trees are at their peak color, a lot of others are, sadly, still green.
Here are some sample images taken with the Sigma on a Canon 5D Mk III, as well as a Sony A7r II using Sigma's MC-11. (Note: the AF was inconsistent when using the MC-11, and I resorted to using manual focus quite often. I assume Sigma will release a firmware update for it shortly after the lens starts shipping).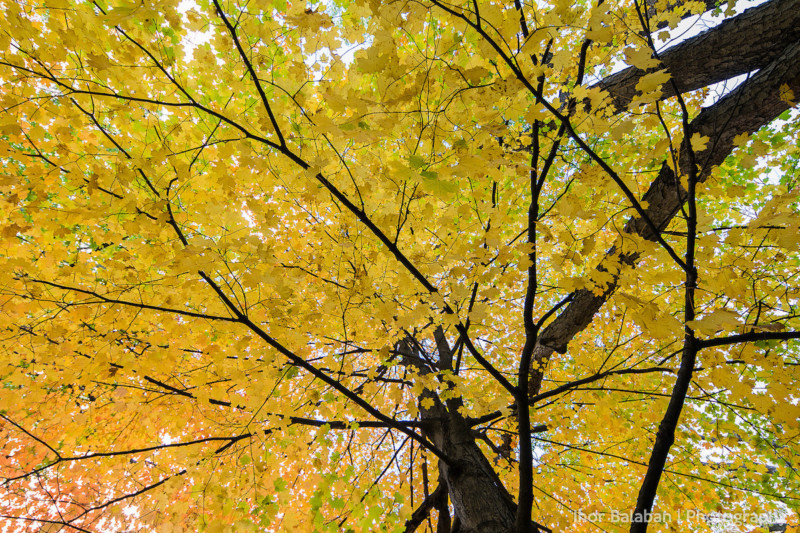 Here are a few shots taken at 12mm. Sigma wasn't kidding when they said the lens had minimal ("almost no") distortion.
Aside from nature/landscapes, my other favorite use for wide angle lenses is nighttime city shooting.
Unfortunately, I had to battle 20-30mph wind gusts, and didn't have the sturdiest of tripods this night. That being said, I was impressed at how well the Sigma handled light flares. I've shot the same area before with the Nikon 14-24, and the Sigma had much less flaring issues.
When used on the Canon 5D Mk III, the autofocus was fast and accurate. From previous experience, I'd say it's equal to the Canon/Nikon/Tamron lenses. After I got used to the placement of the focus ring, I found it easy to use, especially for the night shots. It has a nice feel to it, with just the right amount of resistance.
While most people don't associate bokeh and blowing out backgrounds with wide angle lenses, I decided to take a photo wide open and at the min. focus distance just for fun.
Here are a few other sample images taken with the Sigma 12-24 Art:
Tech Specs
Final Thoughts
As someone who loves using wide angle lenses, the Sigma 12-24mm f/4 Art was a blast to use. From my few days of using it, it definitely holds its own against the Canon 11-24 f/4L, Nikon 14-24 f/2.8, and Tamron 15-30 f/2.8.
The price savings alone against the Canon and Nikon lenses make it worth checking out. It's a few hundred more than the Tamron, but having 12mm vs 15mm makes it worth it.
---
About the author: Ihor Balaban is a photographer and store manager of the camera store Pixel Connection in Avon, Ohio. To learn more about the store, head over to the Pixel Connection website. This post was also published here.