Tessina: A Vintage Mini 35mm Camera You Can Wear Like a Watch
The Tessina is a vintage Swiss camera that was created by an Austraian chemical engineer named Rudolph Steineck and introduced in 1957 in Switzerland. What's neat about the camera was that one of the accessories was a special wrist bracket that allowed you to wear the camera on your wrist like a watch.

Redditor
catchoooo
inherited one of these cameras from their grandfather and
shared some snapshots
of the Tessina online.
The camera, which exists in 3 different models and was produced up until 1996, is different from most subminiature cameras in that it shoots 14x21mm photos on ordinary 35mm film (loaded into a special cassette).
"[My grandfather] was a pilot and particularly loved this one because it was so easy to travel with," catchoooo writes on Reddit. "I have little doubt it still works, although I'm sure it hasn't been used in close to 30 years (probably longer)."
"It would just be a matter of getting it cleaned up and hand rolling some film though. For now it'll just be a nice conversation piece on the shelf!"
The camera features a tiny twin-lens reflex (TLR) system that uses two 25mm f/2.8 Tessinon lenses. As is standard with TLR cameras, one of the lenses exposes the film for the shot, while the other one takes in a view for the tiny ground-glass focusing screen found on the top face of the camera.
The film advancement mechanism is based on a spring and a pullout winder — similar to the crown used to wind up some watches. Each winding of the winder allows the photographer to shoot 8 shots.
"Tessina is hand assembled from more than two hundred precision parts, it contains ruby bearing like swiss watch to reduce friction, each camera is design for 100,000 pictures," Wikipedia states.
Here are a couple more views by catchoooo showing the camera worn on the wrist: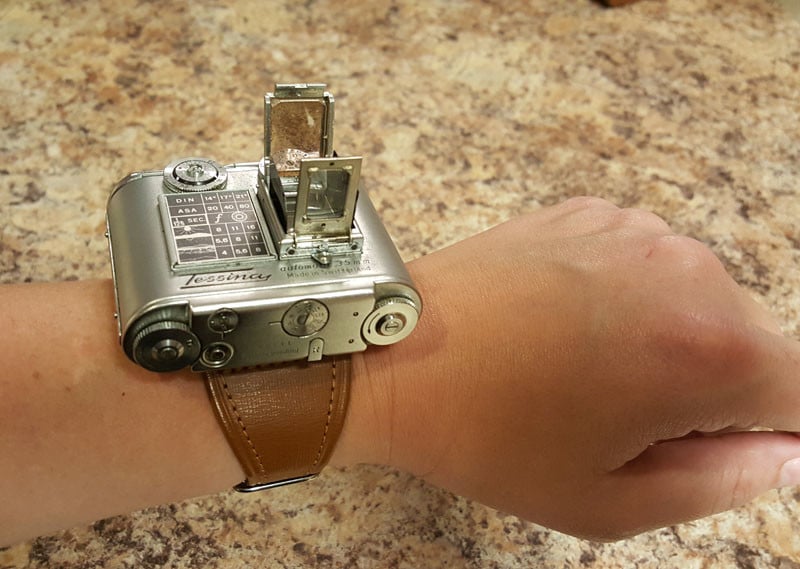 Here's a video of one man wearing the Tessina on his wrist:
Finally, this video shows some of the physical controls and the view through the ground glass:
---
Image credits: All photographs by catchoooo and used with permission