This Self-Contained Rolling Darkroom Takes Up Just 5 Square Feet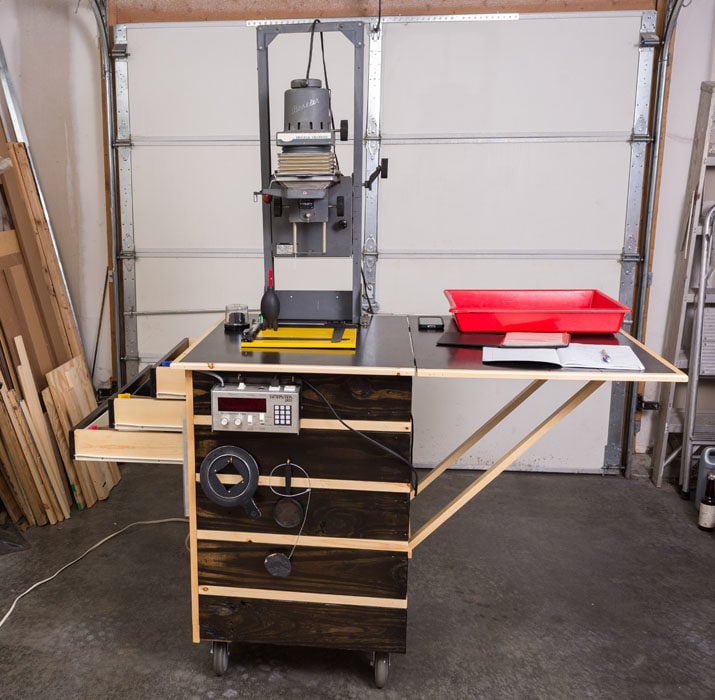 When photographer Ben Money got back in to film photography a couple of years ago, he decided to set up a dedicated darkroom station for himself at home. But because he didn't have a permanent room to use, he ended up create a self-contained rolling darkroom that takes up just 5-square-feet of space in his garage when collapsed.

When expanded, the top extends to 2 1/2 x 4 feet and is capable of creating 16×20 prints.
"After doing some research into costs of enlarger equipment, decent cameras and chemicals, it became pretty apparent that this was something I could do at a pretty reasonable cost if I was judicious about purchases," Money tells PetaPixel.
His setup did start with a lucky break, though: after visiting the basement of the "strangest thrift shop in all of Kansas City," Money found a Beseler 23C enlarger and boxes that contained half a dozen developing tanks, 2 bulk winders, a couple hundred feet of sealed expired film, enlarging easels, wash trays, thermometers, extra negative carriers, film clips, and much more.
…all for $30.
Money also found 40% of the wood he needed from pallets used for shipping industrial garage doors. His store-bought materials ended up being: 1 sheet of 5/8″ plywood, 3 sets of drawer slides, 3 drawer handles, 6 1×4 boards, stain, polyurethane, wood conditioner, and hinges.
Building the actual mobile darkroom cart took about 30 hours.
The finished cart features an enlarger on top, collapsing work surfaces, and drawers that hold various items (trays, chemicals, papers, accessories) for development and printing.
Setting up and taking down the darkroom takes just 10 minutes, and involves draining and rinsing trays, as well as putting small items away.
"The cart is 39″ high at the work surface so it's very comfortable to stand at," Money says. "With the exception of final wash, I can create prints up to 16″x20″ directly on the table from start to finish."
Money also intentionally made the collapsed with narrow enough to fit through the doors in his house, in case he'd like to relocate the station in the future.
---
About the author: Ben Money is a photographer, electrical engineer, man about town, beer drinker, and blogger. He shoots concerts and music events around Kansas City and runs the KC Live Music Blog. You can connect with him through Facebook.