What It's Like Capturing the World from a Cockpit at 38,000 Feet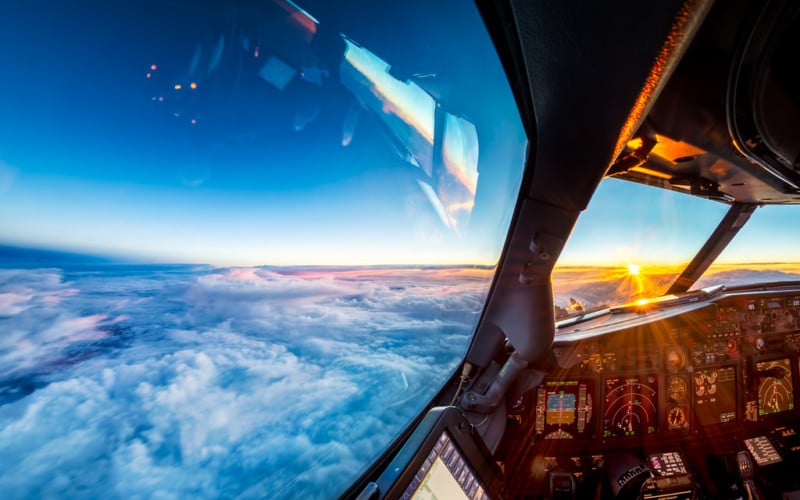 Pilot and photographer Martijn Kort is able to capture a vantage point on the world that most of us simply don't get. Every week, he's up at 38,000 feet, shooting the world below from the cockpit of the commercial airliner he helps fly all over the globe.
Captain Kort has been flying in one form or another since he was a little boy. His father and grandfather were both hot air balloon pilots, and as soon as he could, he jumped into flying school.
When he got his pilot's license and began flying for an airline, his camera came with him. But seeing beautiful panoramic views of sunrises, sunsets, stars, and the earth streaming by below is much easier than capturing them.
So we wondered, how does one actually capture a photo like this?
The short answer is: practice. You have to get used to the limitations and challenges you face, and find your way around them. The biggest challenge, according to Kort, is the sheer dynamic range you have to capture when you're flying above the clouds.
"During the day, the light outside is very harsh and the inside is relatively dark. The only way to overcome that is to take some clipping of the highlights or shadows for granted, or by bracketing your shots," Kort tells PetaPixel. "During sunset it's even worse. The world below you is almost completely covered in shade and the cockpit is dark as well."
"At night it's the other way around," continues Kort. "The outside is dark and the cockpit is illuminated. With a high ISO and relatively 'fast' shutter speed for the night scene the cockpit lights will almost certainly clip in the highlights. […] You have to think about 2 things: the movement of the earth and your own speed. You will have to find a sweetspot for this and trade out the highlights or the shadows."
One thing's for sure: capturing beautiful shots like these is by no means easy:
Oh, and you have to consider the cockpit's windows too. These aren't standard glass windows we're talking about.
"They consist of 3 layers of glass with a heating element in between to keep the windows frost free and a little flexible in case we hit a bird. The windows are also slightly bent," Kort explains. "This all together breaks the light and the image isn't going to be sharp in all corners of the window. It differs from airplane to airplane, but on my current type it makes it almost impossible to take pictures above 70mm because the image won't be sharp."
Even knowing all of this—you windows' sweet spot, how to meter the scene, what settings will work best in each situation—it's still a numbers game.
"I take a lot of photos, but publish only a few. I want them to be different from each other," says Kort. "The thing I like the most about photographing from the cockpit, besides sharing my work with the world, is that it is very technical if you are looking for a perfect picture. It pushes me to keep stepping up my game."
Here's a look at some of Martijn's favorite photos from the cockpit.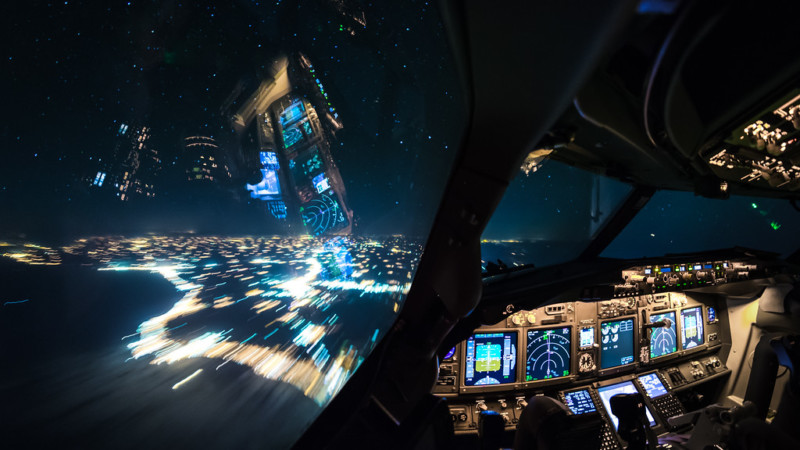 To see more of Martijn's photos or follow along as he captures more on his adventures around the world, check out his website or give him a follow on Instagram, 500px, and Facebook.
---
Image credits: All photos by Martijn Kort and used with permission.