All the Ads in This London Tube Station Were Just Replaced with Cat Photos
Clapham Common Tube station in London is looking very feline today. After a very successful tongue-in-cheek Kickstarter campaign, the so-called Citizens Advertising Takeover Service (CATS) has managed to replace 68 advertisements in the station with … cat photos.
When we first reported on the Kickstarter campaign, we weren't entirely sure this silly-but-kind-of-awesome idea was ever going to come to fruition. One very successful crowdfunding campaign and £23,000 later, we have our answer.
This morning, commuters at the Clapham Common Tube station in London were greeted, not by ads, but by cat photos. Every ticket gateway, 54 escalator panels, and 14 large posters at the station have been replaced, and passers-by (at least the ones that noticed the strange takeover) have been busy taking pictures and smiling at the wonderful incongruence of it all.
The 'initiative' is the first project by Glimpse, a new collective which aims to use creativity for good. And Glimpse founder James Turner explains why Cats Not Ads was the perfect first-project:
We tried to imagine a world where public spaces made you feel good. We hope people will enjoy being in the station and maybe think a bit differently about the world around them.

Instead of asking you to buy something, we're asking you to think about what's really valuable in your life. It might not be cats, but it's probably something you can't find in the shops.
What's more, many of the animals featured are stray cats from two rescue charities: Battersea Dogs & Cats Home, and Cats Protection. So if even one of these stray cats is adopted, there's some tangible good coming from this project as well.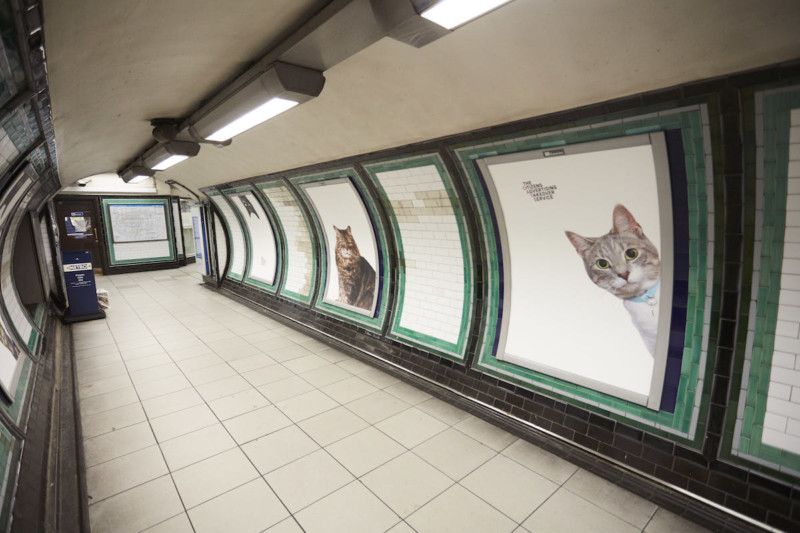 Glimpse is already planning its next takeover, and taking suggestions over at CatsNotAds.org. No real surprise the next frontrunner is currently "dogs."
---
Image credits: All photographs courtesy of CatsnotAds.org/Glimpse Collective.