Yongnuo's 35mm f/2 Lens for Nikon F DSLRs Costs Just $95
Want a cheap 35mm prime lens for your Nikon F DSLR but don't want to pay $200 for the Nikon 35mm f/1.8? The Chinese lens clone maker Yongnuo has just launched a 35mm f/2 Nikon F lens, and it costs just $95.

Compared to the Nikon 35mm f/1.8, Yongnuo's lens has 7 elements in 5 groups instead of 8 elements in 6 groups, a minimum aperture of f/19 instead of f/22, a minimum focusing distance of 0.25m instead of 0.3m, a maximum magnification ratio of 0.23x instead of 0.16x, and a filter size of 58mm instead of 52mm.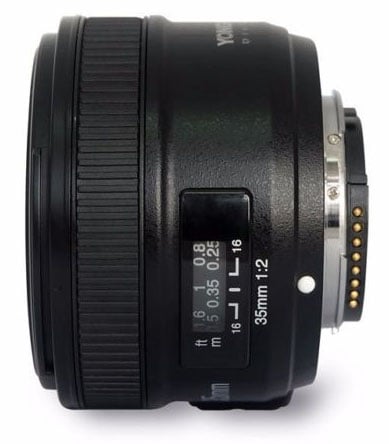 The Yongnuo 35mm f/2 is an autofocus lens, and follows in the footsteps of Yongnuo's 50mm f/1.8 lens for Nikon F.
If you're interested in buying one of these cheap lenses for yourself, you can find it for sale in listings over on eBay with current Buy it Now prices between $95 and $110.
(via eBay via Nikon Rumors)