The Olympics Prove the Value of a Photo Editor
Even for the most seasoned photographers, understanding the value of a photo editor can be fleeting. Photojournalists regularly work with photo editors, but the average photographer relies on their own eyes to edit even in situations where an editor could add value (e.g. a book project, exhibition).
The Olympics provide an excellent example of the value of photo editing because organizations seeking to publish images are basically working from the same pool of images from the major wire services like Getty Images, AP, AFP, Reuters, etc. The ability to comb through thousands of photos to create a coherent gallery—one that is both visually stunning while simultaneously telling the story of the Games—is a perfect test for understanding the value of editing.
On Business Insider, two sports writers took on the task to create a clickbait-titled gallery "The 38 best photos of the Rio Olympics so far," which was published after 4 days of events.
By contrast, The New York Times produced a gallery entitled "All-Around Effort," which opens with a stunning image of synchronized diving by James Hill.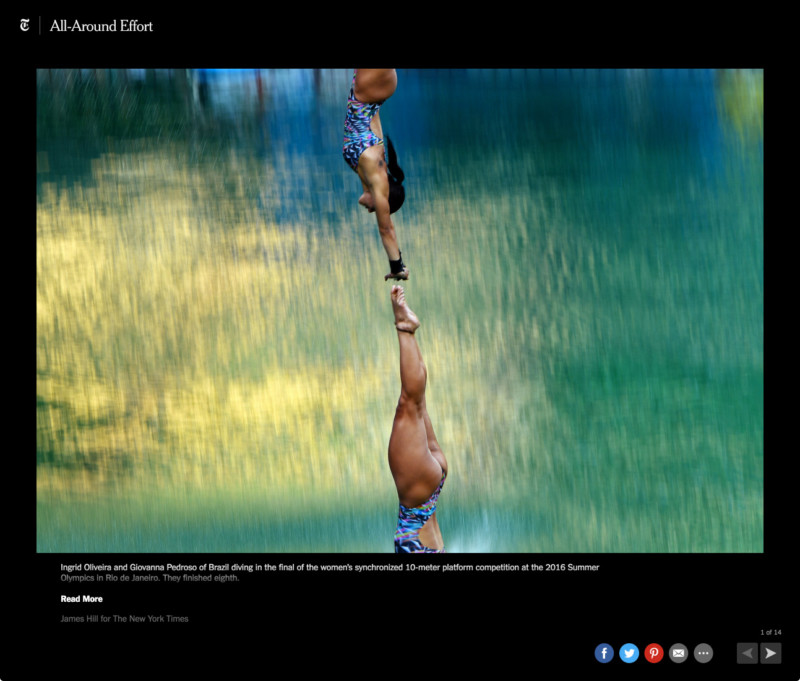 The Times' gallery has a much better balance of images from various sports. The selection captures peak action, jubilation, and story telling with images that are much more graphically constructed.
Compare this table tennis image by Alkis Konstantindis of Reuters with the Mike Ehrmann image selected by Business Insider.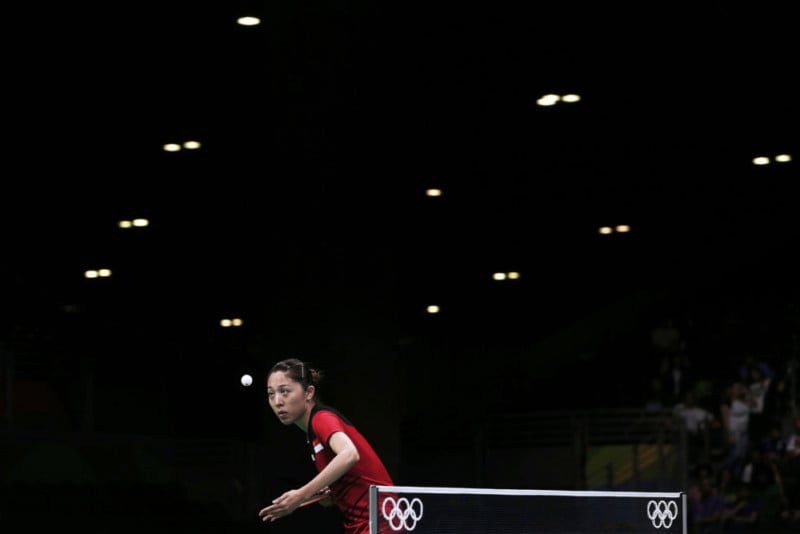 Both images fall into the "sports action" category, and there is nothing wrong with either image. But in a sequence of images designed to highlight the best photography (BI) or best effort (NYT), the Konstantindis image is much more effective. It gives a sense of environment. It provides points of visual interest (the blurred ceiling lights echo the ball). The Olympic rings on the net tell the viewer that they are at the Games, without being "in your face" like many of the BI-selected images.
By contrast, the Erhmann image captures an athlete in motion, but he has a strange expression and body pose. If the story was about the gold medal match, then perhaps this image would be selected. But as a single image representing an entire sport, this image isn't effective.
Photo editing can seem like a very abstract skill, and perhaps one that doesn't require much effort or experience. But the ability to cull images from tens of thousands to ten, sequence them to create a flow, and tell a story isn't something that just happens. In the case of something like sports, a good photo editor will have seen millions of images from a given sport to understand what images are accurately portraying the sport while avoiding stereotypical shots.
In gymnastics, a seasoned judge can discern a 1/10th point deduction, while the average viewer sees limbs flying and thinks the Olympics are pretty great every four years. Similarly, a good photo editor knows what to look for, and between these two galleries, it's obvious to me who should get the gold medal.
---
About the author: Allen Murabayashi is the Chairman and co-founder of PhotoShelter, which regularly publishes resources for photographers. Allen is a graduate of Yale University, and flosses daily. This article was also published here.