Atmosphere Aerosol Spray is Like a Tiny Fog Machine for Your Camera Bag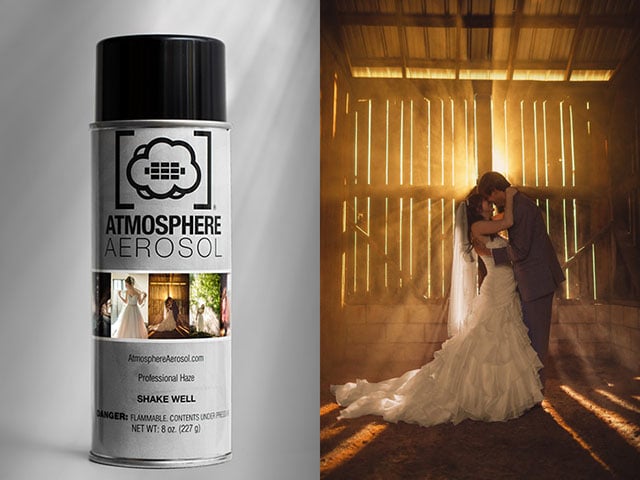 Atmosphere Aerosol is a new aerosol spray for photographers and filmmakers that essentially serves as a fog machine that you can easily carry around in your camera bag.

Need to add some haze or fog to your shoot for a certain atmosphere or to capture sun rays? Just shake the can, spray around, and shoot.
The 8 oz. cans are similar in volume to a can of hair spray, and they're smaller than a typical 70-200mm lens, making it a mobile alternative to heavy and expensive fog machines.
It's safe, non-toxic, and clear: ingredients include propane (45%), butane (45%), and mineral oil (10%).
"Hair spray cans, aerosol shaving cream cans, and other pressurized canned products such as PAM cooking spray use propane and butane as a propellant," Atmosphere Aerosol says. "When Atmosphere Aerosol is sprayed, a small, non-harmful amount of gas propels the spray and quickly dissipates, leaving the mineral oil in the air."
The spray will linger in the air for minutes. A single can will spray continuously for about 5 minutes and 30 seconds. Since it's recommended that you spray for at least 20 seconds, you may get about 15 uses out of a single can before it's depleted.
Here's a short video showing how you can use the fog spray for a wedding portrait:
Here are a few more example photos that were created using Atmosphere Aerosol:
You can purchase Atmosphere Aerosol for $12 a can over on the product's website. There's also wholesale pricing if your studio needs over 12 cans at once.