The SmokeNinja is a Slimmer and Cheaper Portable Fog Machine
PMI Gear has announced a new entry-level portable fog machine that, at $200, is a third of the price of its SmokeGenie model.
The new SmokeNinja, PMI Gear says, is meant to appeal to photographers over videographers and entry-level users and hobbyists over professionals. At just 5.5 inches tall and 30% smaller than its larger predecessor, the portable fog machine also sports a streamlined design featuring just three pre-set buttons for fog, steam, and dry ice smoke settings.
"The SmokeGenie has 100 modes when using pro mode, but most users only ever use two to three of them. So, we just directly took the most popular three and made them into pre-sets," PMI says.
The company said the three modes are meant to fit with three common use cases, portraits and food and product photography.
"It's not so much a strip-down, but rather we are making a new machine for a completely different market," PMI co-founder Micky Wong says.
According to PMI Gear, the new model can be operated with one hand and will have a wireless remote. It also has a magnetic and a quarter-inch mounts, making it possible to attach the tool to metal surfaces or to an extending pole. Using USB-C fast-charging will give users 30 minutes of continuous smoke output from a two-hour charge, though the SmokeNinja can only provide 15 minutes of run time on a full tank. It's also possible to swap out both the chamber and the 18650 battery.
Besides the form factor, the SmokeGenie and the SmokeNinja differ in operation. In addition to having more settings, the SmokeGenie could release smoke for more than 10 minutes. Meanwhile, the SmokeNinja will give you just one minute of continuous smoke, which is also indicated by a light bar as time runs out. That might be fine as users can time smoke releases with camera snaps, but it feels onerous to have to keep restarting the device during a shoot. Both portable fog machines use the same coil, which PMI says can provide 100 hours of smoke.
The Kickstarter for the SmokeNinja is set to launch on Friday, September 1 with the prelaunch discount package for $200. The 2021 Kickstarter for the Smoke Genie earned about $828,000 HKD (approximately $105,000) over its initial goal of $314,000 HKD.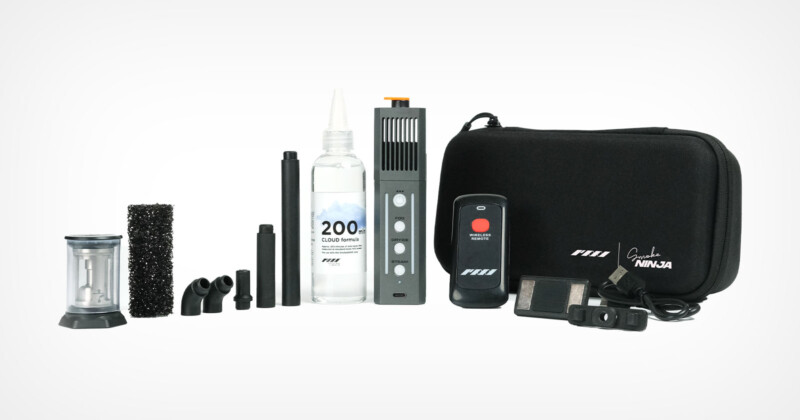 "We understand it's a half joke," Wong says regarding the ninja branding. "But we kind of want our users to feel like a real ninja when using this. It's like an electric smoke bomb with a remote."
---
Image credits: PMI Gear