A Real-World Review of the Canon PowerShot G3X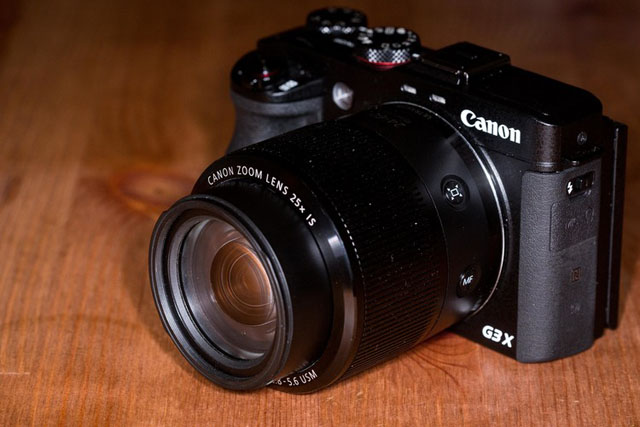 The G-series of cameras from Canon have always been their enthusiast/prosumer range with features and specs that typically outclass their other compact cameras. With the compact camera segment suffering heavily at the hands of ever-improving smartphones, the enthusiast user is pretty much the only slice of the market which I think has any future. Smaller cameras and smaller sensors, but with controls and features photographers come to expect from more expensive models will still appeal to many as either a backup or an alternative to a larger, more capable body.


Within the G-series, Canon stratifies their offering with the ageing G1X as theoretically the "best" and the G3X, G5X, G7X and G9X all slotting in beneath. With the G5X and G9X only recently announced and the G1X relatively long in the tooth now, the G3X is currently top of the Canon enthusiast compact range. On paper the camera has some pretty impressive specs: a 1″ sensor, colossal 24-600mm zoom range (the largest ever seen on a G-series camera) and a cracking lens with a widest aperture of f/2.8.
I've had a few weeks with it to see if it delivers, including the opportunity to take it travelling… potentially one of the best uses for such a relatively small camera.
Usage and Handling
The G3X is a bridge camera rather than a "compact" per se but it is one of the smaller bridge models I've seen for a while despite having a mammoth 25x zoom range. Although the widest aperture is f/2.8 it quickly drops down and as a result the lens doesn't feel unbalanced or oversized. Overall I think the best word to describe how the camera feels to hold is dense. It's pretty much the same size as a Sony A7RII but a little heavier – bear in mind this is with a lens built-in.
As an aside, this actually helped validate a theory of mine that the balance of mirrorless bodies would be helped if they were a touch heavier – the G3X is about the same size but feels just that bit better than an A7 for example. It's more comfortable and the hand-grip is noticeably easy to hang on to. It's still not as ergonomic to use long term as a proper sized SLR and after shooting with it for the best part of a day, I could feel my hands curling around into claws… still, it's generally pretty comfortable to use.
Part of the reason for this is the control layout which again shows how Canon still has an edge in this department and the G3X is no exception. Controls are very well laid out and don't feel cluttered with the tiltable touchscreen once again proving why it's such a boon (with one caveat below). Menus again are simple, uncluttered, consistent with other Canon bodies and just work as you'd expect with features common across their entire range.
I think there are only a couple of usability gripes I have. First of all, the touch screen is easily knocked and if anything, is a little TOO sensitive. Perplexingly, the menu lets you set Standard or Sensitive modes but nothing to dial down the sensitivity! The problem is the drawback for being able to select a focus point with a fingertip, it's all too easy for the camera to brush up against something and the focal point moves accidentally.
Being able to tone down the sensitivity would be one option, another would be for a small "lock" button which I can use to easily enable/disable the touchscreen. While you can do this in the menus, it's a bit of a pain in the backside to constantly flip in and out. If we have a dedicated "smartphone transfer" button then we can surely have a "lock" button! This would help with my other complaint, which is that the rear dial on the back of the camera is also far, FAR too sensitive. It's even more annoying than the touchscreen because the standard mapping of the wheel is to change ISO. I could remap the controls but the wheel itself is useful – it's just that after taking a number of pictures only to realise you moved from AUTO to 160 ISO and everything is underexposed is rage-inducing!
There's also potentially a small bug when shooting in manual mode. Even after configuring each of the dials and controls to both shutter and aperture settings, I found that once I changed the ISO, the camera then "forgot" that the same wheel normally controls shutter. Effectively, if I mapped the shutter speed to the same wheel as the camera wants to use for ISO, then change the ISO… I can't change my shutter speed until I leave Manual mode. I'll try and post a short video clip to show what I mean. I'm sure there's probably a workaround but because Canon's controls and menus are usually bullet-proof it stuck out as a bit odd.
It feels reassuringly well built with a magnesium alloy chassis and can definitely take a few accidental knocks with absolutely no effect (don't tell Canon I tested that!) – the same isn't true with some of the competitors I've tested. The only thing that was slightly disconcerting was how much the internal lens mechanism would wobble if you shook it but that's the Image Stabilisation mounting rather than any kind of build issue. Still, it looks a bit unnerving seeing your lens jiggle about.
The lens itself is motor driven, triggered from a dial around the shutter button. It's reasonably fast for a powered zoom but I think this is where a compromise has crept in. It's fast, but quite hard to make smaller, accurate adjustments to the focal length. Even though there's a dedicated button on the barrel, visible in the photo below, to make fine-tuning adjustments is quite a clunky process. Likewise with manual focusing — it's achieved by pressing another dedicated button on the lens barrel but it's a very slow process and one I only ever bothered with it for the purpose of testing.
The auto-focus is very good in decent light, better than I expected and it definitely did a good enough job, which meant I didn't need to focus manually at all. When things got a bit darker it struggled quite a bit though. I did wonder if the manual focus option would have been easier and better to use with an EVF. And although the camera does have an optional extra viewfinder that plugs into the hot-shoe, I didn't have a chance to try it out. The EVF itself is a few hundred dollars more too, further inflating the price.
I think the lack of a built-in EVF is one of the biggest areas the G-series cameras are lacking compared to their rivals, especially for the larger G3X. Sony's RX10-II is one of the nearest rivals and the EVF on that model is very capable and definitely a boon.
Battery life isn't bad, better than the other enthusiast-grade bridge cameras, but far from what you'd get on a DSLR. However, the ECO mode on the G3X is surprisingly good. To give you an example, I took a fully charged G3X out on the first day of my Bangkok trip with ECO-mode turned off. The camera drained after about 5 hours of near-constant usage. Day 2 with ECO-mode on was MUCH better and the camera still had juice in the tank after 8 hours shooting. This battery saving option turns off the screen after a short period when the camera hasn't been used, turning on again if the photographer presses any button. It adds a bit of lag but it's still quicker than turning it on from scratch.
All told, the G3X handles pretty well. It has a few minor ergonomic quirks but these can mostly be lived with because what the G3X really delivers is what counts – top notch image quality.
Image Quality
The G3X shares the same sensor as the G7X and Sony RX100-III so my expectations for image quality were very high. I was super keen to see how things would look when shot at longer focal lengths. Unless otherwise stated, all images have been processed in Lightroom – I'd rather show you some good images and demonstrate what the camera is capable of than a ton of boring out-of-camera JPGs.
The lens itself is worth a mention here. It's f/2.8 at its widest but this only applies at 24mm. As soon as you zoom in the aperture shrinks noticeably down to its narrowest of f/5.6. As you'll see, the pairing of Sony's superb 1″ sensor and this lens generates some lovely photos!
One quirk I noticed while shooting was that when using automatic white balance, the images as shown on the camera had a subtle but definite green tinge. I wasn't sure if the AWB setting was out slightly, if the rear LCD had a colour cast or if there was a tinge to the underlying images. After viewing the results on my laptop I confirmed it; the AWB mode gives a very slight green tinge to images shot in that mode. If you explicitly choose a white balance to choose the conditions it disappears but who does that? We all shoot RAW and use AWB don't we?
Thankfully it is very easily fixed if you shoot RAW. Reuters photographers are s**t-out-of-luck though.
The next three images are the same scene – the first is straight out of camera and completely untouched, the second with the green tinge corrected and the third with my final pass at processing.
The photo above was shot in a relatively dark temple despite the final exposure maybe suggesting otherwise. Without the image stabilisation afforded by the camera I doubt I could have gotten this shot. Quite simply the IS is one of the best I've seen in a compact camera for quite some time.
I would have bet good money that the sensor was capable of superb performance at high ISO levels and I'm pleased to say I wasn't wrong. It's just as good as the G7X . I've created an animated GIF of a 100% crop of an image cycling through each ISO from 200 up to 12,800. To my eye everything is great up to and including 3200 and even 6400 isn't bad — rescue-able in Photoshop depending on the scene. 12,800 is pretty horrible though.
ISO 200 is the first frame and is weirdly the darkest – despite the camera being mounted on a tripod and conditions remaining unchanged, the metering is different. I suspect I caught a flicker from the lighting at that point. Let me know if you think this animated GIF approach for comparing ISO works – I'm experimenting with different ways of comparing ISO in real-world images.
(ISO 200 is the first frame and is weirdly the darkest – despite the camera being mounted on a tripod and conditions remaining unchanged, the metering is different. I suspect I caught a flicker from the lighting at that point.)
600mm is an astonishing focal length in such a small body – I was a little dubious that the results would be worthwhile and was worried that it was more of a marketing exercise.
Happily, I was wrong. The lens on the G3X is quite simply excellent.
The next two images are 100% crops taken from the G3X at 600mm and the second is from a Canon 6D with a Tamron 150-600mm lens. How does the $899 bridge camera stack up against nearly $2,500 of full-frame goodness? Check out the images below – both are completely untouched from the cameras.
It's fairly difficult to tell the difference between each shot which in itself is an amazing result from the G3X. The 6D and 150-600mm lens is better SOOC but not by much and I have the feeling that after processing it might be even harder to tell the two apart. This is pushing the G3X to its limit, the building is almost one kilometre away from my apartment and it was about 6pm so light was fading. All in all, a cracking result.
Video Quality
Some 1080p video samples below. All straight out of camera, except for YouTube stabilisation where it warranted it. Remember I'm still getting used to shooting this video stuff, these are for reference only and not exactly Oscars material! They are only designed to showcase the video quality in a few different situations.
The video functions are where the G3X falls short against the competition. Canon is still lagging behind the likes of Panasonic and Sony when it comes to including 4K video in their cameras and this will surely be a deal-breaker for some. I'm pretty sure this is because Canon want to nudge us towards their dedicated 4K video cameras but the longer their rivals keep integrating 4K into smaller bodies the more likely I think it is they will have to reconsider this decision.
Pros
Fantastic image quality
Superb optics – decent aperture and superb zoom range
Image stabilisation is very good
Cons
Burst mode is limited to 6fps – competitors are at least double that
AF suffers in low-light conditions
Lacks 4K video
Battery life is average at best (buy a couple of spares)
No built-in EVF
Weird green tinge to AWB shots
Conclusion
Viewed in isolation, it's hard not to be thoroughly impressed by the G3X. Canon have paired a cracking lens and sensor and the images this camera is capable of producing are very, very good indeed. Canon's G-series is going from strength to strength, first with the G7X and now again with the G3X. For the travel photographer it's a serious option for a small, self-contained and relatively inexpensive to boot at only $899.
Competition from the Sony RX10-II and Panasonic's FZ1000 is stiff but each of the cameras in this class offers us something different. This is great for photographers as we can choose what we need the most and there will be an outstanding bridge camera available to meet that need. The G3X is holding the crown for sheer versatility by virtue of its awesome zoom range and I'm sure there will be photographers out there who view this as a convenient way to get 600mm of reach with good image quality to back it up.
If you're looking for an all-in-one package that's smaller than an SLR and can produce some stunning images, the G3X might just be for you.
---
About the author: David Candlish is a photographer from the UK and currently living in Singapore. You can connect with him through his website, Twitter, Instagram, and Flickr. This article was also published here.