Photographing Cruise Ships From Above with a Drone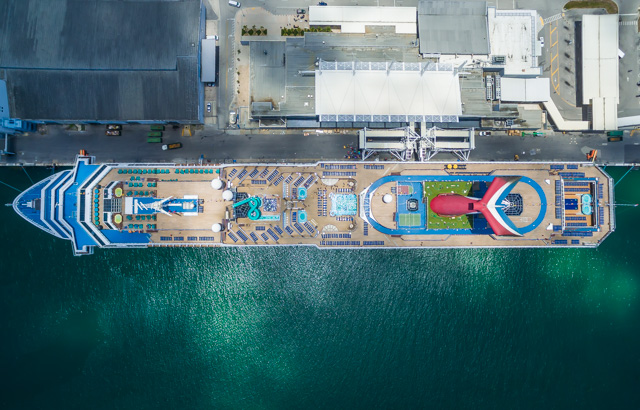 My name is Edin Chavez, and I'm a photographer based in Miami, Florida. In my city, I often see giant cruise ships arriving and leaving the port. Having been on a few of them, I'm always impressed with their massive size — I always feel so tiny.
I recently shot a series of aerial photos of the ships from directly above using my camera drone.

Over the last couple of weeks, I've been shooting photos around the ships at the port — the ships docked, people getting on and off, food, drinks, and more. After covering it from different angles, I decided I wanted a new perspective — something different that people don't usually get to see.
My attention turned to my camera drone, and after I flew it over one of the ships, I found that the photos were exactly what I was searching for. Over the next few weeks, I returned to the port a number of times to shoot aerial photos of as many ships as I could under perfect lighting.
Sometimes rain got in the way, sometimes there weren't any ships there, and sometimes it was the same ships I had photographed already, but I did end up capturing a collection of images that I'm proud of.

---
About the author: Edin Chavez is a freelance photographer based in Miami, Florida. In addition to shooting, he's also the editor in chief of ShutYourAperture.com. You can find more of his work and writing on his website and blog.