Giveaway: Win a Versatile Tamron Zoom Lens Worth Up to $849!
Update: This giveaway is now over. Please see the end of this post for details.
---
We're doing another big camera gear giveaway to promote our new photography podcast: one lucky photographer will receive a versatile Tamron zoom lens worth up to $849.

The Prize
The winner will be able to choose one of these four Tamron all-in-one zoom lenses:
1. Tamron 16-300mm f/3.5-6.3 for crop sensor Canon, Nikon, or Sony cameras ($629)
2. Tamron 28-300mm f/3.5-6.3 for full frame Canon, Nikon, or Sony cameras ($849)
3. Tamron 14-150mm f/3.5-5.8 for Micro Four Thirds cameras ($459)
4. Tamron 18-200mm f/3.5-6.3 for Sony E-mount cameras ($739)
How to Enter
You can enter this giveaway by subscribing to our free podcast on iTunes, checking out the show, and then leaving a review. Here's a step-by-step guide on how to do so:
1. Visit the PetaPixel Photography Podcast page on the iTunes website.
2. Click "View in iTunes" to open up the page in iTunes (or you can search for "PetaPixel" in iTunes or the iOS Podcast app).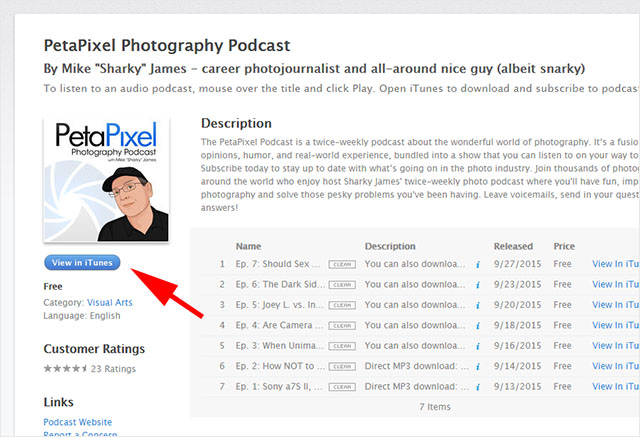 3. Once you're in iTunes, hit the "Subscribe" button to start following along with our show.
4. After you've checked out our show, hit the "Ratings and Reviews", click the "Write a Review" button, then leave us a review.
These steps will look a bit different for you if you're on a mobile device.
5. Once you've left a review, use this simple form to tell us the name you left the review under and the email where we can reach you if you're selected as the winner (all email addresses will be discarded after this giveaway):
[Entry period closed. This form has been removed.]
If you already subscribe to our podcast and have already left a review, just skip to Step #5 and let us know which review you are.
We'll be randomly selecting in one week after the giveaway entry period ends on Wednesday, October 7th, 2015, at 11pm PST.
This giveaway is open to those based outside the United States as well, but international winners be responsible for the shipping and handling costs of getting the lens to you. Thanks for reading PetaPixel and listening to the PetaPixel Photography Podcast! Good luck!
---
Update: This giveaway has ended. Entries will no longer be accepted. We will be randomly selecting a winner, notifying them, and will be announcing it in this post within the next 48 hours. Please check back soon for the announcement.
---
Update: We ended up receiving 348 entries in this giveaway. The randomly selected winner is: #151!
arrowood writes: "Love the length.. not that long, not too short. Nice update of news and topics in the photo world. I am adding it to my podcast schedule…"
We're getting in touch with you via the email you left. To everyone else, thanks so much for participating in this giveaway! We'll be back with another one soon.