How the iPhone 6S Camera Compares to All Previous iPhones
One of the big improvements in the new iPhone 6S and 6S Plus are the new camera modules, which now shoot 12-megapixel photos. If you'd like to see how the new camera stacks up to its entire line of predecessors, Camera+ co-founder Lisa Bettany has published a series of side-by-side comparison images showing the same scenes captured with each camera.

For example, the above image is a side-by-side comparison showing how the original iPhone camera's 2-megapixel renders a macro photo of colored pencils versus how the new iPhone 6S captures it.
Here's how the iPhone has improved at shooting macro photos over the years:
There has also been a significant jump in quality for backlit and low-light photos (these are some crops of full scenes):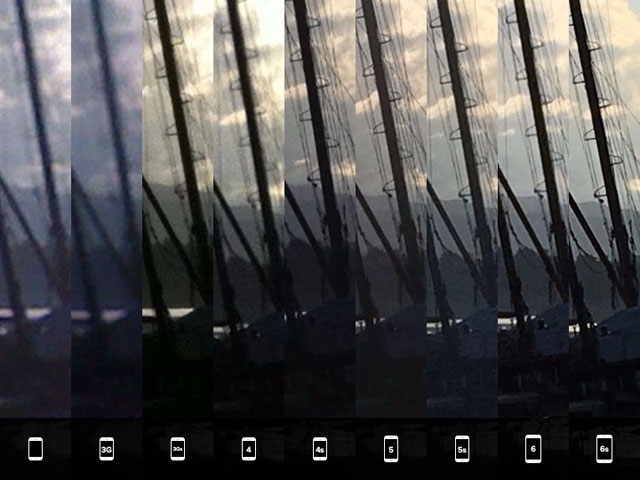 In portraits, the new iPhone 6S has improved color accuracy and reduced noise. You can see the sharpness differences when zooming into eyeballs:
"The improved sensor, software updates and new A9 processor on the iPhone 6s has made this camera the best yet," writes Bettany. "There is an apparent increase in the speed of auto focus and improvements to colour accuracy, details and sharpness, especially in low light."
Bettany has been building up a personal museum of iPhones for a new version of this comparison every year since 2011. Previously, she did the same thing for the 4S, 5, and 6. You can find the complete set of comparison images for the 6S over on the snap snap snap blog.
---
Image credits: Photographs by Lisa Bettany