Lost Weather Balloon GoPro Found 2 Years Later with Grand Canyon 'Money Shot'
Back in 2013, five friends in Arizona decided to capture some photos and video from the edge of space by sending a GoPro up on a weather balloon. The camera made it to 98,000 feet, but the guys lost track of it after it landed out of cell phone tower range. All seemed lost, and the team spent months wondering if they'd ever find the camera.
Fast forward to a couple of months ago: the team got a phone call from a woman who found a strange box with their names on it. In it was the camera and all of the original images.

Here's
a 4-minute viral-bound video
that shares a behind-the-scenes look at this incredible story:
The balloon's payload was a GoPro HERO3, a Sony Camcorder, and a Samsung Galaxy Note II phone. The two cameras were set to record footage while the phone snapped photos.
Over on Reddit, team member Bryan Chan writes that the smartphone was also used for tracking the location on the memory card. An app was used to have the phone text its GPS location to the team as it traveled back down to Earth.
"The problem was that the coverage map we were relying on (looking at you, AT&T) was not accurate, so the phone never got signal as it came back to Earth, and we never heard from it," writes Chan.
The camera box landed about 50 miles away from the launch point, in an area largely devoid of public roads.
"Two years later, in a twist of ironic fate, a woman who works at AT&T was on a hike one day and spotted our phone in the barren desert," says Chan. "She brings it to an AT&T store, and they identify my friend's SIM card. We got the footage and data a few weeks later!"
The onboard data revealed that the camera had a total flight time of 1 hour and 38 minutes, and it reached an altitude of 98,644 feet.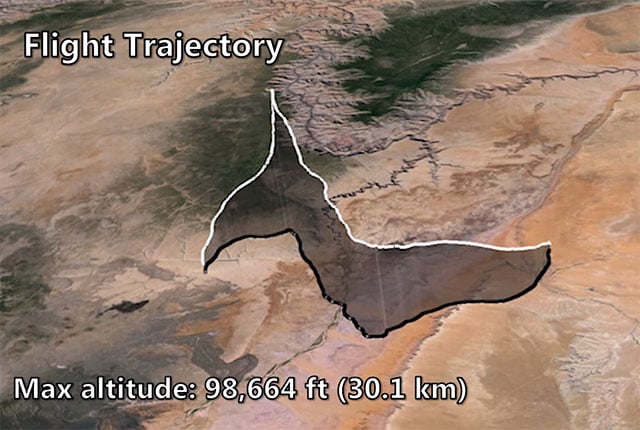 Here's a closer look at the Grand Canyon "money shot" that was recovered:
In case you're wondering about the safety aspect of this type of project, the team says it registered their launch details with the FAA and received clearance for a specific location and time window.
---
Image credits: Video and images by Bryan Chan, Ved Chirayath, Ashish Goel, Tyler Reid, and Paul Tarantino and used with permission