GoPro's 16-Camera 360° Rig is Called the Odyssey and Will Cost $15,000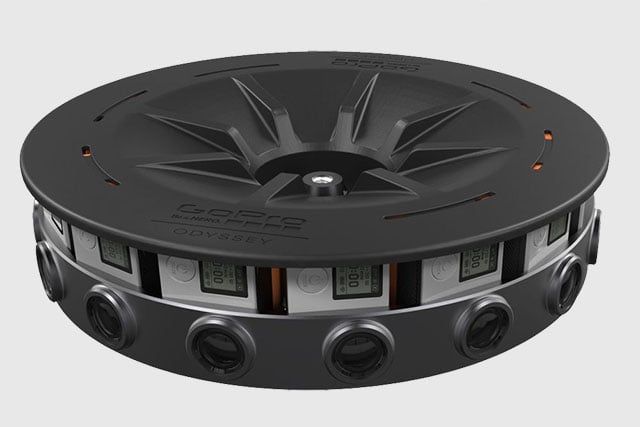 Back in May, Google announced "JUMP", a new technology standard aimed at creating fully immersive content for virtual reality. At the time, Google showed off a demo camera rig that utilized over 16 separate GoPros. The folks over at GoPro have finally decided to release a production version of the apparatus that'll be available for purchase. Called the Odyssey panoramic capture rig, it features 16 synchronized GoPro HERO4 Black cameras recording 8K video at 30fps.


Weighing in at 14.5 lbs, the Odyssey can record immersive 360-degree video with what the company is calling "unrivaled depth perspective for realistic playback." The video is initially recorded at 2.7K in a 4:3 aspect ratio at 25-30fps and is then offloaded for rendering using Google's Jump assembler technology. The result is an output of either a 2kx2k MPEG4 at 150 Mbit/s or 8kx8k MPEG4 at 600 Mbit/s; both results utilize the h.264 codec.
The rig itself contains 16 internal microphones, one within each GoPro, for mono sound. However, external stereo microphone support is available via a 3.5mm Mic Adapter. The Odyssey will ship with the Zoom H2N recorder, so filmmakers are ready to begin shooting immediately out of the box.
While GoPro notes that the Odyssey contains 16 rechargeable lithium-ion batteries (1160mAh each) thanks to the GoPro units, they state that "battery life will vary depending on recording times and video mode selected." Support for an external AC power adaptor via an XLR connector is available for those shooting extensive amounts of continuous footage.
Included in the Odyssey package is the panoramic capture rig itself along with 16 HERO4 Black cameras, 16 Array Bacpacs, 16 microSD cards, a protective Pelican case, and all the needed cables and accessories.
Here's a promo video that was shot 100% on the Odyssey rig:
At this time, Go-Pro is releasing their rig as part of an early-release program. Those who are interested in purchasing the system will need to first be approved. GoPro says that only "professional content creators and producers" will be given first access to it after a review process. Even then, the Odyssey will cost prospective early adopters a hefty $15,000.