Over 1,500 Free 4K Stock Video Clips, All Courtesy of a Single Cinematographer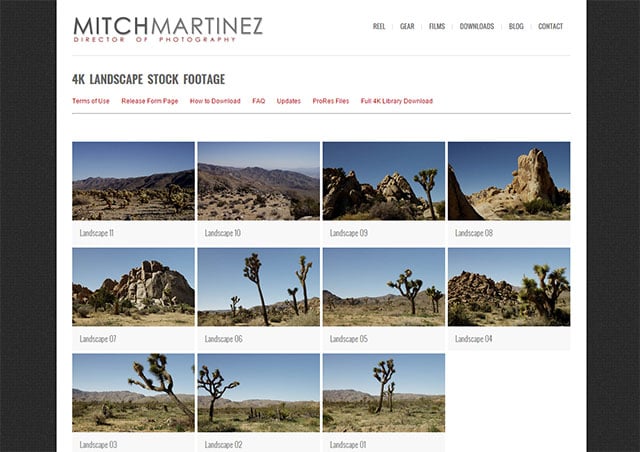 Mitch Martinez is a Philadelphia-based director of photography and cinematographer. Over the past 2.5 years, he has been working on building a free library of 4K stock footage. Since its inception in January 2013, the collection of clips has become an impressive resource: the 1,500+ clips have been downloaded over 300,000 times, and they been used by some of the largest companies in the world.


"The beginning of the resource in 2013 can pretty much be summed up as being motivated to share some footage that I had already filmed but wasn't using," Martinez tells PetaPixel. Many of his clips weren't being used in projects, but he couldn't bear to delete them. So, he started uploading them to the Web and offering them to others.
"Someone out there might as well make use of it, right?" he says. Both people and companies have. Microsoft, Nike, HBO, NBC Universal, and Samsung are among the brands to have used Martinez's clips in some form or fashion.
The clips are available on Martinez's website, and are organized into 35 different categories — things like aerial, nature, and time-lapse. Every single clip was filmed by Martinez himself with a RED Epic Dragon, RED Epic, or RED One MX.
Here are some examples of how brands have used Martinez's clips in their projects:
Sin City 2
The fireworks in the background:
The Hunger Games: Mockingjay (Part I)
The first two shots with the clouds and tall weeds, and the fireball at the end of the trailer at 2m18s:
Gatorade Commercial
The fire embers, and possibly the smoke and fire:
Sands Casino Commercial
The fireworks at the end:
The resource is fully funded by user donations, which are used to grow the service and its content collection.
Clips can be obtained through an automated approval system that includes release forms. ProRes and RED files aren't free, but they're available for "extremely low prices" compared to other stock footage sites out there, Martinez says.
Head on over to Martinez's free 4K clip collection if you'd like to browse around for yourself.