Adobe to Unveil Its New Photoshop For Mobile App in October at Adobe MAX
Adobe Photoshop is ubiquitous on the desktop computers of photographers around the world, but the company has yet to win the same amount of love on mobile devices such as tablets or smartphones. After calling it quits on Photoshop Touch earlier this year, Adobe will be bringing a full-featured version of Photoshop to iOS this October.

CNET reports that Adobe Systems will be making the announcement at their upcoming MAX Conference in Los Angeles that runs from October 3rd through the 7th. Under development, the software is currently being referred to as 'Project Rigel' and will bring the power of desktop Photoshop to mobile.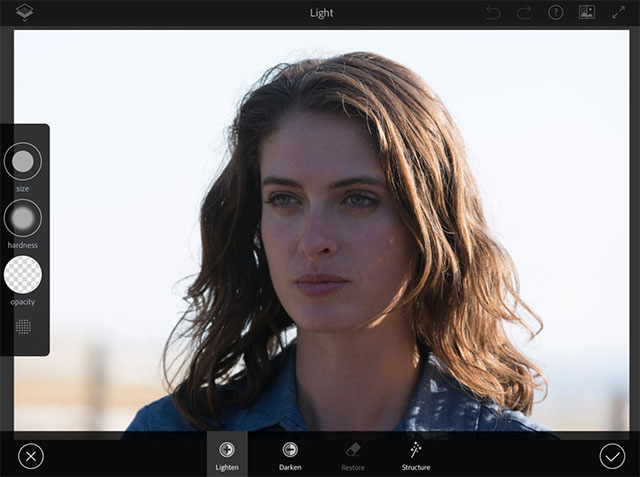 "Project Rigel is designed and built in a way that serves the needs of professionals familiar with retouching tools on the desktop, but more so for people not familiar with Photoshop tools like content-aware fill or spot healing," Adobe Product Manager Manu Anand tells CNET, "it democratizes them and makes them easier to use."
CNET was able to take a closer look at Project Rigel, and reports that "the app itself has a touchscreen interface, with a menu of editing options across the bottom, pop-out tool adjustments on the left side and a strong zoom ability to offer precision when selecting areas of an image with fat fingertips."
The app includes facial recognition technology for quick touching up of an individual's face. According to CNET, the tool will be able to detect a face then overlay accessible grasping points in the Liquify mode for adjusting eyes, noses, mouths, chins, and cheeks.
It may sound a bit "cheesy, but [it] is something [they've] actually worked with professionals on," Anand says. It was also hinted that features such as these that will appear in the mobile Photoshop application will eventually be ported over to the PC.
Project Rigel will be free to download, but a subscription to Creative Cloud will be required to use it. Currently, Creative Cloud sells at either $10 a month for the 'Photoshop and Lightroom' bundle or $50 for the entire suite of software.
This is not Adobe's first attempt to break into the mobile marketplace. In 2011, the company released Photoshop Touch for $10 that never picked up in popularity. Photoshop Express is currently available in the iOS App Store and Android Play store, but, as the name suggests, only allows for quick and light editing.
According to Anand, "Photoshop Touch was a good app in its time, but it wasn't well suited to Adobe's network-infused style of digital tools, where a person can edit a photo on one device, like a tablet, then continue with the same project on another, like a PC."
An Android version will eventually be available, but the timetable is currently unknown. The real question is whether people will buy into Creative Cloud or just choose one of the many other popular options available on mobile.