A Look at How the Top iOS Mobile Photo Editing Apps Stack Up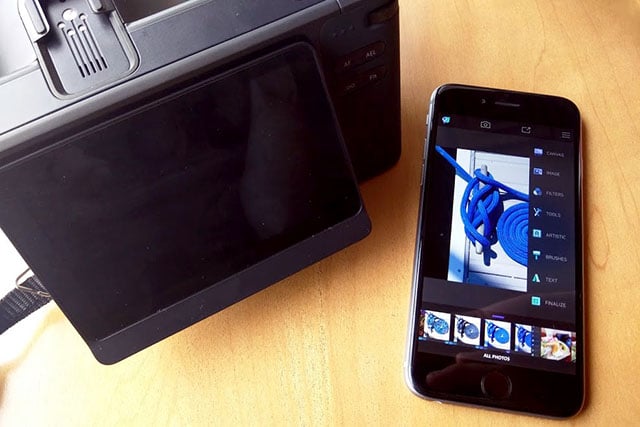 With many cameras now supporting integrated Wi-Fi connectivity, a good number of photographers are editing their photographs while still on the road. There is a variety of applications on both iOS and Android that offer different feature sets at varying price points. In this article, we'll take a look at some of the best offerings to help you pick out what may be the best solution for your circumstances.

Photoshop Express — Free for iOS/Android
Our first contender is made by Adobe and is an excellent companion for those with a Creative Cloud subscription. Photoshop Express is one of the easiest applications to work with, as tools are presented up front and not buried under countless menu systems. The application is free so anyone can take it for a test drive. However, signing in with an Adobe ID earns you extra features for no charge.
Standard editing characteristics of the application include controls for cropping, rotation, clarity, sharpening, exposure, contrast, highlights and shadow, temperature, tint, and vibrance. Adobe has also added a noise reduction option, defogging control, and the ability to fix red-eye and skin blemishes. An automatic 'fix' mode is also welcomed for fast adjustments.
With Adobe Photoshop Express' free price tag and Creative Cloud support, it is a great option for anyone getting quickly in and out to adjust the basics.
Download: iOS App Store | Google Play Store
Aviary — Free for iOS/Android
Aviary is the second free application on our list. It's similar to PhotoShop Express but features an expanded collection of editing options. The app is split up neatly into different categories including Enhance, Effects, Frames, Overlays, Stickers, Orientation, Crop, Lighting, Color, Sharpness, Focus, Vignette, Blemish, Blur, Whiten, Redeye, Draw, Splash, Text, and Meme. We enjoyed that on iOS, Aviary can automatically help you download photographs from your iCloud library.
The standard adjustments are all present for adjusting an image's rotating, crop, brightness, contrast, saturation, warmth, fade, and tint. In addition, Aviary allows you to apply stickers and text to your photographs, adjust selective focus, fix red-eye, whiten teeth, and remove blemishes.
Aviary and Photoshop Express are the only two free applications on our list today; they are also available for both iOS and Android. Aviary provides much more functionality than Adobe's PhotoShop app, and if those aren't already enough, you can download additional "supplies" for only $1. The learning curve is slightly higher for Aviary with its menu system, but if you want a free solution – this is your best bet.
Download: iOS App Store | Google Play Store
Afterlight — $1 for iOS/Android
Available only on iOS, Afterlight costs $1 and provides a decent feature set for the price. Standard controls are all available, including clarity, brightness, contrast, saturation, exposure, highlights, shadows, temperature, sharpening, cropping, rotating, and flipping.
Afterlight brings a few more unique items to the party such as separate controls for toning in highlights, mids, and shadows. The app can also control grain effects, apply text, and some effects to your images. We were not a fan of the fact that many of Afterlight's features must be purchased through $1 add-ons after we had already purchased the software from the store.
If you are willing to shell out $1 and then additional money for effect add-ons, then Afterlight may be a viable solution. Instant Film effects, script text, and silhouettes are just a few examples of the additional items you might be shelling out your wallet to purchase.
Our overall opinion is to pass on Afterlight. Aviary can do what Afterlight does just fine but without the cost. If you are looking for more power in your mobile editor, then continue to read on as we explore other options.
Download: iOS App Store | Google Play Store
Pixelmator — $5 for iOS
The Pixelmator application is our favorite paid pick on this list if you are looking for the perfect balance between ease of use, creative features, and price. Coming in at $5, the application provides significant control over your photographs while remaining extremely intuitive to use.
Tools are broken-down into eight different categories including Paint and Erase, Retouch, Distort, Adjust Colors, Add Effects, Select, Crop, and Format. Within 'Adjust Colors', you can find many of the standard adjustments including brightness, contrast, saturation, tones, and temperature. You can even adjust image levels and white balance with little additional work required.
The 'Retouch' section allows you to apply the same effects along with red-eye correction. Using a brush, this powerful tool means you can selectively dodge, burn, and adjust very specific areas of your photograph. Distortion abilities are also available for those who want to feel like they are using the Liquify mode in Photoshop.
If the retouch menu, white balance, and level control, weren't enough to catch your advanced interests, then consider the ability to add and control layers. Pixelmator makes a great companion when you're on the go and even includes fun filters for posting pictures to your social media audience.
Download: iOS App Store
Enlight — $6 for iOS
The last option on our list is also the most expensive at $6 and is currently only available on iOS. Before we proceed, we would like to say that, without a doubt, Enlight is the most advanced mobile photo editing application available. However, the menu system can become a bit confusing and may take some time to master.
Similar to the previous applications we've reviewed, Enlight can easily control exposure, sharpening, shadows, highlights, saturation, hue, temperature, and tint. More advanced controls include white balance adjustments, masks with strength levels, brush style adjustments, and layers. Enlight also brings tilt shift adjustments and artistic style filters to the mix. If you feel like getting your inner painter involved, paint brushes are included.
While Enlight may be the most powerful option on our list, it does take a bit of time to get used to. With Enlight we suggest spending some time getting comfortable with the app before taking it on the road. The application allows complete control from the canvas itself to each layer you place on it. If you find yourself working on a large project, you can even save the current state just as you would with a Photoshop PSD file.
Download: iOS App Store
Conclusion
There are some great applications out there to download, and your favorite may depend on what your personal requirements and needs are for photo editing. If you are looking for the best free solution, we recommend Aviary, which offers an incredible amount of control with no upfront cost. If you want to step into more advanced photo editing options, we give the award to Enlight with the wealth of extra features the app offers its users.