LOKI is an Ultra-Portable Camera Rig That Can Take On Many Forms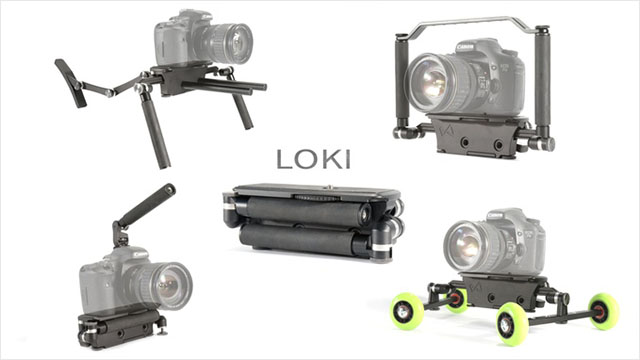 Camera rigs can be large and difficult to carry around when on the move; once you add on additional components, the problem intensifies. Now, Scratch Ideas from the UK has introduced 'LOKI' on Kickstarter with a $38,910 fundraising goal. An ultra-portable and modular piece of equipment, LOKI can transform between a shoulder rig, a camera cage, an underslung rig, and a dolly with a few twists and clicks.


Scratch Ideas designed LOKI after setting out to "create a modular camera rig that's ultra-portable, modular and robust." The result is a complete system that can easily fit into your camera bag and transform between a number of different forms. Best of all, when not in use, LOKI is able to fold up "to about the size of an external battery grip", so your bag won't be overcrowded.
The shoulder rig can be ergonomically adjusted to any shooter and features steel locking plates on every joint; this ensures your setup won't move or slip. The joints have all been tested to easily withstand almost 50 pounds of weight. The three points of contact – your shoulder and two hands – help to ensure that the video you record stays smooth while recording.
If you don't desire a shoulder rig, just fold back the shoulder stock and rotate the handles upwards to create a camera cage. Now, quickly attach lights, microphones, and other accessories for stabilized recording. If you need extra 1/4" mounting points, you can quickly add on the 'Cage Bar Module' to expand your rig.
If you want to get down low, attach LOKI's Underslung Module to create a quick underslung rig. Scratch Ideas notes that the handle also features serrated steel locking plates, which allow you to "vary the handle position through 180-degrees."
Lastly, you can transform LOKI into a miniature camera dolly with the assistance of the Dolly Modules. This mode will allow you to capture "smooth linear and radial tracking shots." The wheel angles are adjustable along with the pitch of the camera, so you can get the shot you are seeking.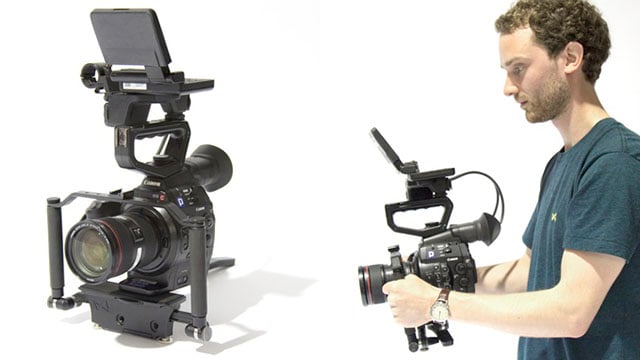 LOKI is also industry compatible with 15mm LWS rods that can be attached to the front of the unit for additional accessories. LOKI features a standard 1/4" thread for compatibility with most camera systems. In addition, there is a tripod mount on the bottom of the unit so that you easily attach a quick release plate for mounting.
For a contribution of $490, you can pre-order the base LOKI unit that enables you to create a shoulder rig and basic cage. If you are feeling more adventurous, the $545 price point will get you the 'full set' that includes the base unit along with a cage bar, underslung mount, dolly modules, and a set of 15mm rods. As with all Kickstarter campaigns, you are not charged unless the project is successful reaches its set fundraising goal.