6 Top Online Photography Portfolio Hosting Options
Your photography deserves a website that can showcase its creativity and beauty… without breaking the bank. Former TIME CEO and Curator Gallery owner Ann S. Moore told us in a recent interview, "Shame on you if you don't have a website! You absolutely have to have one!" Today we'll be looking at a few of the top industry solutions for hosting your photography portfolio in style.

#1: Squarespace
This popular option has been a top choice for individuals and businesses to create elegant sites at the click of a button. Squarespace's motto, "Build it Beautiful," is a statement that the company truly strives to make possible. Collections of different themes are available for customization with the majority focusing on how to properly display image content.
In addition to hosting your high-quality full resolution photographs for the public to view, you have integrated access to 40 million high-quality stock photography from Getty Images for only $10 each. Squarespace also includes a free logo design suite and access to integrated analytics. For an additional $5 a month, you can opt to receive a customized email address powered by Google Apps.
Squarespace pricing begins at $8 for a personal website that features up to 20 pages, galleries, and blogs. Also included is unlimited bandwidth and storage. You can even feature a single product for sale on your site via the built-in E-commerce platform.
The business plan for $18 includes unlimited pages, galleries, and blogs, as well as the ability to sell up to 20 products. The aforementioned Google Apps suite is also included. If you want to sell more than 20 products at a time, the $26 commerce plan removes all limits and provides label printing via ShipStation, as well as an integrated accounting solution from Xero.
#2: 500px
While it is yet to gain the same popularity as Flickr, 500px is continuously viewed as the website to head to for 'serious photography'. 500px has expanded far beyond being a mere social networking site for photo buffs. The company offers a paid portfolio website service in addition to an online store known as 500px Prime for members to sell photographs.
Being a photography website, 500px has themes that are aimed squarely at photographer's looking to show off their work. We feel that 500px has a more limited number of themes than other sites, but what they do provide works well. 500px also seems to design their themes around collections of smaller photographs rather than one large portfolio display.
You can easily customize your template via preset controls to match your style. 500px also let's you take the reins and edit HTML, JavaScript, and CSS in real-time. A drag and drop manager allows you to easily select which images stay on your 500px social page and what makes it to your professional website.
If you want to utilize 500px's portfolio service, it will cost $6.25 a month which will be billed as a $75 yearly fee. Those who are interested also have the option of paying $165 a year ($13.75 a month) for the 500px portfolio service as well as a subscription to Adobe's Lightroom and Photoshop CC: a great bundle for anyone looking to save some money.
#3: SmugMug
A service that needs no introduction is the ever popular SmugMug. Centered around creating beautiful photography portfolio websites, SmugMug provides photo-creatives with an easy way to share their work online with a broad audience. The service is pack full of excellent themes and styles that provide more customizability than you could ever want.
Unlike other sites, SmugMug doesn't use templates alone but opts for customizable 'styles' that allow you to manipulate a webpage exactly how you want. Options include their famous SmugMug Style as well as Journal, Collage, and Thumbnail views. You can drag-and-drop boxes of media and text around your site to suit your individual style and taste.
SmugMug proudly states that your photographs are safe within their service. The company is powered by Amazon Web Services, which remains one of the industry's top corporate options. Additional privacy controls from SmugMug let you decide what content is viewable by the public and what isn't. You can also automatically set up watermarks, passwords, and right-click protection to help prevent your images from being stolen.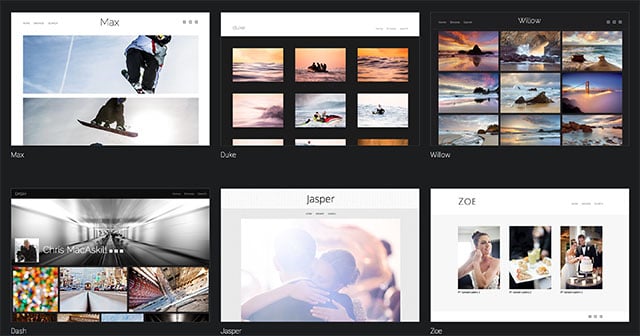 Pricing for SmugMug is broken up into four categories: basic, power, portfolio, and business. We recommend signing up for 'power' which costs $5 a month and includes a number of themes, a customizable homepage, complete customization control, the ability to use a custom domain, right-click protection, and HD video. Other options range from $3-$25 and include custom watermarks, control of photo-specific pricing, customized order branding, and the ability to manage event photos.
#4: Zenfolio
Another company that offers full-fledged photography portfolios is Zenfolio. Just create an account and you can get started assembling your custom portfolio website. You can customize your homepage to include navigation menus, welcome messages, and more. As with other services, you can customize the site how you see fit.
A number of themes are available for you to choose from and customize, or you can select one of many professional preset designs. All subscription options include the ability to create slideshows with music, utilize built-in social media integration, and control access using passwords. Add-on services include Triple Scoop Music soundtracks, a BorrowLenses exclusive membership, and RAW file processing and color correction.
The Basic Plus option will suit some photographers for only $30 a year, but those looking for unlimited photo storage, HD video hosting, and the ability to use your own domain name should opt for the Unlimited plan for $60 a year. Additional plans from $140-$300 a year allow businesses to sell their photographs, display watermarks, utilize client access pages, and more. Also, all signs of Zenfolio branding is removed.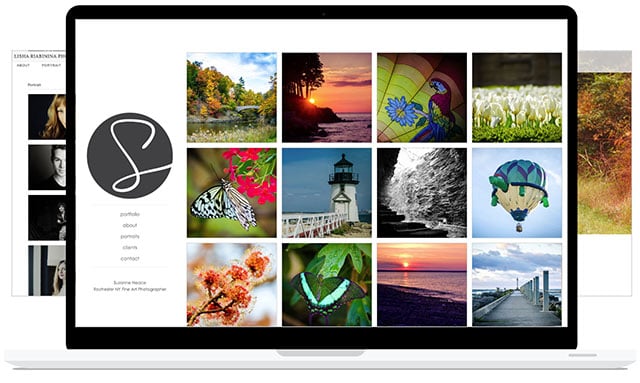 Zenfolio also offers a free e-book that helps photographers take advantage of designing and optimizing their new website. You can access that e-book by visiting their website and filling in the blue banner at the top of their homepage.
#5: Format
If you are looking for a portfolio that excels at mobile and integrates well with Adobe's Creative Suite, then Format may be an excellent option for your needs. With dynamically powered themes, Format keeps your portfolio looking great on every device. Other services such as 500px and SquareSpace also provide sites formatted for mobile, but we found Format to provide the best touch experience.
With a range of customizable themes, you can use the system's built-in tools to change your page to your liking, or you can dive deep into code. Format's easy drag-and-drop interface makes acquiring the perfect look for your portfolio as simple as clicking your mouse. There are tons of themes to work with, and 24/7 support gives you access to help whenever you need it.
If you live within Adobe Lightroom, you will be thrilled to hear that Format provides a powerful publishing plugin for your online portfolio. Directly from Lightroom, you can manage galleries, upload new images, and sync edited images. Format provides one of the best management experiences out of any site we have recommended today.
Format provides three different plans for photographs; all include unlimited bandwidth, social network integration, the ability to use your domain, and an integrated blogging platform. For only $6 a month under the 'Basic' plan, you get a full-featured website with up to 50 pages, 100 images, and 100 videos. Pay a bit more for the 'Professional' plan at $11 a month to increase that limit to 1,000 pages, 1,000 images, unlimited videos, along with the ability to edit HTML and password protect pages. If you absolutely hate limits, the 'Agency' plan at $21 a month provides unlimited pages, 10,000 images, and unlimited videos.
#6: PhotoShelter
Our last site today is PhotoShelter, an option trusted by famous professional photographers including Zack Arias and Joe McNally. The company bills itself as the best choice to "showcase, organize, share, deliver, and sell" your creative work – and it is hard to disagree.
With over one-hundred features, PhotoShelter provides you with a set of DIY templates and a real-time site editor.You can choose exactly how you want your portfolio to display: a single image, photo wall, or slideshow. You can freely use your own domain name, logo, and watermark to make the site yours.
Cloud storage options allow you to upload images of unlimited file size and nearly all popular file types including RAW, PSD, TIF, PDF, and JPG. You have a number of convenient ways to upload your photo collection including Lightroom, Photo Mechanic, and Aperture plugins, as well as a desktop uploader, via the web, or using FTP. All of your EXIF and IPTC metadata is automatically kept intact and imported to your site.

Other great features include an array of powerful sales tools, search engine optimization, social networking tools, integrated security features, and client proofing pages.
PhotoShelter's Basic plan can be had for only $10 a month and provides you with nine customizable templates, 4 GB of image archiving and cloud storage, and unlimited site traffic. The Standard plan allows you to upload any image format, utilize FTP uploading, create lightboxes for clients, sell prints, optimize your SEO, utilize your own domain name, and use 100 GB of image archiving for $30. A Pro plan is also available for $50 a month and allows unlimited cloud archiving for your images.
---
That's our rundown of some of the top options out there for hosting your portfolio. If you use — and would recommend — a service that isn't listed here, feel free to share it with us in the comments!