Custom SLR Unveils a New Dual Camera Strap Setup
Custom SLR recently released their new Dual Camera Strap, which combines two of their previous straps for easily carrying multiple cameras at once. Similar in functionality to Hold Fast's $215 MoneyMaker, the Dual Camera Strap comes in at a fraction of the cost and ensures that you can always access your cameras on hand.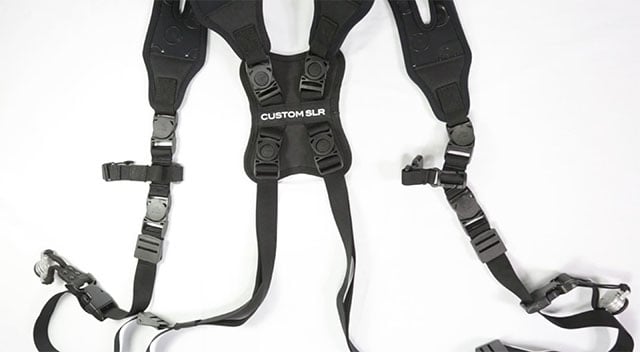 The Dual Camera Strap kit utilizes two of the company's existing Glide One Straps to create the new harness system for photographers. Glide One Straps from Custom SLR use the company's trademarked Split Strap Technology to help ensure the weight from the two cameras are evenly distributed across your neck and shoulders. The straps promise to be ergonomic and comfortable while adapting to your body and allowing your skin to breathe.
The existing Glide One Straps are then paired with a neoprene back pad and sternum strap to provide increased support and stability. The neoprene back pad employs a silicone grip that lays against your back to to make sure it stays exactly where it should. The camera system can support up to 16 lbs. of weight and the strap is adjustable in length up to 70 inches.
Custom SLR's Dual Camera system is compatible with any set of cameras and can be adjusted to fit most users. If you don't already have two Glide One Straps, you can purchase the entire setup for $135. Otherwise, the kit alone without straps will only cost $25. They may not be made of leather like Hold Fast's system, but they get the job done while keeping you comfortable.