The B-Unstoppable is the World's First Camera Tank Quadcopter Drone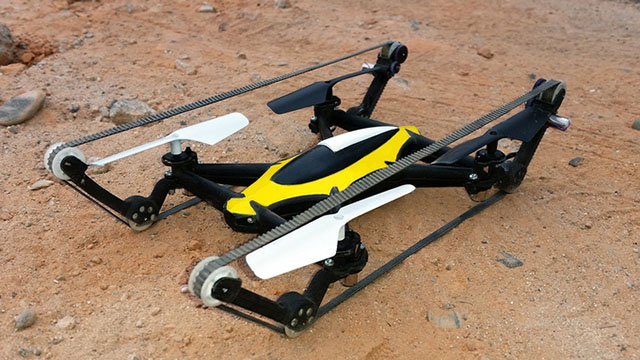 If quadcopters haven't yet caught your interest then maybe the B-Unstoppable hybrid drone will be the first. A Kickstarter project created by a company named 'B' aims to introduce the first commercially available hybrid tank-quadcopter to market. With the flip of a switch, your drone can transform from a dirt-barreling tank into a sky-flying aircraft while capturing footage the entire time via an optional 720p HD camera.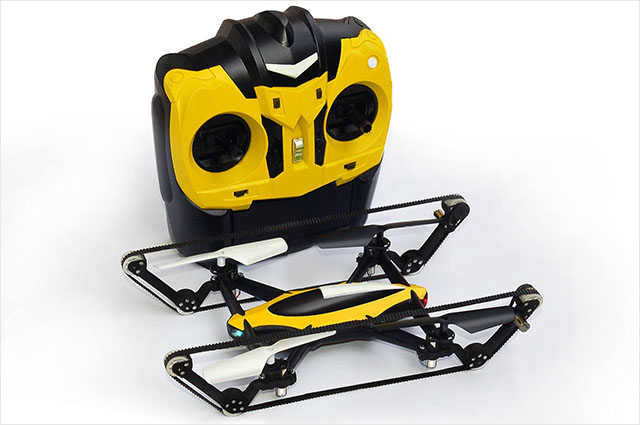 B is calling their drone 'unstoppable', and for a good reason. The company's patented solution allows the unit to navigate difficult terrain due to its adjustable caterpillar tracks. Depending on the particular obstacle, the tension of the treds can be changed via two flexing mechanical arms. Of course, if the object is too high to drive over, you can always take to the skies.
The B-Unstoppable weighs in at only 84g and can obtain nine minutes of flight time or up to eighteen minutes of driving time. The unit makes use of a 900 mAh battery pack and coreless DC motors to get the job done. A 2.4 GHz transmitter is included which allows you to switch easily back and forth between tank and quadcopter mode.
According to B, a hybrid model can be very useful in certain situations. For example, driving saves up to 60% of energy when compared to flying. In addition, the tank mode is much quieter than flying and can enable pilots to reach previously difficult areas. We also can't forget that driving a tank-drone hybrid sounds like a ton of fun.
In regards to the available cameras, there are two options from B. The first is an HD DVR camera that can record video at 1280 x 720 to an internal microSD card:
The second is a lower image quality FPV camera setup that includes a CCD 720 camera, 5.8 GHz receiver, 25 mW 5.8 GHz transmitter, and USB AV-in adapter:
For $93, you can purchase a B-Unstoppable unit with transmitter and charger, or you can step up to the HD DVR Camera model for $131. Otherwise, at $156, you can pick up the unit with an FPV camera system for real time transmissions, instead of onboard recording. B is planning to begin production of their drones by this September with a shipping date of October.
For more information on the B-Unstoppable, visit their Kickstarter page by clicking here.