AutoSteady: A 3-Axis Gimbal Stabilizer for Phones and GoPros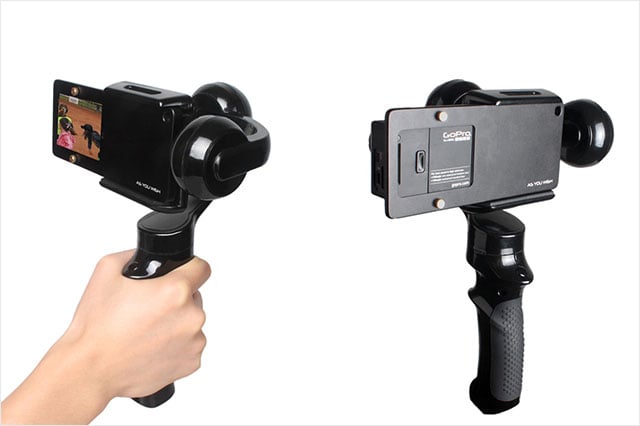 Gimbal stabilizers can be used to help produce smooth, high-quality video. However, inexpensive gimbals typically use heavy counterweights for stabilization, making them difficult to carry around, while more expensive models utilize precision electronics. A happy medium may soon be on the market; the California-based company, Neuvison, has announced their Kickstarter for the AutoSteady, an affordable electronic 3-axis gimbal stabilizer.

The AutoSteady is designed to work with smartphones and, with an additional adapter, GoPro action cameras. The stabilizer can tilt, roll, and pan to ensure your video remains smooth as you grip the unit by its ergonomic rubberized handle. A lithium-polymer battery ensures that you can continue shooting up to two hours on a single charge.
Advanced brushless motors, combined with a gimbal controller, enable the unit to deliver consistent results while recording. The AutoSteady's spring loaded dual rubber clamp helps to ensure that your phone never gets scratched. Besides the GoPro adapter accessory, buyers can also opt for a portable power pack or telescopic selfie stick.
The portable power pack allows you to recharge your AutoSteady while on the go; it promises enough power "to double your AutoSteady run time." The telescopic selfie stick can extend up to 51" and includes a remote control for easily triggering the shutter and controlling various other camera functions on your iOS or Android device.
The Kickstarter offers a variety of purchase packages to choose from, including the most affordable option at $187, which includes the AutoSteady gimbal, a built-in battery, and a wall charger. More expensive models include the accessories as mentioned above. If you are interested, be sure to visit the AutoSteady Kickstarter page and see what packages works best for your needs.